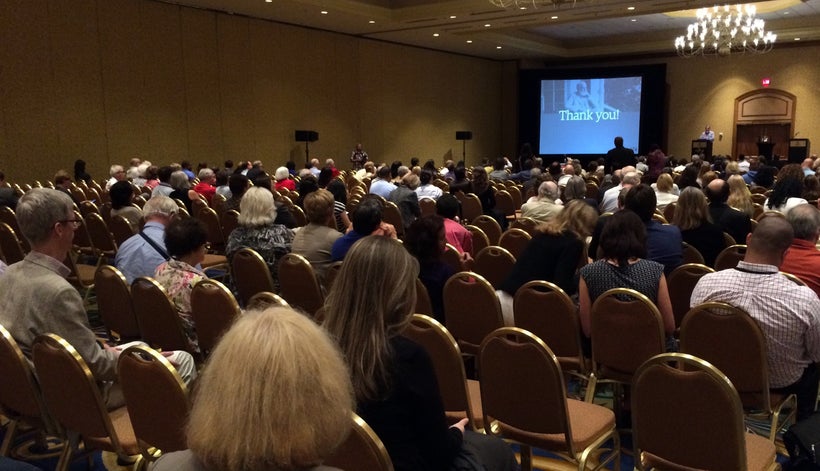 It is no secret that U.S. newsroom staffing continues to decline, as digital revenue growth fails to replace traditional advertising dollars. Comedian John Oliver recently chronicled the lure of online clicks and the negative impact upon spending time on investigative and depth journalism. There is even a site devoted to what is called a newspaper "death watch."
The newspaper industry response is to harness online data and leverage remaining "assets." Enter the new offers from digital public relations experts pitching client stories through packaged content.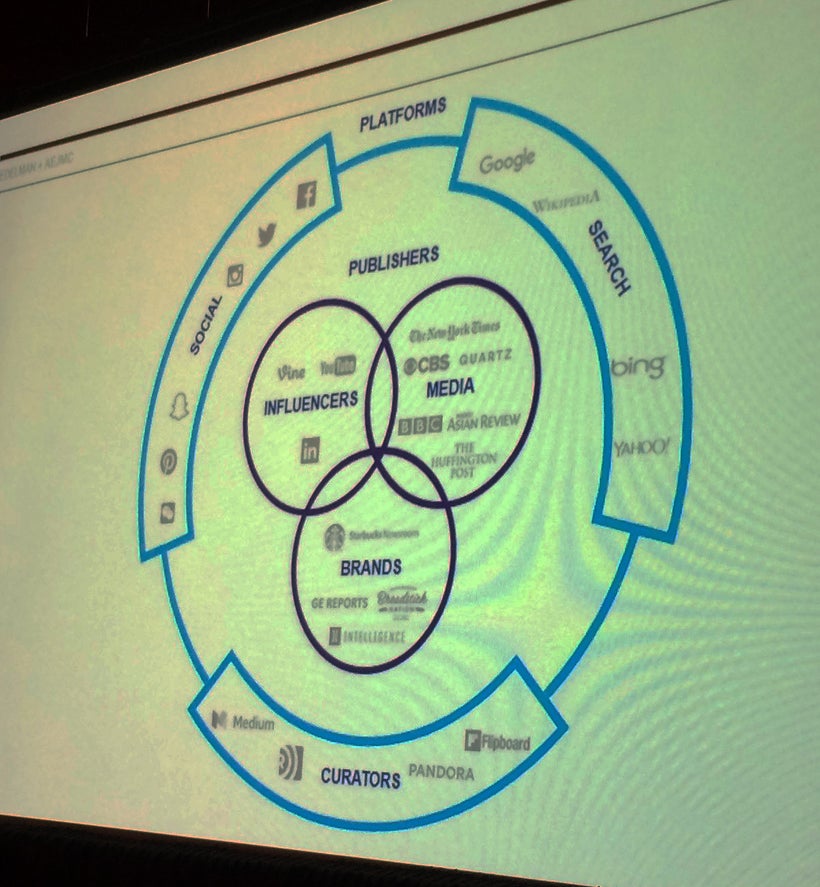 Imagine a world of influencers, brands and media. Edelman PR has evolved its media "cloverleaf" to version 2.0: eyeballs are attracted through social media, Internet searches and content curators.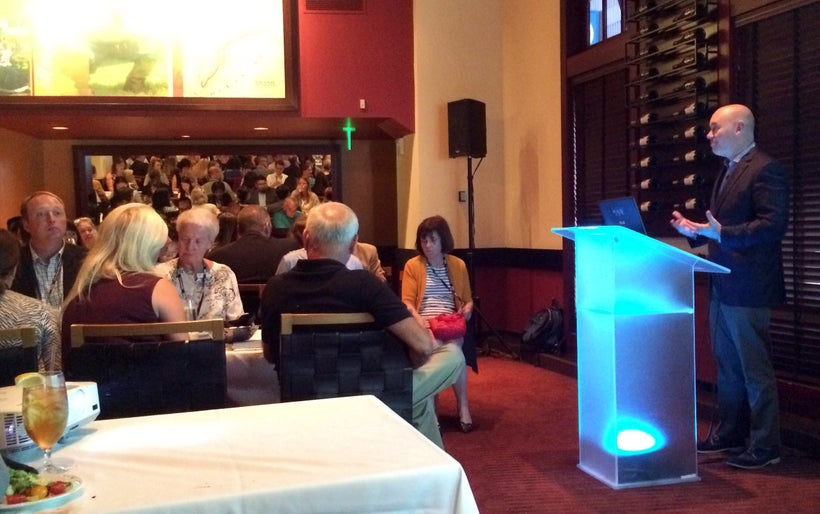 "If you're really going to have a hope of breaking through that immense and ever-increasing clutter," Edelman Chicago President Jay Porter says, clients are urged to go beyond the traditional media pitch:
"We simply, for our own purposes, believe that that work, however well-conducted will not be sufficient to meet their business objectives… And, so we continue to try to push clients beyond that media ring, so that we can help them deliver business results. Or eventually we will get the call: that element is not moving the needle. And, I never want to get that call, and certainly neither does Richard (Edelman)."
In 2010, Richard Edelman had identified the need to "establish a bright orange line between PR (paid advocates) and journalism, since anyone can publish anything online at a time when the media industry is under siege from economic stresses."
By 2014, we heard about Edelman's "Creative Newsroom" that provided "clients with an agile and integrated platform for storytelling" in "planned and real-time marketing." Fast-forward to August 2016, and the landscape has again been redefined by rapid change.
Data, metrics, platform knowledge and story flow all are important, Porter told educators at the annual Association for Education in Journalism and Mass Communication (AEJMC) conference Friday in Minneapolis. Porter says a driving factor is "incredible de-population of certainly our U.S. media environment mirrored in most of the developed world… the tremendous shrinkage of that world and what it means."
"One of the most fundamental things that I end up talking to clients about is, you know you don't have a beat reporter anymore," Porter said. "You might think you do, but they're now doing the job of three, or four, or five people." Wait, did you just offer to fill the void by serving clickable content?
"The depth and the experience and the historical continuity that you think they have with your company, even if you're Starbucks in Seattle, you don't have a beat reporter," Porter says. So, CEO's are asking if companies are using employees as brand ambassadors to help break through the fragmented media clutter.
"There's a lot of data in this work," Porter says. "We now have a tremendous amount of data at our disposal." PR people, traditionally strong in creative arts, must learn data science to follow the "time machine" that is real-time media storytelling.
"Things move so fast, if you only get that one blip, if you can't get the day-two story, if you can't get the reaction" it's a missed opportunity. Stories can travel across media "and really generate tons of conversation when all of the right assets are in place," Porter says.
The goal is to tie media storytelling to an existing "powerful conversation," Porter says. "That's another dynamic in this – using social listening to ensure that you really understand what conversations are trending, where your brand or your story is relevant, and swim with that tide, not against it."
"The idea of owned-to-earned is also something that we're seeing (that) is incredibly important and powerful in programming," Porter added. "What is that piece of content based around a great story that is the first domino to fall, and to set off a great groundswell of coverage?"
Public relations is working in a radically changed environment in the past two years, Porter says: "Every time Facebook changes their algorithm, we have to go back and re-think pretty fundamental things about how we design a program."
"To make sure we are mapping to the current reality, that we're maximizing surface area, all of that is critical," Porter concludes.
Data are used to convince media, such as USA Today and CNN, that publishing a story will "drive a tremendous amount of social sharing." Edelman's "collaborative journalism" is designed "to help journalists be successful in this new environment. The question remains: Will journalists be able to maintain a degree of independence and objectivity at the hand of paid advocates?
Aron Pilhofer, executive editor for digital at The Guardian, told AEJMC professors that his internal digital team work includes visuals (photo, interactive, graphics, multimedia, and design), data projects, and virtual reality VR Studio.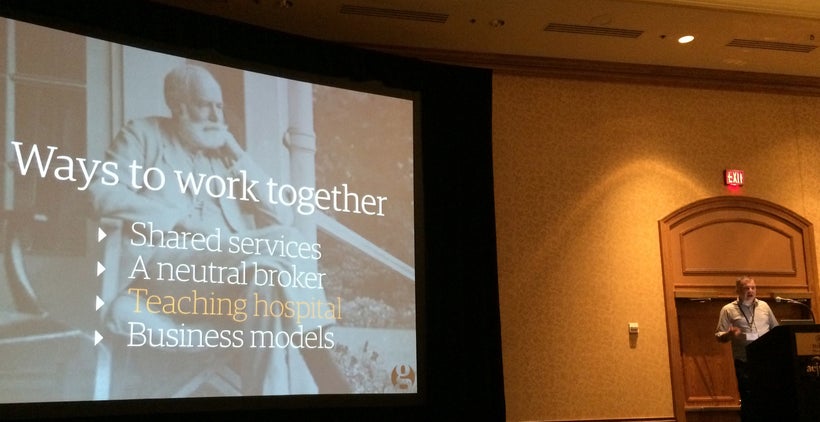 The journalistic goal is to "try to build a community" and reach a targeted interest group. "This is why marketing is so important to the future of journalism," Pilhofer says. Content consumers click, but does it lead to conversion? Data analytics show that social media engagement does sometimes lead to subscribing to a site and paying for news stories and other digital content. The data analytics are not trade secrets: "That is work we could be doing as an industry or as a collaboration," he says.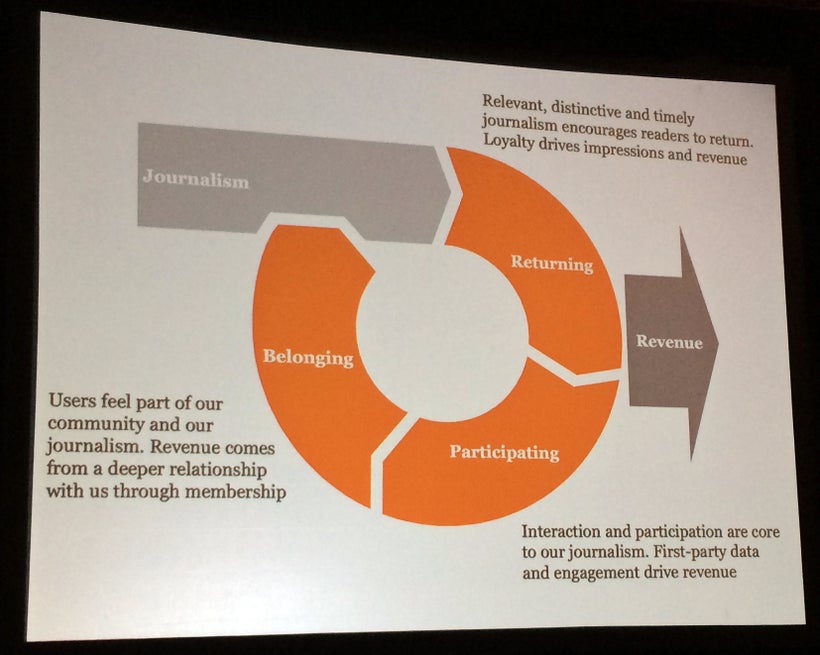 Pilhofer says engaged citizens are leading the field toward "participatory journalism that is interactive, collaborative and experiential." For example, The Guardian's "witness" page offers readers "current assignments" that encourage them to create and share on the site. The future of participatory journalism might include having readers vote on story assignments.
Between 2014 and 2016 traditional print news advertising revenue declined faster than predicted. At the same time, digital advertising went up in 2015, but then dropped this year. Pilhofer, heading to a teaching gig at Temple University, says the business model needs to change, and that should include shared services and collaboration with universities.
By producing "relevant, distinctive and timely" journalism, the goal is to cultivate site visitors that return, increase their levels of participation, and grow a sense of community. A "deeper relationship" opens the door to paying for news, which is one way to increase revenue and stay in business.
PR, meanwhile, has been successfully pitching news stories for decades, but the rules seem to be changing when it comes to digital. Struggling newsrooms will be tempted to use and share expensive digital content in exchange for online clicks and engagement. It remains uncertain, however, that U.S. journalism has a sustainable business model.
REAL LIFE. REAL NEWS. REAL VOICES.
Help us tell more of the stories that matter from voices that too often remain unheard.
This post was published on the now-closed HuffPost Contributor platform. Contributors control their own work and posted freely to our site. If you need to flag this entry as abusive,
send us an email
.