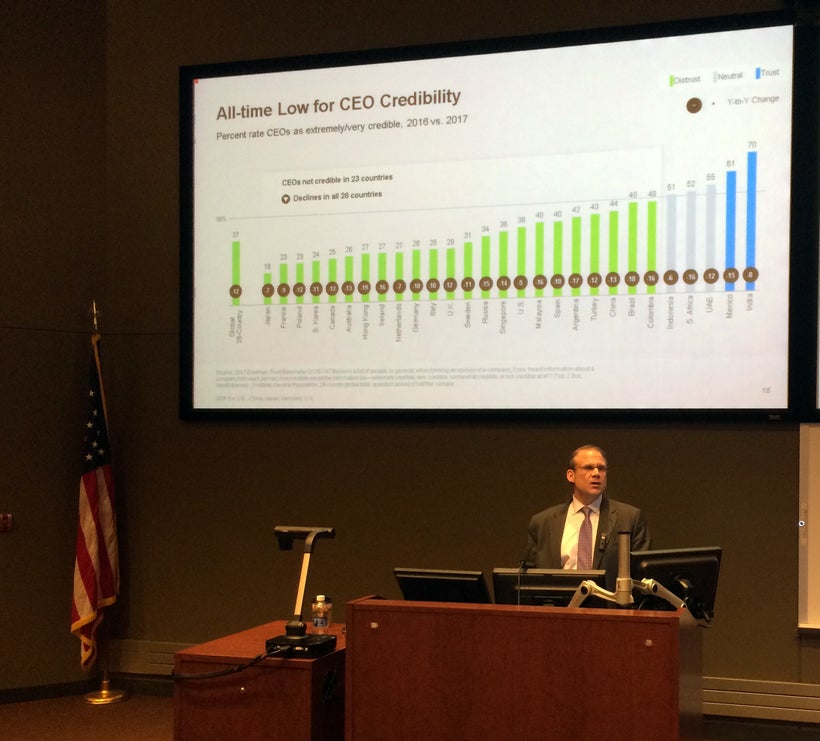 The growth of social media sites is happening at the same time trust for social institutions, such as the media business, continues to decline. From National Opinion Research Center (NORC) data over several decades to the more recent 2017 Edelman Trust Barometer, it's clear that we are in search of new paths for finding credible online information. It appears that global public trust in institutions – government, business and mass media – is at historical lows.
"This notion of media being the Fourth Estate, we've come to believe, is eroding," Edelman Chicago Chief Operating Officer Kevin L. Cook told an Omaha campus group.
"We're also in an age where technology allows us to completely manipulate our news feeds and tailor what we read to only want we want, only to what suits our sensibilities," Cook said. "Peers, and 'people like you' are the most trusted sources of information" within an 'echo chamber.' People trust friends, family members and colleagues more than a CEO, media organization or others in power. "It's a horizontal world now… It's peer-to-peer," Cook said.
Businesses now start inside with employees to promote positive messages. Edelman urges companies to focus on how they recruit and retain talent. The world's largest public relations (PR) firm has added an engagement practice to address how companies use social media. Collaborator Dynamic Signal offers a mobile app that helps companies share positive news through employees' influential social networks.
"Employees often times are an un-tapped resource for brands and organizations. They're highly trusted. They're highly credible, and because… they're sharing information in their newsfeeds, there's a huge opportunity for brands and organizations." – David Armano, Edelman global strategy director.
Employees can leverage their social networks within companies, and also outside, to help advocate through directed communication and channels. It takes a reset of employee culture and a clear collective understanding of company vision, mission and values. It also takes a leadership shift away from social media policies that tell employees what not to do, and toward guidelines promoting effective engagement. Facebook Workplace is among the new enterprise tools that help identify organization thought leaders.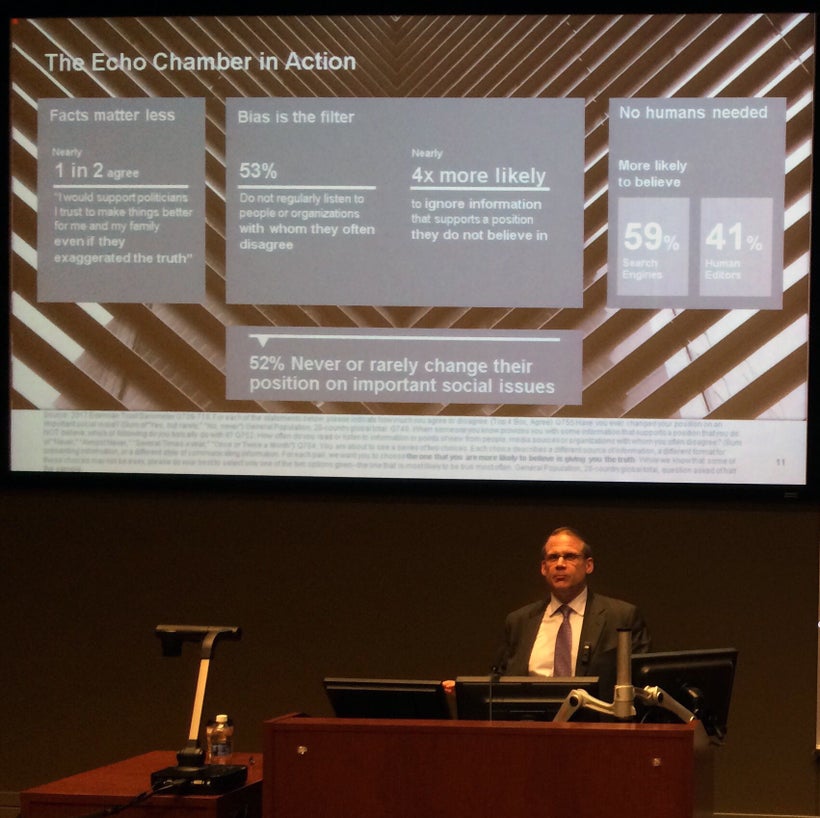 The need for employee engagement ranges from conditions during a business restructuring to the more mundane company celebration. Media storytelling, though, backed by social media measurement offers new opportunities for branding and marketing. It is clear that this new emphasis will demand that employers not only improve their PR efforts, but also hire professionals with skills to evaluate and apply consistent and credible social network analysis.
An ongoing challenge is that people now take the view that, 'I trust my media, and I trust my newsfeeds,' but not content outside of the 'filter bubble.' Academics are increasingly making the case that we need a rekindling of free expression on controversial issues.
Social media marketers, of course, use homogenous groups and like-mindedness to their economic advantage by targeting messages to those most receptive. Jim Sterne, author of Social Media Metrics and president of eMetrics, contends that traditional media and PR are being replaced by relationship building, customer reviews and branding based upon keeping promises.
Still, given the trust data, it may be an overstatement that PR and advertising no longer have important roles. Credibility remains important social capital that must be earned and retained in order to advance business goals and objectives. "That's why we feel so strongly that every company needs to be a media company, and (they) need to have a strong presence where people can go and get the facts," Cook said.
The convergence and integration of PR, advertising and social marketing will continue, even as skepticism remains high for those abusing power. Too often, companies offer lip service to customer engagement without building meaningful long-term relationships.
As we look to the future of social media trust, focus on the newest innovation wave – artificial intelligence (AI). Jim Sterne is currently writing about how bots can scrape product review data and empower consumers through tools that help focus on precise needs and wants. There will be more about this in my next blog post.
REAL LIFE. REAL NEWS. REAL VOICES.
Help us tell more of the stories that matter from voices that too often remain unheard.
This post was published on the now-closed HuffPost Contributor platform. Contributors control their own work and posted freely to our site. If you need to flag this entry as abusive,
send us an email
.