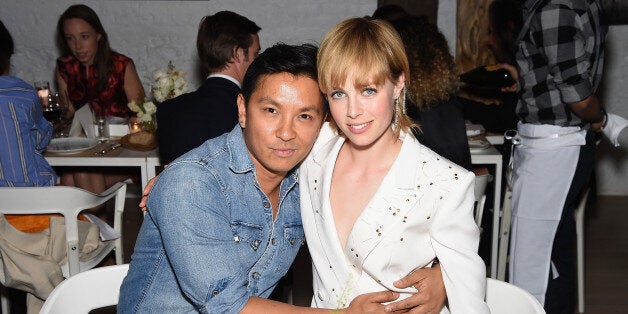 The huge earthquake that hit Nepal on Saturday has claimed over 1,000 lives, and has been met with an outpouring of support for aid agencies that are seeking to provide relief for survivors.
One of the most vocal and successful fundraisers in the effort has been fashion designer Prabal Gurung, who is rapidly raising thousands of dollars for the Shikshya Foundation Nepal's relief fund.
Gurung, who was raised in Kathmandu, Nepal, is a brand ambassador and board member at the foundation, which partners with organizations to provide education support to children in Nepal. In response to the earthquake, Gurung's organization has launched a campaign specifically aimed at collecting funds to support victims of the quake, saying it will donate 100 percent of the money raised.
"I'm from Nepal originally and still have many friends and family members there. The news of the earthquake is heartbreaking. The devastating aftermath, gut wrenching," Gurung said in a statement to The WorldPost. "Since I can't be there to help personally, I decided the best way for me to help was to leverage my resources and connections to raise funds to help in the relief efforts. Non action is not an option."
He has put out calls for funds on social media, where he maintains a prominent presence that includes over 184,000 Twitter followers. Those pleas for support have been answered, with tens of thousands of dollars raised in less than a day since the campaign's inception.
"We are currently seeking out some of the best relief efforts from medical aid to food and water supplies and from temporary housing to rebuilding the nation and its infrastructure," Gurung stated. "Centuries old heritage and cultural sites have been devastated and the goal is to continue the fund raising efforts to rebuild them."
He also told The WorldPost that the other board members of the foundation are currently in Nepal, where they will work to ensure that the relief goes through trusted agencies to reach those in need.
You can find a range of charities helping the relief effort, including Gurung's organization, by clicking below:
Support HuffPost
The Stakes Have Never Been Higher
Related
Popular in the Community