Every day of the week, The Pollination Project (www.thepollinationproject.org) provides $1000 in seed funding to an individual who is working to make the world -- or just their own community -- a better, more peaceful and more sustainable place. Here are the extraordinary people and ideas changing the world this week:
Palestinian student Basil Farraj worked in Northern Ireland and became inspired to bring other Palestinian young people to the country to show people of his generation the reality of an achieved peace following cessation of conflict. Through partnerships with local organizations, he will offer workshops in which young people from Northern Ireland and Palestine can meet and learn from each other. By understanding the history of Northern Ireland, and the process of peace and justice, participants will be able to see these possibilities in their own contexts in their homeland.
Stevan Zivkov Andricin, a documentary filmmaker in Serbia, is producing a film Animals: A Parallel History to explore the fundamental and untold role of animals as an integral part of human history. The film will include anonymous and celebrity animals who have influenced and participated in world events, always in the background and behind the scenes, and the strong connection between the human rights and animal rights movements. In addition to worldwide distribution, Stevan intends for Animals: A Parallel History to be used in schools to educate children about animals and their importance to human history.
The residents of Casa De Paz have created a community in East Oakland, on the border of two rival gangs, to make peace, restore the neighborhood and teach nonviolent living. Through meditation, acts of community service, gardening, meditation and weekly Friday night meetings, Casa de Paz fosters the regeneration of soil, soul and society. Local activist Pancho Ramos Stierle, along with other permanent residents of Casa De Paz, are invested in teaching and sharing the skills and practices most likely to create a resilient, self-reliant, just community.
Janae Radke and Mary Winters, volunteer high school English teachers in Kolonia, Pohnpei, Federated States of Micronesia, who are starting a book club for girls. Members of Serepein en Pohnpei (Pohnpeian Girl) will benefit from literature as a means to explore and discuss the issues facing women worldwide and in their own lives, empowering them to become catalysts for change in their communities. With Janae's background as an advocate for people affected by domestic and sexual violence and Mary's previous experience working with teenagers in Pohnpei, they hope to create a safe space where young women will be able to ask questions, express thoughts, and raise issues that they might not otherwise have the opportunity to explore.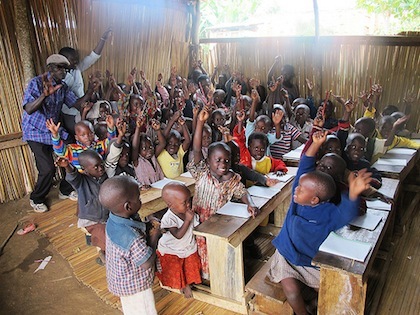 Emily Clouse, a Peace Corps volunteer, and Jimmy Agondia, founder of the Blessed Day Care and Nursery School in Kijura, Uganda, are working to provide quality education to underprivileged, HIV positive, disabled and orphaned children. Their Blessed Children Brick Makers Association will help generate income to sustain the school's expenses, including scholastic materials, maintenance of the facilities and children's healthcare. It will also create positive employment for older street-going youth, empowering them to earn their school fees and continue their education.
Grace Wanene, a Kenyan farmer and environmentalist, runs the Youth Agro-Environment Initiative to train unemployed young people to grow profitable crops. Her project, Organic Mushrooms for Youth Employment, will teach Central Kenyans about organic mushroom farming, and then support them to establish a mushroom project through loans. They will receive farm management and consultancy services throughout the production period, including sales and marketing help. When loans are repaid, the money will be used to establish another similar project.
Christian Scott Martone works for environmental and social justice in Guadalajara, Mexico, where his organic community garden in the urban Santa Tere neighborhood creates "change from below" in an area with more cars than trees. Christian is also working with a local primary school on an urban garden to feed families in the surrounding community, and is developing an urban agriculture school so local residents can create food-bearing oases around Guadalajara.
Congratulations to our grantees this week for their outstanding work.
These are just a few examples of what a little seed money can do when put in the hands of someone with a vision and a plan to change the world.
If you were given $1000, how would YOU seed the change?
The Pollination Project makes $1000 grants every day, 365 days a year to individual changemakers. Please go to our website at www.thepollinationproject.org for funding guidelines and application.
Related
Popular in the Community