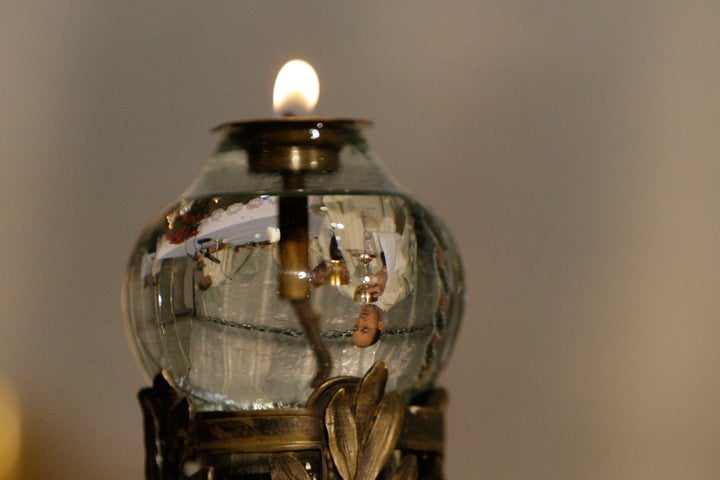 In days such as these, in the midst of Holy Week and Passover both, I have to keep reminding myself to live and love the mysteries of faith -- rather than always trying to explain them.
The questions never cease. There's no virtue in pretending that all is clear and simple, or that what didn't make sense has somehow faded away. In fact, on this day in particular I remember the last lines of a poem by the late Welsh priest, R.S. Thomas, in which he describes the experience of sitting alone in the tyrannical quiet of his church one Good Friday:
The uneasiness of the pews
Ceases. There is no other sound
In the darkness but the sound of a man
Breathing, testing his faith
On emptiness, nailing his questions
One by one to an untenanted cross.
Let them stay there for now: the questions. But keep practicing. Religion is all about practice, after all.
There is a profound tale from the Desert Fathers of Christian antiquity that explains why spiritual practice makes sense even in spite of questions without answers:
A young monk approached an older, more adept one and asked, "Father, I am having trouble remembering the instructions that I have been given about living the spiritual life. I ask questions and I listen to the answers and I do what is asked of me, but then, I almost just as quickly forget what I've been told! What is the point to trying to learn if I am so simple-minded? Why should I practice when I do not know for certain what is true? Maybe I should just return to my worldly life."
It sounds a bit like a set-up to a saccharine, simple answer, doesn't it? A good occasion to say to the youngster, "Buck up! Try harder. Accept what you do not know. Or, be more diligent!" That sort of thing.
But the old monk doesn't give the sort of answer one might suspect. Like a Zen master, he asks the younger man to do something in order to discover for himself the answer to his questions. He points to two empty bottles on a nearby table.
"Take those two bottles. Fill one completely with the oil that we use for our lampstands. As for the other, leave it empty, as it was."
The young man obediently did as he was told.
Then the old monk said, "Now, take the bottle full of oil and pour it back where it was." The younger man again did as he was told.
"Do it again," the elder instructed. "Fill that same bottle that you filled before, once again with oil." And again he told him to empty the bottle once it was filled. This went on for more than an hour, over and over. Meanwhile the empty bottle sat empty.
With patience, the young man kept doing as he was told. It just so happened that this novice's job in the community was to clean bottles used for holding lamp oil. He knew all about bottles and oil.
After a while, as they sat together looking on the two bottles now empty, the old monk said, "Please tell me, my son, what you see."
"I see one bottle that has not held any oil and it is only dusty and dry," the novice answered.
"But the bottle that I have filled, unfilled, and refilled many times is clean, shining and coated with the sweetness of oil."
"Precisely!" the old man replied. "In the same way, you benefit from doing these spiritual things even if they make little sense or later pass from your mind. Whether you realize it immediately or not, over time they will change you. Filling yourself with these oils will leave you fragranced."
Popular in the Community