It just might be the end of an era.
Prada Marfa, a destination for fashion, art and road trip-loving folks alike, might be closing up "shop." We use the term lightly, of course, since the West Texas storefront isn't a retail shop at all, but rather an art installation set up by Michael Elmgreen and Ingar Dragset back in 2005. The beloved Prada building is now being called out by the Texas Department of Transportation, which has deemed the structure as an "illegal outdoor advertising sign," the New York Times reports.
The main issue is that the Prada logo, prominently displayed on the 15-foot-by-25-foot "store," is considered a sign under state and federal law, thereby violating the 1965 Highway Beautification Act (even though technically Prada Marfa sits on private property). Between the countless numbers of Instagram and Facebook photos taken at the locale -- not to mention Beyonce's viral personal snap -- since its erection eight years ago, we're not really sure why lawmakers are deciding to act on this now (though the Times names a Playboy installation in Marfa as catalyst).
We are sure, however, that we'll miss Prada Marfa if the state decides on a forced removal. After all, Miuccia Prada approved (not commissioned) the project and picked out the 20 shoes sitting in the front window. The message Elmgreen and Dragset set out to convey with their installation, a commentary on the mushrooming influence of luxury brands and consumerist culture, is one that Miuccia herself subscribes to. "I'm completely against the idea that we do fashion for an elite," the designer, who has eschewed money-making, mass-market designer collaborations, has said. "That would be too easy, in a way."
Plus, Miuccia has a soft spot for the art world, integrating Surrealism components into her groundbreaking fashion collections and even commissioning a three-story slide from German artist Carsten Höller that runs from her window to the outside of Prada's Milan headquarters. We're sure Miuccia, along with the rest of the camera-happy travelers in West Texas, will be sad to see the art-meets-fashion monument go if Prada Marfa is torn down.
See photos of Prada Marfa below and tell us: Do you think the installation should be considered a Prada ad or a work of art?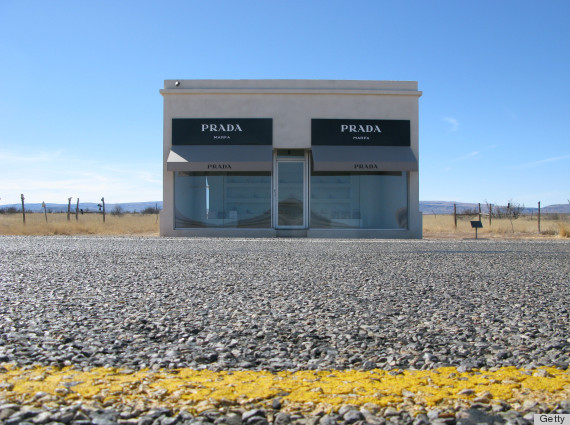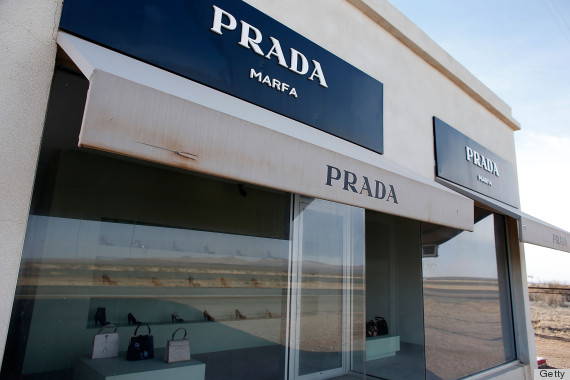 No question about it -- THESE are ads:
Related