Thanksgiving, a holiday centered around smells wafting from the kitchen and dishes loaded with food, has become a different kind of tradition for Rachael Fischer and Julie Foge. Both moms have kids ― a son and a daughter, respectively ― who have been diagnosed with Prader-Willi syndrome, a genetic condition that causes an insatiable appetite.
Foge's 3-year-old daughter, Eliza, was diagnosed with PWS, which can also cause weak muscle tone and developmental delays, when she was barely 2 weeks old. Fischer's 6-year-old son, Jude, had a later diagnosis; his family didn't find out until he was almost two and a half.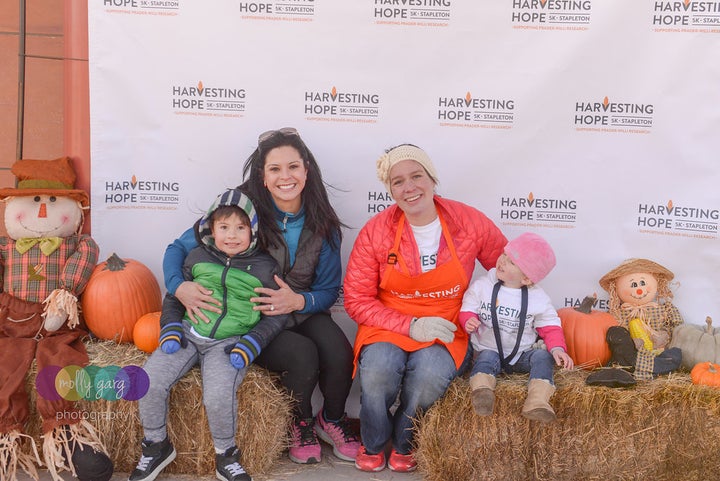 To protect their children, day-to-day life at the Foge and Fischer households is a bit unusual. The two women, who met through their pediatrician, have locks on their kitchen cabinets and refrigerators so the kids can't access food at home without the parents knowing.
And they will try. "Their hunger has been equated to feeling like they haven't eaten in three days," Foge told HuffPost.
The parents maintain consistency around mealtimes and have worked with nutritionists to come up with specialized diets for their kids and families. The children have weekly therapy appointments, ranging from speech to physical to occupational.
Jude is in kindergarten, so Fischer has the added dimension of working with a teacher and therapist at school. The little boy is on an individualized education plan, and the school has a "no birthday treat" policy, for which Fischer is especially grateful.
"I feel so overwhelmed that our school is so proactive in that regard," she told HuffPost. "I think it stems from food allergies, but our kids also can't have those sugary treats."
Naturally, Thanksgiving comes with obstacles. Both moms have learned to "de-emphasize" the meal. Foge said it helps if she explains to guests why they shouldn't offer seconds to her daughter. Fischer has also learned how to manage her son's sensitivity to smell during the holiday.
"He gets a little anxiety so it's easier for us to go to a family member's house where the food has already been prepared rather than sitting in our home and having to smell those smells all day long," she said. "And then we leave, and the food stays."
The moms have teamed up to offer their Denver community a different take on the food-centric holiday. On Thanksgiving, they will hold their Harvesting Hope 5K for the third time, raising money for the Foundation for Prader-Willi Research. The event helps shift the focus of the holiday away from indulging in food to being active.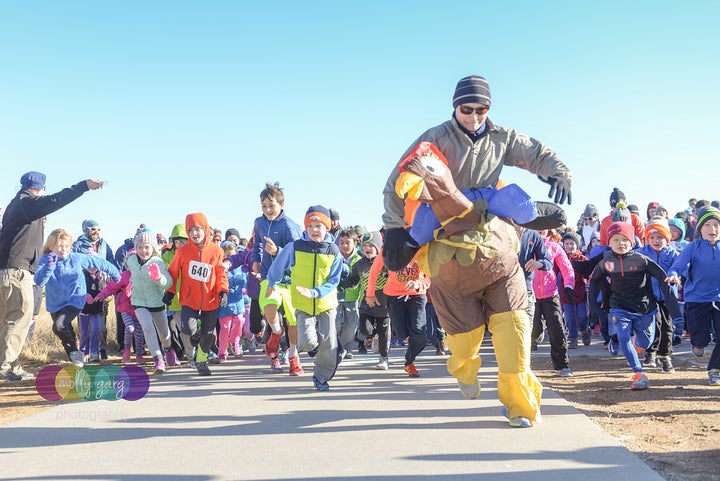 "It really does give our families and our children a tradition outside of the feast," Foge said. "All of us can relate to how exciting it is to be spending the day in the kitchen and cooking, but for our kids that can create a lot of anxiety."
The event also includes a free fun run for kids ages 10 and under so Jude, Eliza and their friends can be active and feel empowered. So far this year, the moms have 900 people signed up from 15 states.
Fischer and Foge credit their local community for making the event such a success. Raising money for PWS research is important, but the moms are also happy their kids are growing up with friends and neighbors who know about the disease and how it affects people.
"It's helpful for Eliza to know that everyone's on her team," Foge said.