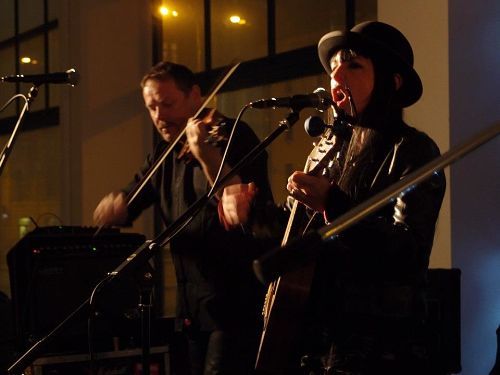 My first trip here was back in 2000 with a band called Snake Eaters. The band leader was an American who had lived in Prague for about six years. He moved to New York and brought us here. Our first show was at the Bitter End. For me, it was a fantastic experience. I remember feeling that my whole life as a musician up to then was just a 'rehearsal' to play in this legendary club in the Village. I remember meeting Kenny Gorka, and when he showed me the list of the amazing artists who had played on that stage - Miles Davis, Bob Dylan ...I thought 'oh my god, look where I am! l'll never forget that feeling in my heart..." Pavel Cingl
Indie rockers in-the-know are aware of renowned Czech violinist, composer, producer Pavel Cingl by way of his work with legendary post-punk recording artist and author Phil Shoenfelt among other noted ensembles, including one musical group which fell into such disfavor with the Czechoslovakia Communist Party that they were consequently banned. "When I was 14 I got an electric guitar, I was listening to the Sex Pistols, Ramones..." Pavel recalls over brunch in the East Village. "I started to play punk rock with my first band, then we got a letter from the government forbidding us to work because 'we used make-up and loud effects!' I was scared and quite depressed."
However one day at an informal jam session, a fellow musician requested that Pavel put away the guitar and riff on his violin instead. And the rest, as they say, is history, including Pavel's stint with the popular Czech band Nahlas with Ivan Hlas.
Enter into Pavel's life Lorraine Leckie: acclaimed New York City folk-noir songstress, who helms her band The Demons at such local venues including the Mercury Lounge and Bowery Ballroom, and who has collaborated with Manhattan literary lion Anthony Haden-Guest on stage and on record, among her other musical projects.
While on tour in her native Toronto, Ontario, circa 2013, Lorraine opened shows for Phil Shoenfelt & Southern Cross and was immediately enamored with Mr. Cingl. "I asked Phil if I could steal Pavel" snickers Ms. Leckie. "And he replied 'yeah it will keep him out of trouble!' So we started playing together. When I saw Phil, the thing I loved most about the band was Pavel's violin. Phil's lyrics and Pavel's melodies combined were incredible ----so I had my eye on Pavel musically. When I see something I want, I go after it!"
Ditto Pavel: "I had the exact same feeling about Lorraine. I heard hundreds of singer-songwriters but I can just look at a person and know they will be amazing! I knew I wanted to work with her that very moment I saw her. When I see something I want, I go after it too."
Deeply inspired by Shoenfelt and Pavel's brilliant duo release Live at the House of Sin (2008) Lorraine enlisted Pavel as a collaborator and producer. "I became obsessed with that album - I listened to it over and over again." Of course, Lorraine and Pavel's album, aptly entitled The Raven Smiled, had to be recorded in Prague.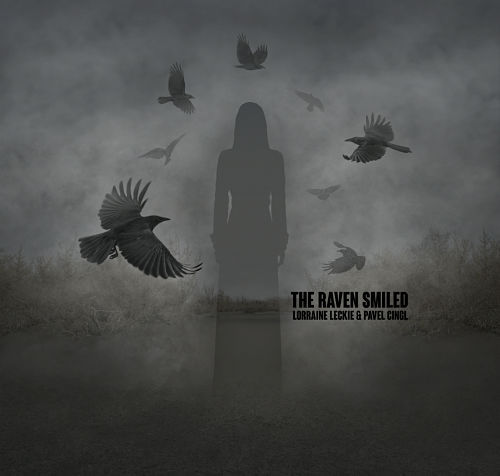 "I couldn't believe how beautiful it was. It's a little Paris you can hold in your hand" coos Ms. Leckie, who can hardly contain her infatuation with the city. "It's tiny and exquisite. The people and the food are amazing. It's not expensive. The place is lawless! Everyone smokes...they drink beer on the tram...all kinds of people dance in the streets as the cars go by, and the cops don't care...they don't have the rules we have here and now...it reminds me of the East Village back in the day...it is the most beautiful romantic place you can go...Prague is fascinating. And the cemeteries are incredible!"
On the topic of gravesite antics, Lorraine reveals a hitherto untold Prague story to Pavel and myself detailing her walk along a river, with a wine glass in hand, wherein she chanced upon an unsuspectingly wicked boneyard care-taker who attempted to seduce her on a burial ground situated near an ill-omened black church high, high upon a hill. It's the stuff of horror films. Though Lorraine laughs heartily at the ridiculous prospect of an actual necrophilia fueled encounter with the gloomy gent, Pavel catches my eye and grins "you have keep an eye on Lorraine at all times..."
And that includes the recording studio. Though she suffered the effects of bronchial pneumonia during the sessions, Pavel was able to capture Lorraine in all her Goth glory, even going as far as to mix the album on cheap speakers to ensure that Ms. Leckie's resonance prevailed regardless of the listener's preferred medium. To my ears, Lorraine and Pavel forge a singular sound which at times evokes comparison to Lou Reed and John Cale with the Velvet Underground and on their Andy Warhol tribute Songs For Drella (1990). Despite the lack of a rhythm section, Lorraine and Pavel groove, swing, and punctuate each other's motifs akin to a well-honed ensemble.
Throughout The Raven Smiled, Lorraine's libretto draws inspiration and references aplenty from the most diverse sources: Aleister Crowley ("Climb Ya Like a Mountain"), a Prague drinking-hole replete with characters worthy of One Flew Over the Cuckoo's Nest ("The Story of Your Life"), feelings of unlimited potential ("Witches Heart"), a boy who overcome severe disabilities to achieve a dream ("Little Dove"), and an autobiographical tale of acceptance with oneself ("The Raven Smiled").
"Whenever I make a record, my performances take on the flavor of my surroundings" notes Lorraine. On a similar thread, during one session the studio was 'surrounded' by sheep and rams. Never one to miss an opportunity, Pavel quickly retrieved a portable recorder and captured the grunt of a select beast which is embedded in the track "That Ain't Nice." Divulges Lorraine "one of them had a horn fall off his head! It was all bloody, I was going to keep it. You know, my husband Billy (actor, noted antiques entrepreneur, and star of TV reality show Baggage Battles Billy Leroy) loves to collect stuff like that. But I left it on top of a parked car and it drove off somewhere!" Again, Pavel flashes a smile in my direction. I know, I know...keep an eye on Lorraine at all times...
Which brings Ms. Leckie yet another yarn recollecting an overwhelmed Prague fan who was touched by her performance to the extent that he gifted her a ring moments after she left the stage- but not the kind of ring which men traditionally wear on their finger. Pavel to the rescue, and to the washroom with Lorraine in tow!
Among the themes which run through the song-cycle of The Raven Smiled is an intense craving for things unattainable. "Desire, wanting things that I can't have - that's why I can make so many incredible things happen in my life because I think I can have everything and everybody exactly the way I want it!"
In 'Witches Heart' I say that nobody's ever touched the stars. And it's true you can't touch the stars - but I think I can! I am submitting to what I can't have in life..." She pauses, "nobody ever gets old and dies in my universe!"
Lorraine Leckie and Pavel Cingl The Raven Smiled is out now and available on iTunes, CD Baby, and Amazon, among other outlets - additional information on tour dates and more at www.LorraineLeckie.com.
Watch Lorraine Leckie in The Raven Smiled video as created by Radka Salcmannova on YouTube.Com ( https://www.youtube.com/watch?v=5D7-Z1fJ11Q)
Calling all HuffPost superfans!
Sign up for membership to become a founding member and help shape HuffPost's next chapter