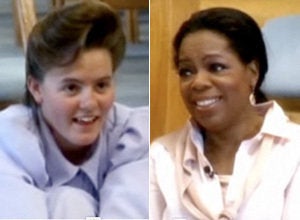 As part of her hour-long special from the FLDS Yearning for Zion ranch, Oprah talked to a group of teenage girls about their lives and asked them about their distinctive taste in clothing.
(Earlier Oprah had asked another group of FLDS women about their hairstyles.)
"Can you explain what the dresses are about?" Oprah asked, adding, "Do you know what people call your dresses on the outside? Prairie dresses... Can you explain to me why they all look alike?"
"We just believe that our bodies are sacred from here to here so we cover it," one girl answered, gesturing from her neck to her ankle.
Another piped up, "Mine looks different from hers... To you they probably do [look alike], but to us we say, 'where'd you get your dress?'"
Oprah burst out laughing at that remark. "Olive, that is funny!"
She also asked the girls about swimming. They swim in the dresses, although one girl admits they don't swim very far.
Then Olive got a cell phone call and the dress talk ended.

WATCH: