Inspired by TV's Little House On The Prairie, writer/director Dane Whitlock's outrageous parody, Prairie-oke, won raves during its 2013 premiere at Silver Lake's Cavern Club (incidentally L.A.'s best underground theatre space). Well hold onto your bonnets because our favorite unauthorized musical is back in a big way (running weekends through November 22). Kudos to producers Vickie Mendoza and Matthew Herrmann (who reprises his role as middle son, Alfred) for assembling the most energetic, musical ensemble I've seen on the L.A. stage in some time.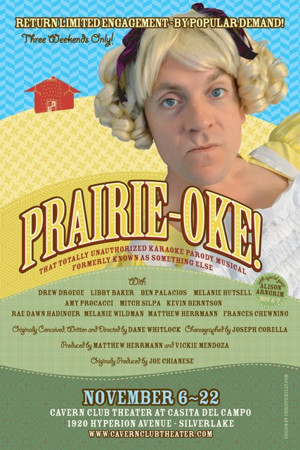 Packed with a Casey Kasem-worthy parade of pop hits from the 1970s to today, Prairie-oke is as brashly absurdist as it is a sweet love letter to the original series. So much so that Little House's original TV cast members have made pilgrimages down the basement stairs of Casita Del Campo to experience the prairie in a whole new way.
Drew Droege and Alison Arngrim (Photo by Vickie Mendoza)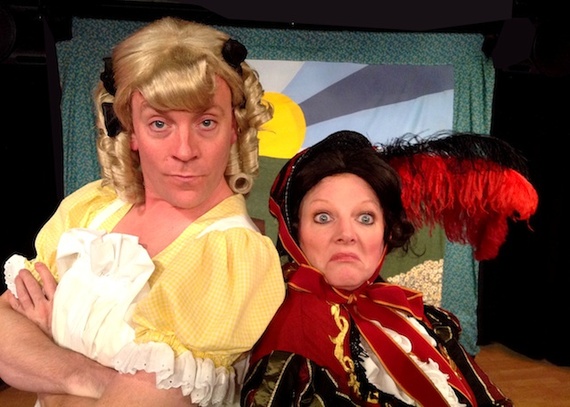 Worth the price of admission alone is Drew Droege's monstrous interpretation of Mellie Moleson (original character names were altered for legal reasons). Standing over six feet tall, Droege's Mellie is a pathos-filled mashup of towering brute and little girl-isms (bouncy blonde curls, yellow apron dress, rainbow lollipop). And the fun only begins there. Prairie-oke bursts with memorable and hilarious performances from Mitch Silpa, Ben Palacios, Libby Baker, Kevin Berntson, Melanie Hutsell, Frances Chewning, Rae Dawn Hadinger, Penny Wildman, Amy Procacci, Matt Herrmann, and - treat of treats - Alison Arngrim, yes TV's Nellie Oleson, took to the stage (opening weekend only) in the role of Mrs. Moleson. When Arngrim (playing the role of her TV mother) and Droege as beastly Nellie first pranced onstage together, the audience howled with delight and laughter. Entrances don't get much more meta and bizarre.
Drew Droege and Alison Arngrim (Image courtesy of Steven Wishnoff)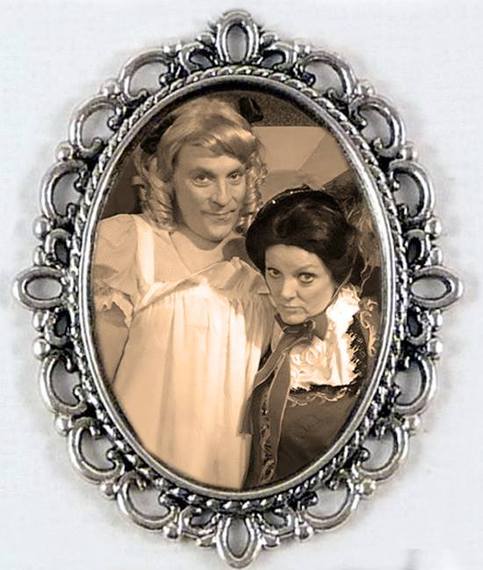 After the show, Arngrim granted me a full impromptu interview and even a signed copy of her fabulous autobiography, Confessions of a Prairie Bitch: How I Survived Nellie Oleson and Learn To Love Being Hated. The book is chock full of juicy behind the scenes stories from Little House - a must read for all fans of the TV series.
Xaque Gruber: Is it surreal to be in a show playing the mother of a character that you brought to life as a child? And your little girl daughter is played by Drew Droege?
Alison Arngrim: It's so insane. I came to see the show like three or four times in 2013. So did other cast members. Melissa (Gilbert) saw it one night, a bunch of us came. We were screaming and sobbing - it blew our minds. I fell madly in love with Drew. I thought "Oh my God, this giant man who's dressing up as me!" And let's talk about Drew - he has kept Nellie's little mannerisms. He's doing his thing, but as I watch it, I go "that's totally me."
XG: He's doing your inner monologue.
AA: Here's the freaky part. He says stuff that I was actually thinking. Like at the end when Drew (as Mellie) says to Laura "I'm gonna fucking kill you." That is completely what I had in my head. I thought "who is this man?" He really got it in a way that nobody ever has before. It's a must see performance. I love this whole group. Matt Herrmann who produced it is so brilliant and adorable. Everyone in this cast is so freaking brilliant.
Alison Arngrim and Matthew Herrmann (photo by Xaque Gruber)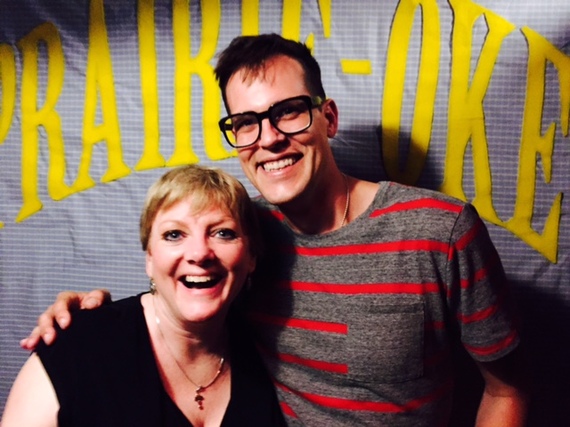 XG: So how did the show's producers reach out to you to participate?
AA: On Facebook! I got this message saying we're doing Prairie-oke again and we would like for you to play Mrs. Moleson on November 6th and 7th. Can you come in? And I couldn't wait! I turned to my husband and I said "opening night is our 22nd wedding anniversary and he said "so? It's Prairie-oke - you have to say 'yes'" (laughs)
XG: Your Mrs. Moleson costume is incredible. It reminded me of The Queen of Hearts from Alice In Wonderland.
AA: Yes! Yes! It does! (laughs) I'm going with that and I'll say "Off with your head at some point." I am practically sewn into that costume. Thank God that L.A. heat wave is over.
Ben Palacios and Libby Baker (Photo by Vickie Mendoza)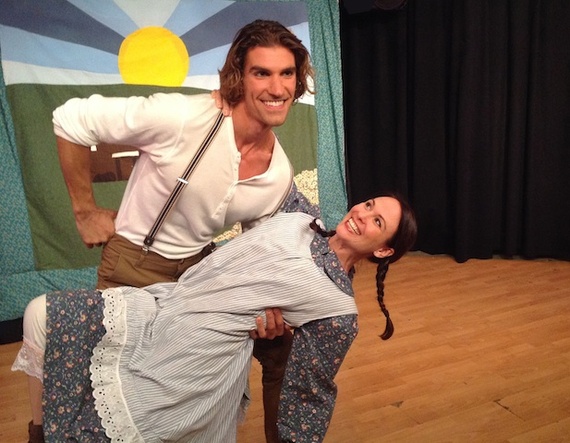 XG: On another note, I have to say you look so beautiful and youthful. Your eyes - your skin --
AA: Thank you. The cocaine thing - I never did it. Never smoked or did drugs. Never could get a tan so I stayed out of the Sun. I grew up in Southern California so I could've been out in the Sun snorting coke but I didn't. I also drink lots of water and moisturize.
XG: Are you thinking of Katherine MacGregor when you play Mrs. Moleson?
AA: Yes, I am absolutely channeling her. Katherine now lives in the entertainment retirement home. And she'd either be thrilled or murder me if she saw this. I'm completely doing her. As soon as I found out I was doing this - I sat down and watched Katherine closely in Little House YouTube clips.
Alison Arngrim (Nellie Oleson) and Katherine MacGregor (Mrs. Oleson) together in a classic scene from Little House On The Prairie:
XG: Is Katherine on Twitter?
AA: I'm not sure Katherine has ever seen a computer. I remember once saying to Katherine about seeing something on CNN and she said "I don't have cable. Pay for television? Are you mad?" But she's a doll - and we have a great relationship. She actually did the interviews for the DVDs and talked about working with Brando, etc. She retired pretty much right after Little House.
XG: You've been busy. Earlier this year I saw you in a comedy pilot --
AA: Life Interrupted with Mason Reese! Created by Steve Wishnoff who's also brilliant. In the pilot I'm married to Tabitha from Bewitched! They're still shopping it - and it's really good. In France, they love Little House and they love Bewitched - so they went nuts for this project. (Alison starts speaking French).
XG: Yes, I've heard that Little House is huge in France.
AA: Huge! I'm there a couple months a year. Then I went from France to Texas for a quilting convention because I am doing a Little House On The Prairie fabric line and they are really gorgeous fabrics. It's called Andover Fabrics and some of the designs are actually based on 1800s fabric patterns. They did a Downton Abbey line of fabrics and now they're doing a Prairie line.
XG: What I find so fantastic is that as a little girl you could've been cast on a show about a gas station, but you were cast on this drama about American history, and it has continually kept you working. It's like an industry of its own.
AA: Yes, I was cast on this show about real people based on a series of hit books that are still hits all over the world. And the show doesn't date because it's about the 1800s. And people can identify with the characters. It plays in 140 countries all the time. Nellie Oleson is the bomb in Argentina, France, Japan - all over the globe. It's crazy.
XG: I would say you are very fortunate.
AA: I won the God damn lottery. I went to a million auditions as a kid. I did a movie when I was ten, and commercials. Then this Little House audition came and I never had read the books, and from that moment when I was cast as Nellie at age twelve to this day on the Cavern Club stage - I say "thank you God, the Universe, everyone."
Prairie-oke's "kids": actors Penny Wildman, Matt Herrmann, Libby Baker and Rae Dawn Hadinger (photo by Vickie Mendoza):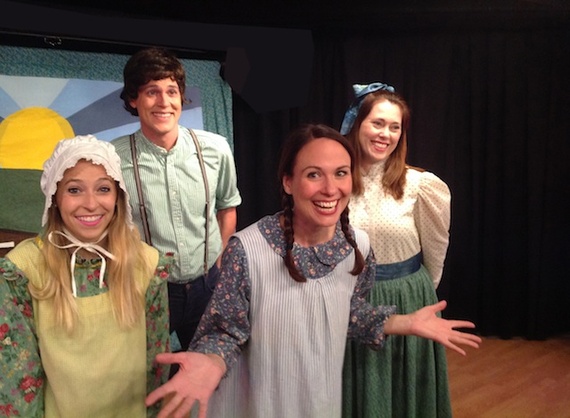 REAL LIFE. REAL NEWS. REAL VOICES.
Help us tell more of the stories that matter from voices that too often remain unheard.