What do the following pop culture touchstones have in common: The B-52s, Melissa Manchester, Guns n Roses, The Exorcist, Glee, and the classic TV series set in the 1880s starring Michael Landon and Melissa Gilbert that ran on NBC from 1974 to 1983? The answer is of course, Prairie-oke!, the latest, hilariously warped theatre mashup musical from L.A. based writer/director, Dane Whitlock, who brought us last year's hit, Are You There God? It's Me, Karen Carpenter. Highlighted by effervescent choreography by Joseph Corella, the lively Prairie-oke! is as endearing as it is demented.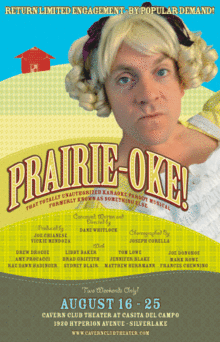 Long one of L.A.'s best cross-generational theatres, The Cavern Club is having a banner year with a playful, cheery, inventive lineup of pop culture confections highlighted by Chico's Angels (returning in October), Connie Loves Juice, The Madonna-logues, and now, Prairie-oke!, the year's most mirthful musical parody thanks in large part to its wildly talented ensemble including Drew Droege, Libby Baker, Tom Lowe, Joe Donohoe, Amy Procacci, Brad Griffith, Mark Rowe, Jennifer Blake, Sydney Blair, Rae Dawn Hadinger, Frances Chewning, and a super-fun to watch Matthew Herrmann.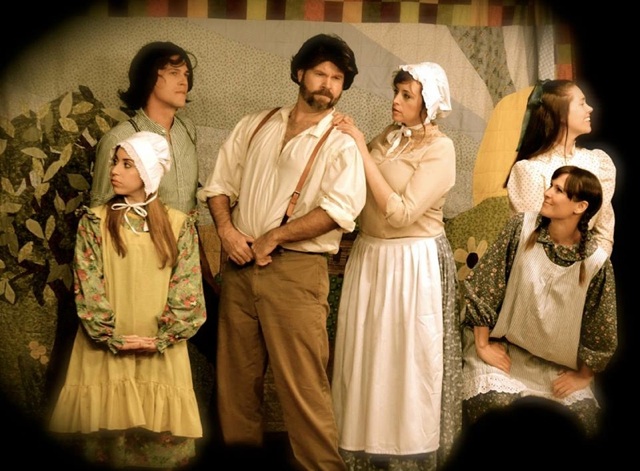 Allison Arngrim, TV's original Nellie Oleson, has seen Prairie-oke! three times, and calls it "pants wettingly funny!" One of the reasons Arngrim may have been a repeat customer is the memorable, absurdist homage that Drew Droege nails as bad seed, "Mellie Moleson." I had the pleasure of chatting with Droege, who the L.A. Weekly recently named as one of the city's "Ten Comedy Acts To Watch."
Drew Droege as Mellie Moleson and Allison Arngrim having fun after the show: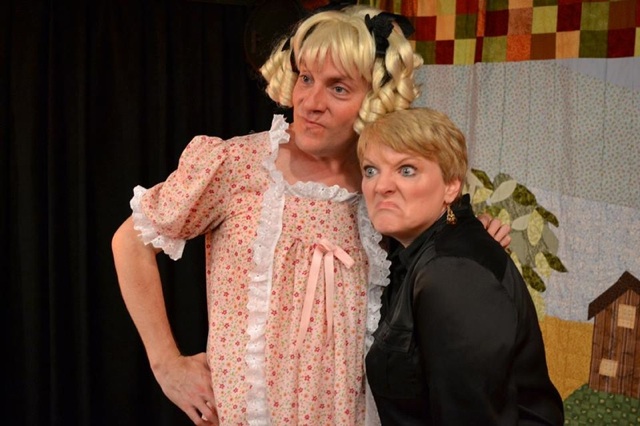 photo courtesy of Prairie-oke!
What are some of your fondest memories of watching TV in the 1970s?I grew up in the south (outside of Charlotte, North Carolina), and I always felt punished watching Little House On The Prairie (laughs), but I LOVED Nellie Oleson, and every time it would come on, I'd think "I'm on her side. I like what she has to say." She was for me the most interesting character because she was doing a whole different thing. Her character felt more like Carol Burnett to me. As a kid, I remember it seeming so homespun, but watching it now, it's so much darker. There's an episode with a rapist clown, another with a church on fire, another where they use a baby as a battering ram. As a kid, I just accepted these things, and so did America, we thought "yeah, well, it was rougher times back then." (laughs) And now when Little House On The Prairie comes on The Hallmark Channel or wherever, I can't stop watching it. But as a kid, I preferred sit coms about living in the city. I loved One Day At A Time, What's Happening, Good Times, Diff'rent Strokes, The Facts of Life.
You were so incredible as all the different 1970s Moms in Are You There God? It's Me, Karen Carpenter.I love doing that show, and we're doing it again in Palm Springs the weekend of October 18, 19, and 20th.
Drew Droege as Mellie Moleson, photo courtesy of Prairie-oke!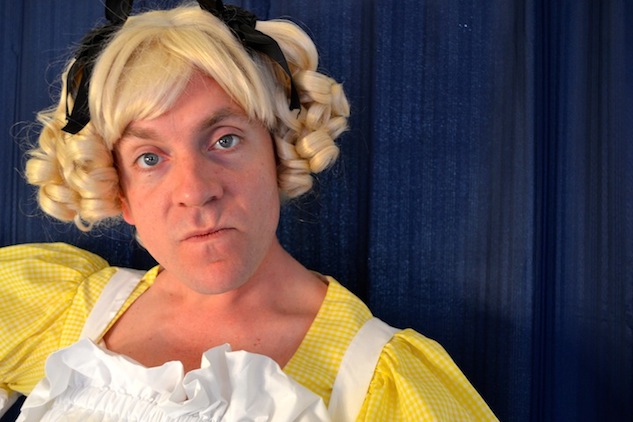 What else are you working on?On September 29, I am opening a new one man solo show called Bright Colors and Bold Patterns here at Verses Theatre on Pico near LaBrea. It's about a group of guys in a house in Palm Springs on the eve of a gay wedding, and it's a little autobiographical, and is a little more dramatic. That will run Sunday nights through October. And right after that we go to Palm Springs and do Karen Carpenter with this group.
As female characters, you tap into something real, and bring the women you're playing to life in an exciting way that isn't just camp.I grew up around a lot of strong women, and have always been fascinated by female performers like Carol Burnett, Madeline Kahn, Lily Tomlin and Jan Hooks - and I'd say "I LOVE her! That's what I really want to do!" It's fun, and I never think of it as drag really. It's a character that happens to be a women. I put on the wig, the costume, and the shoes, and I know it sounds crazy, but sometimes the costume tells me what to do. (laughs)
This will be the final weekend for Prairie-oke! (August 23 - 25): Fridays and Saturdays at 9, Sundays at 7 at Casita del Campo, 1920 Hyperion in Silverlake.
Support HuffPost
The Stakes Have Never Been Higher
Related
Popular in the Community