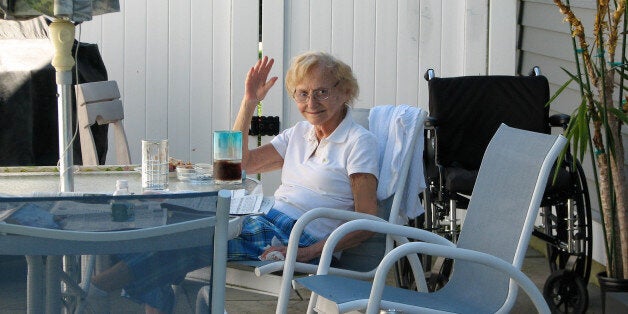 Talk about getting the last laugh ... An 83-year-old Connecticut woman who died Jan. 27 pre-wrote her own obituary in which she claimed she had died hiking Mt. Kilimanjaro. The obituary, which Norma Brewer wrote 11 years earlier with a friend, suggested that the cause of her death was hypothermia after her dog, Mia, had eaten her warm winter socks and boots.
"Norma Rae Flicker Brewer, a resident of Fairfield, passed away while climbing Mount Kilimanjaro," read the death notice. "She never realized her life goal of reaching the summit, but made it to the base camp. Her daughter, Donna, her dog, Mia, and her cats, came along at the last minute. There is suspicion that Mrs. Brewer died from hypothermia, after Mia ate Mrs. Brewer's warm winter boots and socks."
While the obituary likely didn't fool anyone, it did remind Brewer's loved ones of her fondness for pranks and her sense of humor.
"It was just typical mom," Donna Brewer, Norma's daughter, told the Connecticut Post. "She always had stories, many of which were not true, but thought were funny." Mrs. Brewer actually died from a stroke. "People who don't know my mother are bemused," said Donna Brewer and "People who know my mother are laughing and saying, `Yeah, that's Norma.' ''
Related
Popular in the Community