A homeless man and his dog now have a place to live thanks to one generous prankster.
Tom Mabe, the host of the online series "Prank It Fwd" which donates money from video views to charity, was filming a prank when he met Ricky, a homeless man from Kentucky who had lived in his truck with his dog, Buddy. In early February, Ricky went to the hospital where he was diagnosed with cancer and given six months to live. Against the doctor's recommendations, the devoted owner discharged himself to be with his dog.
The prankster told HuffPost that he was moved by Ricky's loyalty to Buddy, and started a GoFundMe campaign to get an apartment for the pet owner. With the help of donations, along with Mabe's own money, the prankster recently surprised Ricky with a fully furnished apartment, and covered six months of rent, according to the fundraising page.
Mabe was originally filming a pay-it-forward-type prank on Beth Green, founder of rescue organization My Dog Eats First, which helps homeless people care for their pets, when he met Ricky. After the cancer patient left the hospital in February, Green and her organization, along with Mabe, helped place Ricky and Buddy in a pet-friendly hotel.
Mabe then decided to create the online campaign to get Ricky a more permanent place to stay, so the man could live out his last days in comfort with his best furry friend. In late February, Mabe brought Ricky to his new home, and though the dog lover was under the impression the pair was visiting the prankster's own residence, Mabe revealed to Ricky in an emotional moment that the pet owner was, in fact, the new resident of the apartment.
Mabe also rewarded Green's efforts by giving away a year's supply of dog food to My Dog Eats First, and said he'll match any donations that come through the GoFundMe campaign, which will go toward Ricky and Buddy's living expenses as well as help Green's organization.
"[I] felt really good seeing Ricky and Buddy being able to stretch out in a bed instead of the front seat of an old truck," Mabe said.
To make a donation to Ricky's GoFundMe campaign, click here.
To take action on pressing poverty issues, check out the Global Citizen's widget below.
Related
Before You Go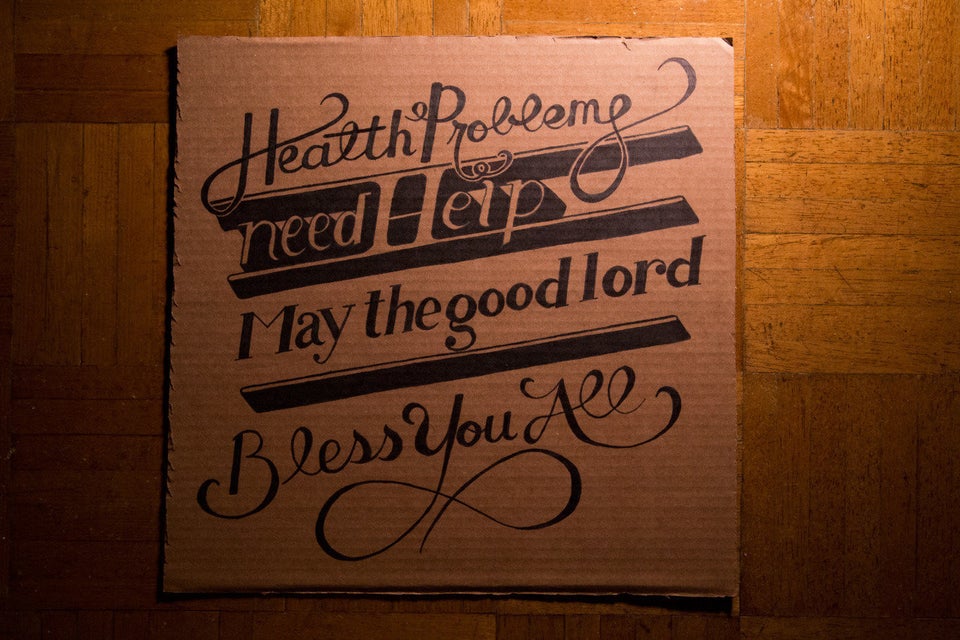 Artist Redesigns Signs For Homeless People