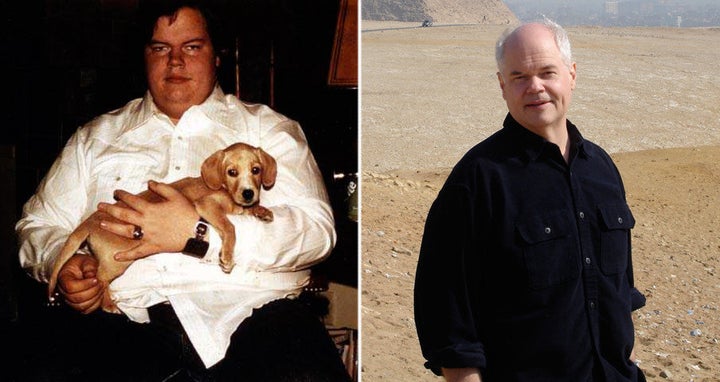 Yes, it is possible to lose weight, get fit and healthier through prayer. I know prayer works with weight loss and health challenges: I've lost 150 pounds and maintained it almost 20 years only by the grace of God, eating more healthfully and through "re-creation." Without God's help, I would have been dead long ago.

There are so many weight loss diets, pills, diet "food" products, exercise equipment, clubs, gyms, surgical interventions, books, videos -- it's impossible to keep up with them all. I know about those, too. I tried a bunch of them and spent a lot of time and money, but they didn't ultimately work because they're mostly one-dimensional. A lot of them are outright bogus and only exist to get your money. What I learned through years of dieting and nutritional interventions, failing a lot, losing weight and gaining it back, was that I had to also put my mind and spiritual beliefs into practice. I couldn't just focus on my body. I had to deal with my emotions, mental beliefs and improve my spiritual life as well.

Being someone who was addicted to overeating, I discovered nothing in this material world could ever satisfy me. Stuffing myself with excess food, stuffing my emotions down and avoiding moving at all costs just never satisfied. Being with God through prayer and being guided by Him is far more satisfying than any food, emotion or material thing. These days, my prayer consists of only seeking the will of God, through the Jesus Prayer, asking for His help in everything I am and do.

Twenty years ago, when I was desperate to lose weight, there was nothing available that combined body, mind and spiritual solutions. I had to discover my own methods, and after exhausting every diet imaginable, including diet pills and dangerous fasting, and lots of therapy and counseling, all that was left was to ask God for help. So I did, and miracles happened. I was able to focus my mind, resolve a traumatic, emotional past, and finally learn proper nutrition and enjoy moving my body on a regular basis. I reached out for God, and He answered my prayers.

Everything I needed came into place, and I began to slowly, consistently lose weight, enjoy recreation, express myself, and train and educate my mind. Because there wasn't anything that combined spiritual weight loss with emotional work, logic and exercise, I wrote a book ("" target="_hplink">The Joy of Weight Loss: a Spiritual Guide to Easy Fitness") and produced two DVDs on the subject ("Spiritual Guide to Weight Loss" and "Big Body Yoga"). I speak publicly about the power of prayer, to groups and in workshops, because so many people ask me how I lost so much weight and keep it off. I've also been a spiritual weight loss coach for many years. I want to help people as others helped me when I weighed 400 pounds.

It's not enough to just pray away the pounds, though -- we need to become healthier on all levels: in body, mind and spirit, together. Sound familiar? Not just the YMCA's motto, or the Trinity, but Plato in his "Timaeus," around B.C.E 363., taught us that human beings are a composite of not just physical matter, but of mind and spirit as well. The world is seeking balance, and so are we. Plato wrote that humans are like a chariot being pulled by two horses, with mind (intellect) as the charioteer in charge. One horse, the physical body that craves food and drink and pleasure, is unruly. The other horse, representing our higher aspects, is more manageable and calm. Most importantly, Plato reasoned that it was our spiritual self, connecting with our Creator through logic and prayer, that keeps us in balance. We need to nurture and manage all our parts, always moving toward union with God as the highest realm.

So, what to do if you're struggling with overweight or obesity? Give up! Say a prayer right now, and put whatever faith you have into gear. Pray to God, saying out loud, "I need help, I cannot do this alone, please help me." If you're Christian, as I am, pray to Jesus Christ and put your weight problem in His mighty care. If you're a believer or a member of another religion or tradition, ask your Creator as you know him (or her). If you're atheist or non-religious, no problem! Put your problems into the care of your Higher Power, Higher Self or to Nature. You might also want to go to the next Twelve Step group, such as Overeater's Anonymous. There you'll find others who you can speak confidentially with, and share in prayer. Or your church, synagogue, temple or shrine.

By praying and giving up your weight and health problems and asking for help, you're accomplishing many things: you are saying to God and the world that you believe, you're admitting that you cannot do everything alone, you're surrendering the burden and literally lifting the weight off your shoulders. As you're praying, try to be in a peaceful, or even silent place. Enjoy the feeling of being with God in silence, connecting with prayer. Know that God or your Higher Power is not only with you, He's inside you, hearing the prayer. Do this as often as possible, when waking up in the morning, during your daily work and before going to sleep.

Prayer is the first step in a program that's balanced with nutritional education, eating well so that you're satisfied and getting all the right nutrients in smaller quantities, feeling and expressing your emotions, and sharpening your mind and intellect.

With God, all things are possible -- especially getting healthier, losing weight and becoming a whole, happy person.

For more on the Jesus Prayer, visit JesusPrayerMovie.com.
Popular in the Community