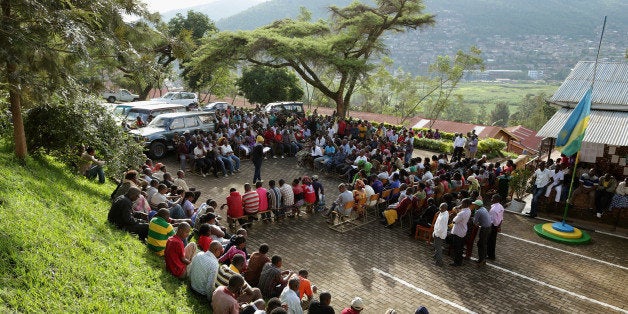 I BROKE DOWN. I was the president of the All Africa Conference of Churches, and I was making a pastoral visit to Rwanda in 1995, just one year after the genocide. I went to Ntarama, a town where hundreds of Tutsis had fled to the church for safety and sanctuary. But the Hutu Power movement had respected no church. Strewn across the floor were the remains of the horror. Clothing and suitcases were still littered among the bones. The small skulls of children remained shattered on the floor. Skulls outside the church still had machetes and knives in them. The stench was beyond anything I can describe.
I tried to pray, but I could not. I could only cry. Rwanda, like the Holocaust and other genocides before it, stands as a testament to our capacity for unconscionable evil, and yet our ability to forgive and heal stands as a reminder that we are not made for evil but for goodness.
These spasms of cruelty and violence, hatred and ruthlessness, are the exception not the rule of our human lives. Indeed, the Gacaca traditional community courts established in Rwanda are an extraordinary example of the ability of a nation that was once convulsed in genocidal violence to heal itself through reconciliation and forgiveness. More than 12,000 community-based courts tried more than 1.2 million cases throughout the country. The justice they sought was often restorative rather than punitive. Those who had planned and incited the genocide were punished, but those who were swept up in the internecine conflict were given lower sentences, especially if the perpetrators were repentant and sought reconciliation with the community. The goal was to rebuild the communities and the country, to heal and prevent further revenge and violence.
This is an example of how forgiveness can help heal an entire country. Forgiveness is at the core of peacemaking. I have seen this in my own country, in Rwanda, in Northern Ireland, and in the hearts of so many who travel the long and difficult road to find the peace that comes through forgiving.
We must all be careful with our words. Hurtful words may not be forgotten, but they can be forgiven. We must all strive to be careful with our actions. When we assault another's humanity, we assault our own humanity. Every person wants to be acknowledged and affirmed for who and what they are, a human being of infinite worth, someone with a place in the world. We can't violate another's dignity without violating our own.
Violence, whether in words or deeds, only begets more violence. Violence can never engender peace. Still, I will always pray for the person who holds the weapon, pray that this person finds compassion and recognizes the humanity he or she shares with the person who may be at the other end of that weapon's sights.
Henry Wadsworth Longfellow said, "If we could read the secret history of our enemies, we should find in each man's life sorrow and suffering enough to disarm all hostility." When we have hatred for others, we carry that hatred in our own hearts and it harms us even more, certainly, than it does them. We are created for fellowship. We are created to form the human family, existing together because we were made for one another. We are not made for exclusivity or self- sufficiency but for interdependence. We break this essential law of our being at our own peril. We take care of our world by taking care of each other -- it is as simple and as difficult as that.
Take Desmond and Mpho Tutu's forgiveness challenge here.
This post is part of a series produced by The Huffington Post and "Forgive for Peace," in conjunction with the UN's International Day of Peace (Sept. 21, annually). The International Day of Peace is devoted to strengthening the ideals for peace, both within and among all nations and peoples. Forgiveness is the first step on the path toward Peace and therefore the Forgive for Peace Campaign was established. It also marks an annual day of non-violence and calls for a laying down of arms to bring about a 24-hour cease fire on September 21st. To learn more about Forgive for Peace, visit here.
Calling all HuffPost superfans!
Sign up for membership to become a founding member and help shape HuffPost's next chapter