Last year, after a gunman opened fire on a queer nightclub in Orlando, Florida, illustrator Wendy MacNaughton grew frustrated with how people were responding on social media.
"I saw people online, including many powerful politicians and leaders, posting that they were praying for Orlando. '#prayfororlando' was everywhere online - Twitter, Instagram, Facebook," MacNaughton told HuffPost.
So the illustrator got creative, creating a graphic image that captured her feelings of vexation towards people who resorted to prayer instead of action in the wake of gun violence. The popular illustration was shared widely on social media.
"While I support people's right to prayer and using prayer to care for themselves and their loved ones in the wake of a terrifying tragedy, I did not, nor do I, see how prayer even begins to address the issue underlying the mass shootings in Orlando [and] Newtown," MacNaughton said.
Sending victims, first responders, and even entire cities "thoughts and prayers" has become a knee-jerk reaction to national tragedies in the digital age. People flock to Facebook, Twitter, and other platforms to offer their condolences, share memes, and join in on trending hashtags. And it makes sense for mourners to grasp at old, familiar words in times of great suffering ― humans may have new tools and new ways of connecting, but we're still the same sort of creatures that long ago formed liturgies, rituals, and prayers to bring order to the chaos and uncertainty of daily life.
But something about the massacre that occurred in Las Vegas this weekend has awakened a different reaction in the national psyche. The eerily familiar national outpouring of condolences, particularly from politicians, is causing people like MacNaughton and even religious Americans who believe in the power of prayer to question whether these messages of "thoughts and prayers" are enough this time to comfort a nation continuously plagued by gun violence.
For these religious and secular leaders, the problem isn't that these politicians are praying. It's what comes after they rise from their knees.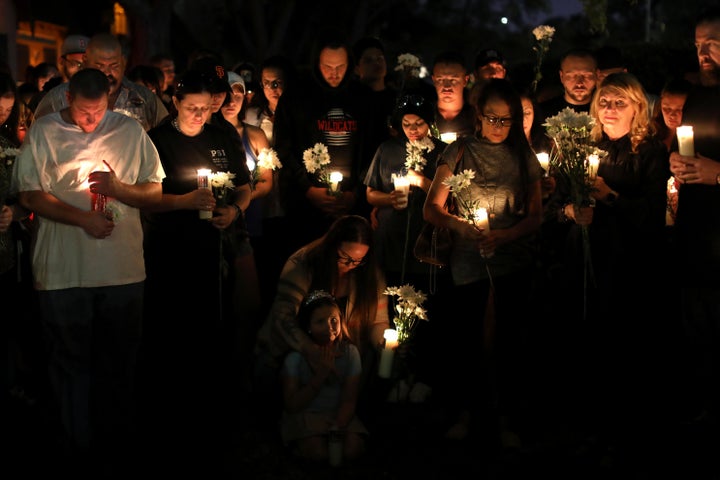 Rabbi Rick Jacobs, president of the Union for Reform Judaism, the nation's largest Jewish movement, told HuffPost that the country has reached a "saturation point" with gun violence ― so much so, that we "cannot simply go into automatic mode with thoughts and prayers."
"I don't want to discount for a moment the spiritual power of prayer in sustaining a family or individual through an incredibly painful moment of grief or loss or pain. But if we don't as a society remove the things that are causing needless suffering over and over again, we've lost our moral and religious leadership," he said.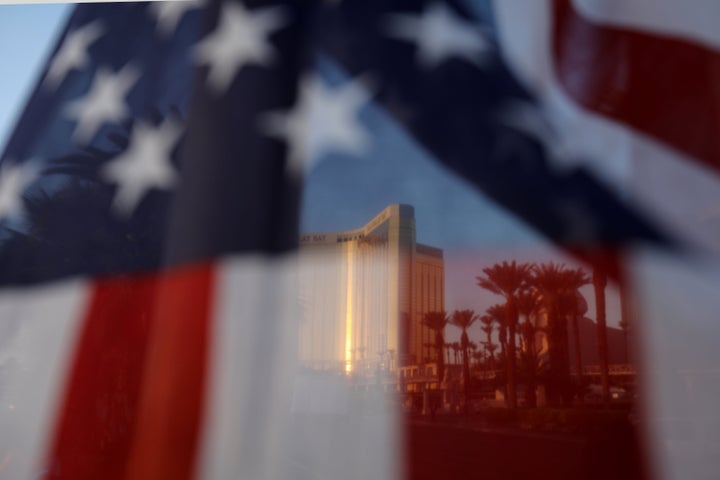 These politicians' responses to the Las Vegas massacre set off a debate about how to balance prayer with action after national tragedies.
Former Arizona Democrat Gabby Giffords, who was herself a victim of gun violence, held a press conference on Monday demanding that Congress take legislative action.
"What we're hearing today at the Capitol and the White House are thoughts and prayers. Thoughts and prayers are important. We send our thoughts and prayers, too. But they are not enough," Giffords' husband, Mark Kelly, said at the conference. "Your thoughts and prayers aren't going to stop the next shooting. Only action and leadership will do that."
Still, prayer does serve an important purpose, especially during a time of sorrow. For some, hearing a friend say, "My prayers and thoughts are with you," can be an incredibly comforting act of solidarity and genuine compassion. For religious congregations, prayer can be the first step towards mobilizing communities to organize a joint response to a national tragedy.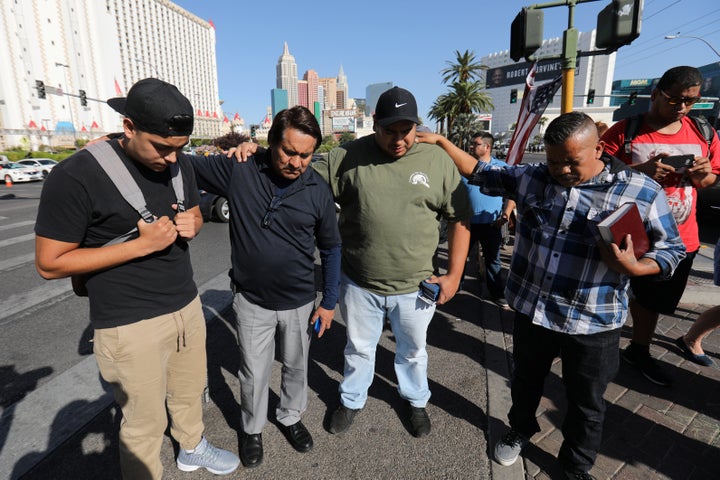 Jacobs said that in the aftermath of Las Vegas, prayer can help mourners through the grief of dealing with the loss of loved ones whose lives were cut off abruptly and harshly.
"I've spent a career in hospital rooms where people are going through the most difficult and painful life passages. I believe deeply in the power of prayer to give people strength and love and hope, a connection to that higher power of God," the rabbi said. "But I would never say to somebody who needs treatment, 'You don't need to go to the hospital, just stay here and we'll pray for you.' I believe in the power of prayer but I also believe in the power of human beings to work in ways to heal the world."
David Silverman, president of the advocacy group American Atheists, told HuffPost that he understands the initial impulse people have to say that their "thoughts and prayers" are with victims of a tragedy. After Las Vegas, the organization also tweeted out that its thoughts were with the victims.
"When we said we have the victims and their families in our thoughts, we mean that we're trying to put ourselves in their shoes and asked ourselves how we would want people and our government to respond if we were them."
He believes that there's been a backlash against the phrase "thoughts and prayers" specifically because "too many politicians who are in a position to affect policy change do nothing but offer those thoughts and prayers."
For those who believe in a higher power, prayer is not just about empathizing ― it can also be a way to ask God for help or guidance. The Rev. James Martin SJ, editor-at-large of the Jesuit magazine America, told HuffPost that for Christians, prayer is about relationship, with God and with fellow human beings. Sometimes, prayer calls Christians to do something practical ― like donate money or rebuild a house. But sometimes, it calls people to simply sit at the bedside of someone who is dying ― which, he argues, is also a compassionate "act."
Martin doesn't think "thoughts and prayers" always signify an empty gesture. It depends on the follow-up.
"If someone says to me in a time of need, 'My thoughts and prayers are with you,' and actually shows that he or she is thinking of me by helping in some way, and then actually prays for me, then I'm grateful," he said.
"If someone just says, 'My thoughts and prayers are with you,' and if they are neither actually thinking about how they can help you, nor praying for you, then it's not doing much good."
He agreed that politicians have an even heavier responsibility than most people to accompany prayers with action.
"If someone wants to help prevent these kinds of things from happening, then one must act. Otherwise what 'thoughts' is one thinking other than, 'How sad?'"
The Rev. Dr. Katharine R. Henderson, president of Auburn Seminary, said that prayers are always beneficial but that "they too often are used for cover by elected officials."
"It's their job to grapple with the epidemic of gun violence. After they pray, they need to legislate," she said.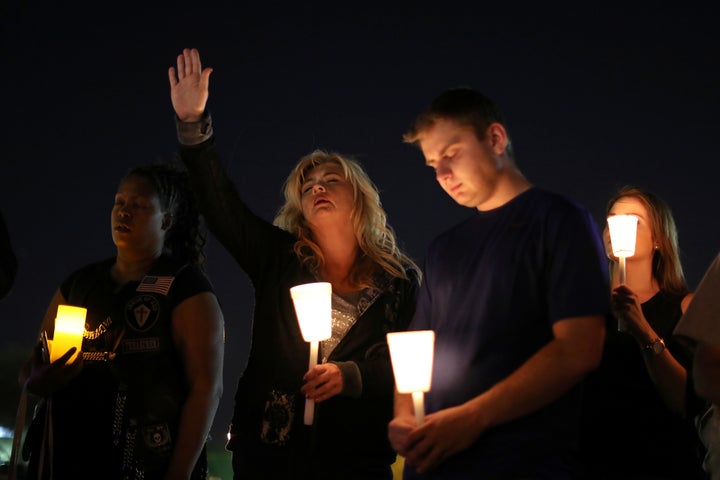 Imam Suhaib Webb, resident scholar at the Islamic Center of New York University, told HuffPost he believes prayer brings together humility with thankfulness.
"My secular friends tend to assume that prayer is an excuse to avoid responsibility, hence they dismiss it," Webb said. "In Islam, there is no true prayer unless it is coupled with action."
The problem with public acts of prayer for Webb is that they sometimes encourage people to pray with an audience in mind.
"I appreciate anyone's prayers, but prefer, especially with politicians, that they keep it to themselves because politicians tend to speak in a voice that seeks to please their backers, is devoid of sincerity and tends to be masked by an agenda. Prayer is about sincerity and honesty, not likes and attention," he said. "Thus, with some politicians prayer becomes another check mark on the 'things to do' list, instead of an intense experience that will lead to a commitment to good and a faithful effort to create change."
"When praying for any cause we must be certain that we are invested in strategic work and organizing that will bring that prayer to life. While praying for the victims of any tragedy is commendable, if our actions don't support the prayer we made, we risk reducing prayer to a hollow ritual, instead of an instrument for change."
For MacNaughton, the illustrator whose criticism of hollow prayer drew attention online, this standard of always pairing "thoughts" with actions applies to secular folk, too.
"I'm glad if this image helps people publicly articulate their feelings in response to gun violence," she told HuffPost. "However, if sharing a message like this isn't accompanied with meaningful action (i.e. calling our representatives and demanding policy change or they'll lose our vote) then sharing an image on social media is as useless as offering digital 'thoughts and prayers.'"
Correction: A previous version of this article misspelled Wendy MacNaughton's last name.
Related
Before You Go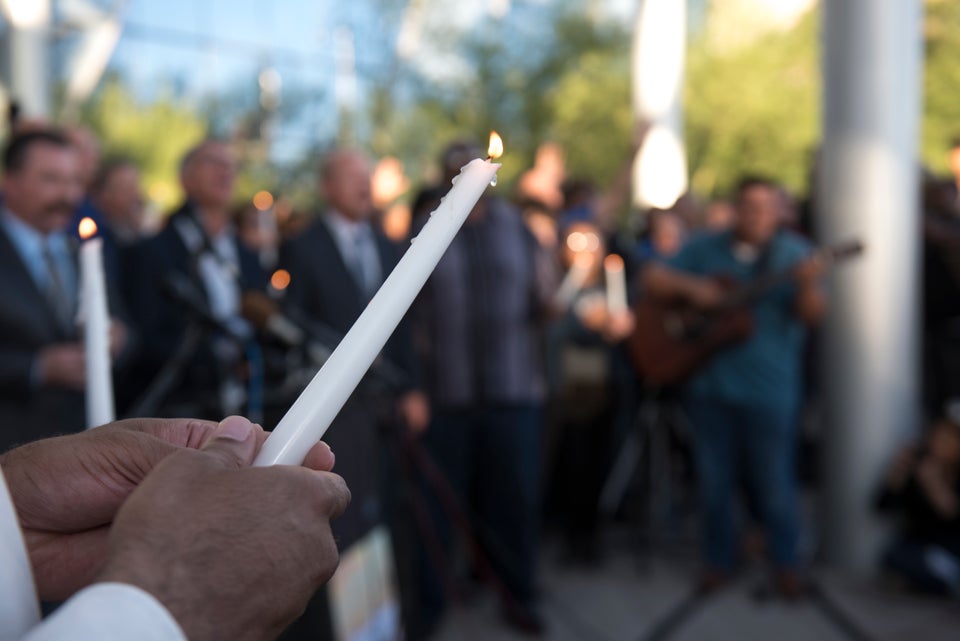 Las Vegas Vigils
Popular in the Community