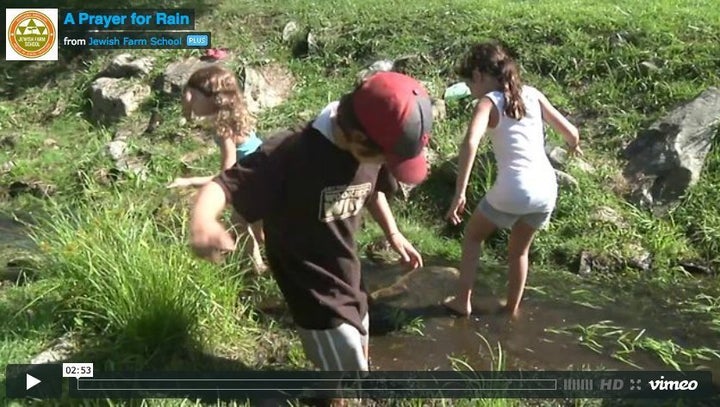 "You are our God. Who causes the wind to blow and the rain to fall. May it bring blessing and not curse. May it bring life and not death. May it bring bounty and not famine." --From the Prayer for Rain recited on Shmini Atzeret
When we consider water, it has been quite a year indeed. We have witnessed a frightening series of droughts, forest fires, floods, ice melts, heat waves and other extreme weather events. On top of these natural phenomena, hydrofracking has emerged as one of the most significant environmental issues of our time. Kyle Rabin, Director of GRACE Foundation's Water and Energy Programs notes that, "It takes 4.5 million gallons of water to drill and fracture a typical deep shale gas well, and up to 1 million gallons of that hazardous water-sand-chemical mixture flows back up to the surface which, if mishandled, can pose a threat to nearby water resources."
The holiday of Sukkot is the Jewish tradition's water festival. The Land of Israel depends on an all-important rainy season that typically begins around Sukkot and the themes of rain and water are embedded in the weeklong festival in a number of ways. Whereas tradition holds that humans are judged for life or for death on Rosh Hashanah, on Sukkot God passes judgment for rain for the ensuing year (Mishnah, Rosh Hashanah 1:2). In ancient Israel, and still for most of the world today, a "bad judgment" amounting to inadequate and/or untimely rainfall is nothing short of disastrous.
With this appreciation of, and concern for, our utter dependence on water, Sukkot incorporates a number of sensorial rain themed rituals, prayers and petitions that include shaking four biblical plant species associated with water, beating willow branches (one of the four species) on the earth, and on Shmini Atzeret, the one-day festival at the end of Sukkot, the recitation of a hauntingly beautiful Prayer for Rain.
The Torah is full of references to mayim chayim, "living waters." The language of mayim chayim is used in a number of contexts. It is used to describe the fresh, potable water that Isaac's servants find when re-digging Abraham's stopped wells (Genesis 26:19), and by the prophet Jeremiah who refers to the Creator as the "Source of Living Waters" (Jeremiah 17:13). Finally, the language of "living waters" in used commonly in the context of ritual purification for both people and for objects (Numbers 19:17, for example).
The common thread between these various uses of mayim chayim is water's primary association with our very existence. In each of these cases, water is meant to be taken both literally and metaphorically as a substance upon which humans, and all life, depends. The early rabbis later came to distinguish "living water" to be found in flowing forms such as rain, streams, lakes and springs from "dead water" that has been sitting stagnant in a well or closed body of water and is, therefore, unacceptable for purification purposes.
The conclusion of the Prayer for Rain that Jews recite on Shmini Atzeret pleads, "You are our God. Who causes the wind to blow and the rain to fall. May it bring blessing and not curse. May it bring life and not death. May it bring bounty and not famine."
We are living in a day when rain is often a curse. Both through absence and through excess, rain is bringing death. Famine and flood. Even as this summer saw record droughts across much of the country, here in the U.S. most of us still take water for granted as we open the tap. Shamefully, the unsustainable U.S. agricultural system requires 80 percent of our total annual water consumption.
In our generation, Sukkot is an opportunity to wake up to the damage we are doing to the Living Waters. While Jews plead and pray that we be inscribed for life during the High Holy Days, on Sukkot it is fitting that we pray for the strength of character, the will and the heart to protect our planet's watersheds and waterways as if they were the arteries and channels running through our own bodies. And this year, may water be for life and not for death.
At the Jewish Farm School we have just launched a powerful "Prayer for Rain" video and crowd sourcing project that includes a diverse cross-section of people reading an adaptation of the Prayer for Rain. The themes of the prayer are connected to contemporary issues related to clean water, sustainable agriculture and climate change. Click here to download valuable educational materials and learn how you can add your voice to this project!
Please join us throughout the Jewish High Holidays, on the HuffPost Religion live-blog, updated daily with spiritual reflections, blogs, photos, videos and verses. Tell us your story.
REAL LIFE. REAL NEWS. REAL VOICES.
Help us tell more of the stories that matter from voices that too often remain unheard.