Cholo goth duo Prayers are blazing hot right now, shifting their universe onto a higher plane, making their dreams reality and taking their fans with them into virtual reality. Prayers singer Rafael Reyes was born in Mexico and raised in San Diego's Sherman Heights where he was jumped into the Sherman Grant Hill Park 27 gang at age thirteen, while secretly developing a passion for goth music and its baroque, dark elegance. His musical partner, beat-and-synth dynamo Dave Parley, was born Tijuana and found expression through drums and DJing. Together as Prayers, singer Reyes--who uses the name Leafar Seyer to define his onstage alter-ego--and Parley blend harsh, poetic, beautifully brutal lyrics that reveal betrayal, anguish and loss with '80s-tinged driving melodies and rhythms, laying out the liminal states that fall between this world, gnosis and death's release. Now, with their current album Young Gods dropping June 23 and a sold-out show at the famed Roxy nightclub on Sunset Strip that night, Prayers stand on the threshold of a new world.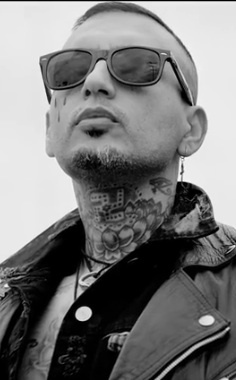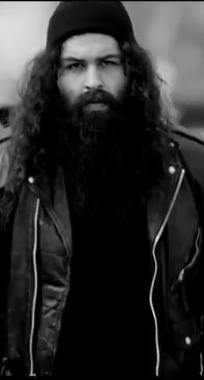 Prayer's latest video "Young Gods," the title track off the album produced by Blink 182's Travis Barker, has gone viral, and digital pre-orders for the album on Barker's LaSalle label are exploding. Prayers' seven-track Young Gods EP features Barker, Skinhead Rob Aston (the Transplants, Death March) and DJ Klever, all who discovered Prayers through social media. Prayers are celebrating the release of Young Gods at the Roxy where they'll be joined by Barker and Aston on stage in front of a capacity crowd. And, since thanks to social media, Prayers has fans throughout the US and worldwide, they are live streaming their entire set for free through their website chologoth.com using virtual reality technology provided by VRLive.tv.
Fans across the globe will be able to control what they see online in 360-degree rotation by using their keyboard arrows, whether it's Seyer singing, joined by Aston for a menacing yet uplifting and catchy collaboration, Dave Parley evoking liberating frequencies on the MPC 5000, Travis weaving magic on the drums, or the audience in a Prayers-induced ecstatic frenzy (expect a mosh pit and crowd surfing, plus lush, languid goth beauties swaying to the beats). Those lucky enough to have the Oculus Gear VR headset will be able to be completely immersed in the concert from their homes. There's also a VRLive.tv Google Play app for Android (an iOS version in the works) so the show can be watched anywhere, while concertgoers using the app at the Roxy will be able to experience the gig from multiple broadcast perspectives, as well as in real life.
While live streaming on this scale is usually seen with larger acts, like U2 and Jay Z, and at festivals like Coachella, Warped and Electric Daisy Carnival, Prayers felt it was important to provide an real time experience for the June 23 show. Seyer says:

The Roxy sold out quickly, so the opportunity of a live 360-degree stream through VRLive.tv seemed like the perfect way to let people in Mexico, South and Central America, Canada and Europe as well as all over the States--fans who write us, who follow us on Facebook and Instagram, our friends and family everywhere--experience a Prayers show, to be with us for our record release, to see and hear us play with Travis and Rob, to celebrate with us.
Over the past year--the duo recorded and released their first album SD Killwave in late 2013 and their second, Gothic Summer, in May 2014--Prayers has consistently sold out shows in their hometown of San Diego, their second home Los Angeles, and in other California cities. Their surprise appearance during Spring 2015 New York Fashion Week created a huge buzz, as did their sold-out SXSW show a month later.

Fueled by their social media presence and gripping, gritty music videos conceived by Seyer, Prayers has won legions of fans who avidly follow the band on Facebook and Instagram. These fans have taken Prayers' independently produced videos into hundred of thousands of views each. Fans also busily post and tag their own clips of live shows, photos of the duo on stage, and snaps taken with Seyer and Parley after gigs.

Prayers' songs have tapped into wide strata of music lovers whose tastes range from emo to hard rock, black metal to rap. Their music is an alchemical combination of genres and signifiers that creates a sound and vibe unto itself. As the duo breaks through stereotypes in music and race, their fans from as far away as Uruguay and Russia get it, as do the goths and La Raza, gangsters and headbangers. Comments on the "Young Gods" YouTube release range from

Yes! I always enjoyed good synthpop. This isn't only great synthpop (or killwave) but simultaneously destroys the norm of what a synthpop artist should look like or what a cholo listens to.
The movement u have created gives us all a new identity i grew up in east Los Angeles, and i thought me and a few homeboys were the weirdos of our family, we're just like you, it's beyond appreciated what u do and what you're doing. Orale.
to this from a self-identified Northern Californian gang member, proving that music is a universal solvent, even for a decades-old regional--and often lethal--rivalry:

I think I found my new fav genre. & even though you guys are Southerners & I'm a Northerner I still dig your music. Your music sees no colors. & I like that.
Photos: Screenshots from "Young Gods" conceived by Rafael Reyes/Leafar Seyer, directed by Gavin Filipiak, used with permission.
Calling all HuffPost superfans!
Sign up for membership to become a founding member and help shape HuffPost's next chapter