Cholo goth. Makes total sense. The cultural iconography dovetails seamlessly -- skulls, lace, candles, saints and crucifixes. The music draws on heartbreak, alienation, angst, making it perfect for dystopian youth of all races. The mournful and disaffected cross cultural boundaries with Bauhaus, Depeche Mode, Christian Death, and Joy Division as perpetual favorites, along with the sad sounds of the Smiths, whose lead singer Morrissey is an idol to many Chicano kids.
But San Diego-based, self-described Cholo goth duo Prayers isn't emo Morrissey stuff. Opening for The Cult in San Francisco, San Diego and Las Vegas, Prayers pulls from darkest dance elements with touches of the Pet Shop Boys and Bowie thrown in to lift the mix. Prayers' hard-edged, rap-tinged lyrics about pride and struggle set are again swirling synth and pounding drums. NBC San Diego's Dita Quinones has compared lead singer to Rafael Reyes to Jay-Z in his H.O.V.A. persona, and there's no denying Reyes' street cred or the redemptive power of music in his life. He says: "My music has saved me from myself and it has saved others from me."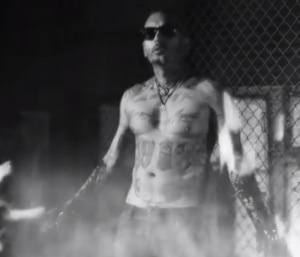 And he means it. A two-strike offender, Reyes was born in Michoacan, Mexico, and raised in the Sherman Heights section of San Diego. He grew up as a member of the Sherman Heights Grant Park 27 gang, though at age 18 he shifted away from gang banging and opened Pokez, San Diego's funky vegan/vegetarian Mexican restaurant, which 20 years later his family still owns and operates.
Reyes' two felony assault convictions happened in his late 20s, after his father's death. He used his time behind bars to develop his art and writing, and in 2011 self-published Living Dangerously, a poetic Cholo coming-of-age novella about graffiti crews and gang life. Full of violence and sex, redolent with street slang and snappy, hardboiled dialog, Living Dangerously reveals the author's bravado and humanity.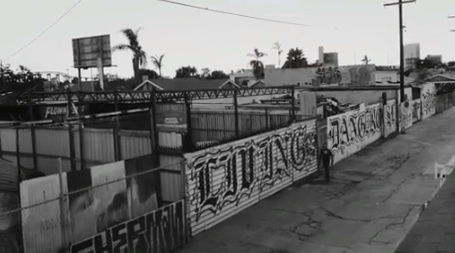 Reyes also began painting in earnest and creating sculptures using mannequins and animal skulls. Reyes' artwork, blending Catholic, Chicano, Olmec and occult imagery, blurs the line between redemption and damnation. He made a name for himself in San Diego's alt/street art community, at first because of his reputation as a bold graffiti tagger. Now his art sells steadily and he has devoted collectors. But Reyes craved a more direct, active way to communicate than painting and the writing, so he formed the goth bands, Baptism of Thieves and Vampire, receiving local acclaim and notoriety. Cholo goth, a term Reyes wryly coined, had hit the San Diego scene.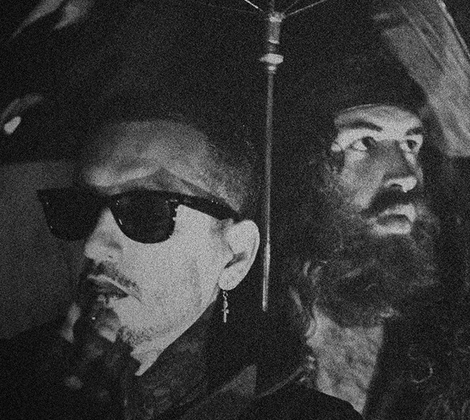 With his latest venture, Prayers, Reyes -- accompanied by Tijuana native David Parley, the Rasputin foil to Reyes' Byronesque street vibe -- calls out evil, demands respect, and fears no man or devil.
Prayers' first video for the danceable "From Dog to God" had Reyes playing against and breaking traditional macho stereotypes while blending goth angst with street realities:

From dog to god, I'm all alone in this world
This fucking world
All of my friends have forsaken me
I get more respect from my enemies
I never ran when they tested me
The video for the single "Ready to Bleed" embraces classic goth imagery -- blood and saints -- contrasting them with gritty shots of graffitied walls in Sherman Heights. There are hard, harsh scenes as Reyes expresses his love for neighborhood and warns that he is self-aware, aware of his surroundings, and will protect all that he cares for, all that he has worked to become: an artist, a businessman, a community leader, redeemed by living his true will while avoiding negative societal traps.
Popular in the Community