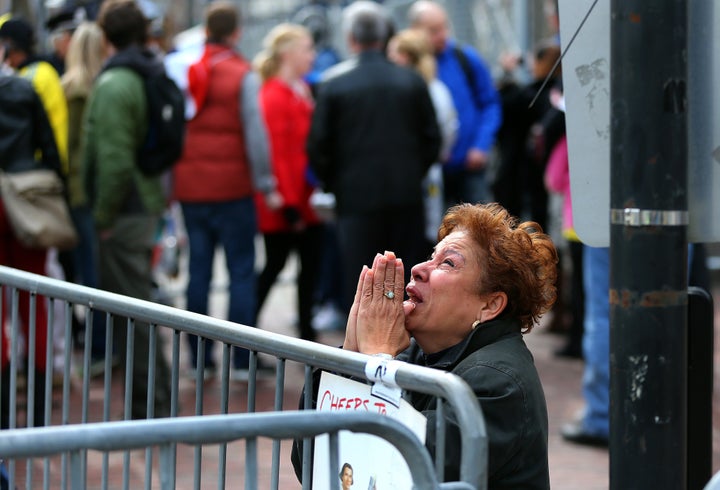 Boston is reeling in the aftermath of two explosions near the Boston Marathon yesterday afternoon. Three people have been killed and dozens injured and being treated at local hospitals. I've been texting, calling, and checking up on friends in the area all afternoon. We are all shook up and confused by what is happening, searching for answers or explanations for something so hard to comprehend (though something commonplace in other parts of the world like Iraq, where more than 50 were killed in a bombing yesterday). Very little is yet known about who did this and why, but of course, the mass media are already making lots of unsubstantiated claims, while accusations and assumptions are spreading quickly on Twitter and Facebook.
As something as horrifying as yesterday afternoon in Boston is unfolding, as we are worrying about loved ones who may be affected, we already have to worry about the consequences of backlash violence. We have to worry about the sensationalism in the media. We have to worry about being attacked because of the color of skins, the turbans or hijabs on our heads, the beards on our faces. I pray that people in the United States and beyond have learned something in the last 11 and a half years. I pray that the collective response to yesterday will be drastically different from the knee-jerk racism that pervaded the days, weeks, months, and years after 9/11/01.
But honestly, I'm not so sure how hopeful I am.
Already, the New York Post reported that the suspect is a 20-year-old Saudi national being guarded at a Boston hospital, a claim that has been refuted by the Boston Police Department. The Post, hardly known for objective, fact-based journalism (see my 2011 piece on "Turban Warfare"), also reported that 12 were killed in the explosions, while the police department was reporting two dead. Reporting like this contributes to the frenzy and fear that allow bigotry to thrive. The kind of bigotry that killed Balbir Singh Sodhi in Phoenix on Sept. 15, 2001. The kind of bigotry that put Bashar Ahmad and Ali Akmal of Queens in the hospital last year. The kind of bigotry that burned down the Joplin mosque and attacked several other Muslim houses of worship and schools last year. The kind of bigotry that reigned terror on Oak Creek, Wis., on Aug. 5, 2012.
Some right-wing pundits have been even more blatantly racist this afternoon in response to the explosions. Fox News commentator Erik Rush went so far as to tweet yesterday afternoon that Muslims are evil, and "Let's kill them all" after immediately blaming the explosions on Muslim terrorists without any evidence.
As of this writing, no arrests have been made. We know very little about what is behind this horrific afternoon in Boston, yet it is already clear who is going to pay the price, regardless of the facts.
Popular in the Community