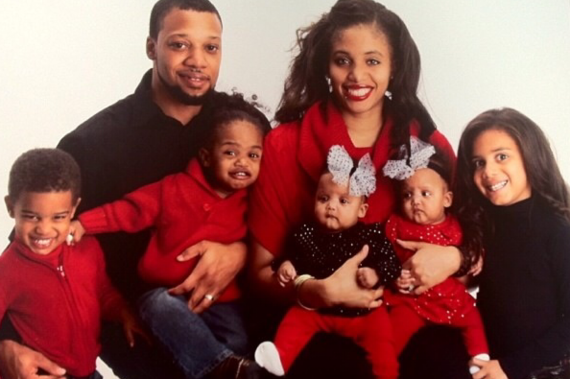 Pictured: Dana Calloway with her husband and five children.
Twenty-four year old Dana Calloway has been sick for many years. In addition to her late diagnosis of Lyme disease wearing in on her joints, nervous system and, other organs, she has a hole in her heart. The hole in Dana's heart causes both oxygenated and deoxygenated blood to mix. Her life threatening condition is usually noticed during one's infancy and is repaired during the first couple of years of a baby's life. Dana's heart condition, an Atrial Septal Defect is a type of Congenital Heart Disease. Without having open heart surgery, Dana is at risk for a stroke and heart failure. Insurance doesn't cover the costs for Dana's health expenses, which can add up to $70,000-$150,000 during a patient's lifetime.
While struggling with her own health concerns, Dana is also caring for her husband and five young children. Two year old Carter suffers from Sensory Processing Disorder, while 16 month old twins Leilani and Milena share their mother's Congenital Heart Disease. The twins will require surgery if the holes in their hearts haven't closed within the next year.
A Prayer for Dana (poem)

There's an honest smile on her face
whether she's visiting a dream,
or wide awake.
While we're hiding tears, she's unafraid.
She doesn't complain, she won't speak of pain.
She is what you call love,
forcefully holding her head above
water there are kids to look after.
As the days go by,
they seem to be growing faster
there's no space for arguments
or faded laughter,
just peace.
So, once you've said all the things
you needed to say,
they say, "Let us pray."
Let us pray for the moon to kiss a star,
for the next storm to spread love,
near and far.
Let us pray for light during dark times,
peace of mind, spirituality, and the divine.
Let us share hope
for her healing, for her soul.
The future comes to me
in my dreams late at night.
There is no suffering,
tears of joy are cried.
The word "relief" floats throughout the room.
There is no face in my vision,
but I'm reminded of you.
Once you've said all the things
you needed to say,
they say, "Let us pray."
This article was previously published at http://ryem.hubpages.com/hub/Prayers-for-Dana.
Popular in the Community