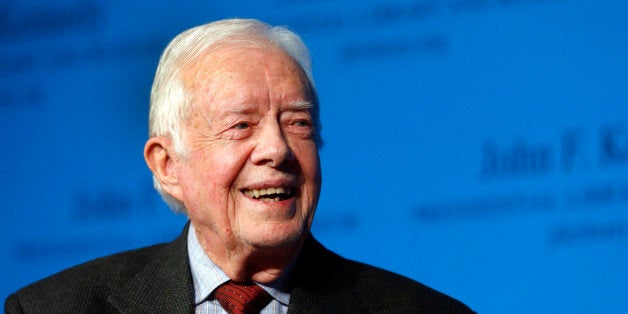 Jimmy Carter is no stranger to cancer. In his remarkable book A Full Life: Reflections at 90 he writes of how he lost his father and two siblings to pancreatic cancer, all before they reached 60.
Now the 39th president of the United States has revealed that he too has cancer and will undergo treatment in Atlanta. Many of us who have long admired Jimmy Carter have responded with appropriate worry and call for prayer.
Given his faith, I am sure these prayers are appreciated and that the president hopes and even expects to make a full recovery. I had the privilege of interviewing the president just two weeks ago and he hardly sounded like someone who was weary of this life -- if only because he told me that each day he grows more in love with Roselyn, his wife of 69 years.
However, perhaps because he has lived such a remarkable life, the president did also not appear to fear death. When I asked him about his own understanding of what happens to us when we die and what constitutes a good death he responded:
Well, I'm a Christian and I share the same faith that we all have that through our faith in Jesus Christ we are given permanent life after we are dead in some form that we don't comprehend. I think the most simple explanation of it is Paul's use of the seed that is like an acorn that is planted and it becomes a tree so you don't even know what the future will be in your heavenly life. So I don't try to assess exactly what it will be but I feel completely confident about it.

But also the basic principle in Christianity is that we don't start living our future life after we are dead, but we start living our better future life now. And start to let our religious faith and our moral values and ambitions be shaped to do what we think is ultimately better for other people, not in some future day but in the life that we lead today.

One of the best examples of that was given to me by a Cuban-American pastor with whom I did one of my mission trips and his advice to me was that we must love God and love the person in front of us at any particular time, that's a very profound theological statement I think and
pretty much encapsulates my religious beliefs.
While I join people around the world in wishing President Carter a full recovery and pray for his health, I am also inspired by his faith in the face of death, and his reminder to recognize that every day in this life is an opportunity to love God and love our neighbor, and to plant a seed that grows a beautiful tree in this life and in the life to come.
Jimmy Carter has spent his life planting such seeds with his presidency, his peace activism, his health work and his deep love for his friends and family. We all pray that he will have many years in front of him to plant many more seeds of peace and love in this world before he passes onto the next.
PHOTO GALLERY
Prayers For Jimmy Carter
Listen to the Jimmy Carter Interview
Calling all HuffPost superfans!
Sign up for membership to become a founding member and help shape HuffPost's next chapter