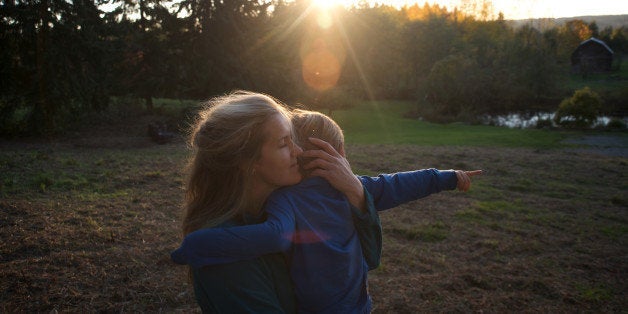 I'm not a religious person. I was born into the Methodist Church, married into the Lutheran one and spent over a decade teaching Sunday school and leading confirmation groups. At the moment, we are in between churches. In between religions, maybe. The older I get, the more I wonder about higher powers and God and heaven. I question things of a spiritual ilk, but always keep an open mind. Because one thing I've learned in my 48 years on this planet? A closed mind gets stale and stuffy like a windowless room on a baking hot day.
It's my open mind that tells me it's okay to pray. Who am I praying to? God? Maybe. Maybe I'm praying to the ocean, or the stars or the spirit of Nora Ephron. Who knows. But I do pray, and quite often. I pray for my children, for my family and for my friends. I pray for the people who live in parts of the world that are being torn apart by war and hate. I pray for animals and ignorant people and the environment. I pray that I get the green lights on the way home, and I pray that cancer gets cured, and I pray for the strength to avoid eating all of the leftover cheesy bread on pizza night.
Today, I'm praying for single parents. I've been on my own with my kids for over eight years, and I know just how hard it is. I also know that there are moments of intense beauty and happiness and that finding these moments can be difficult at first. I know that at times it seems like you're the only one feeling these emotions, the only one strapped into this insane roller-coaster of a life. And I want to let other single parents know that they aren't alone.
I pray that you, my fellow single parents, find the reserves in your wells of patience and humor. These two resources will be key in your life from now on. When you find yourself at the end of the day, exhausted and frustrated and overwhelmed with nobody to discuss Bobby's acne or Janie's speech delay, or the fact that the damn washing machine is making that weird noise again... you will need to draw upon these two things.
I pray that you learn to like, maybe even love, the many hats you're going to be wearing on this journey. You are the breadwinner, the head-of-household, the rule enforcer and the privilege-taker. You're the appointment-maker and prescription-filler, the grocery-getter and the chef, the mechanic and the handyman. It's going to suck at first, honestly. Not gonna lie. Your list of to-do's is going to outnumber the hours in your day. But guess what? Somehow, you figure it out. I don't know how it happens, but you just do. You find the extra thirty minutes you need, you scrape up an additional $100 at the end of the month, and you create a whole new realm of time management and you get stuff done.
I pray that you come to know the love of good friends. Supportive friends. Friends who may or may not know what you're going through, but are there when you need them. Friends who circle the wagons around you, friends who have your back. Friends who are there with a shoulder to cry on or a pitcher of margaritas when you get one of those rare free nights.
I pray, too, that when you find yourself being judged or stereotyped or shunned (all of which might happen, unfortunately), you remember exactly how strong and how brave and how flexible you've become. Whether you're facing a teacher who thinks kids of single parents are inherently troubled, or a fellow Little League parent who looks at you with a weird mixture of fear and loathing, I pray you are able to let it roll off your back.
I pray that if you find yourself in a bind, and need to ask for help, that you are able to do so without shame or embarrassment. I pray that you are able to get the assistance you need, and I also pray that someday, when you're able, you get to know how good it feels to be able to give back.
I pray that if your kids have another parent who is still around, they are involved in their lives. And if the other parent isn't around, or doesn't want to be involved and there is animosity or anger or grief in your heart? I pray that you're able to find peace and forgiveness and acceptance. Parenting is hard when you're doing it solo, even more difficult when you're dragging a grudge behind you as well. (Please note that this one can take a while -- be patient)
I pray that you figure out whether or not you want or need another partner in life. I pray that if you do decide to join forces with another, that it's good and kind and loving, not only for you but for your children as well. I pray that if you've chosen to stay single for the time being, you learn the difference between being alone and being lonely. Sometimes it's hard to differentiate between the two, but they are as opposite as night and day. I also pray that if you discover all you need is someone to scratch that itch every once in a while, you find someone who is on the same page and that it's a mutually beneficial thing. Hey, we're single, not dead, right?
And most of all, I pray that you get some good sleep, stay in good health and experience good things. I pray that you remember to take care of yourself while taking care of your kids. You make sure to change the oil in your car, right? Do the same for your body and mind. I pray, too, that you show yourself the same grace you show others, that you are able to forgive yourself for screwing up once in a while. That you love yourself as hard and as tenderly as your kids love you.
I pray the same thing for you as I do for myself: that our kids end up as happy, productive people. People who had parents who loved them, parents who did the best they could.