Among countless interreligious gatherings worldwide, one has a special allure: the "pilgrimage of peace" organized by the Rome-based Community of Sant'Egidio. For 29 years, beginning with Pope John Paul II's meeting in Assisi, each year some 300 religious leaders meet alongside political leaders and scholars, and affirm their deep commitment to peace. The event mixes substance, prayer, pageant, and a self-conscious focus on relationships that gives "networking" a different, living sense.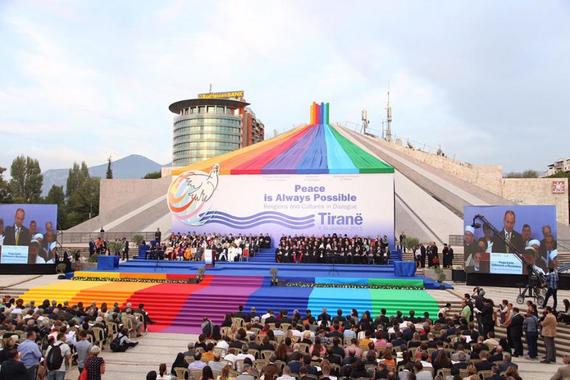 Final ceremony in central Tirana
The 2015 meeting was in Tirana, Albania, from September 6-8. Three themes dominated: Albania's journey from a ferocious atheism that has few parallels in history to a proud religious openness and harmony today, the horrors that ISIS represents and the current migrant crisis.
Albania lived dark decades of brutal dictatorship and oppression that included the world's only constitution that outright banned religion. During the communist era and cruel dictatorship of Enver Hoxha (who came to power in 1945), refugees fled Albania in precarious boats, many to Italy. The landscape was covered with bunkers. Priests and imams were jailed, tortured, persecuted, and many executed. Hoxha was violently anti-religious, and his announced goal was to make Albania an atheist state. Article 55 of the 1976 constitution banned "fascist, anti-democratic, religious, war-mongering, and anti-socialist activities and propaganda." Religious facilities were confiscated and destroyed. Foreign Roman Catholic clergy were expelled and their schools and health facilities shut down. Speaking about religion was punishable by law.
After 1991, Albania has emerged slowly. And, though many observe that religious beliefs and practices sit lightly, cathedrals, churches, and Muslim centers sparkle. Albanians today speak of a long history of religious tolerance between a Muslim minority and Catholic and Orthodox Christian communities. From the president to representatives of the Bektashi Muslim group everyone spoke with pride of Albania's commitment to religious freedom and tolerance. The Community of Sant'Egidio has been deeply involved in Albania even before it began to open to the world, both in Albania and in Italy, where it welcomed migrants and supported their transition. Community projects in Albania include a cheery home for a group of disabled men who had been locked away in horrible conditions in an institution.
Albania's inspiration and story is exemplified by Anastasios, Archbishop of Tirana: " Primate of the Autocephalous Orthodox Church of Albania". His voice lingered amidst moving rhetoric for its raw honesty and his courage.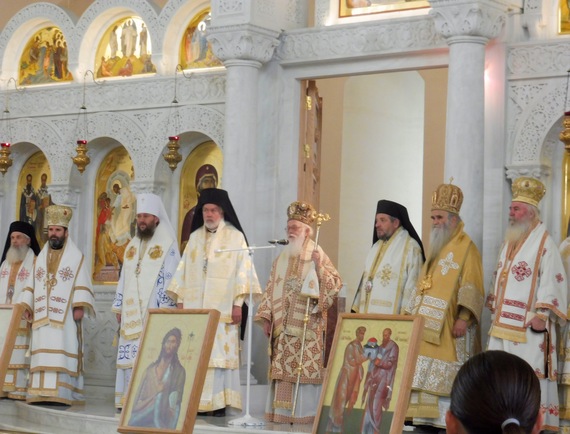 Orthodox liturgy in Tirana; Anastasios at the center
I have known Anastasios since 2002 as a wise counselor, but have missed his spiritual and pragmatic voice during recent years (he has battled illness). He is from Greece, and worked in Africa before he came to Albania 23 years ago. He is a long-time believer in interreligious dialogue and challenged the World Faiths Development Dialogue in its formative years to explore deeply what religious institutions contribute to development: they are not, he asserted then, just another NGO. He embraced the idea that religion has deep responsibilities for community development, never shying away from negative facets and risks.
Anastasios is as challenging today as he was then. "The most tragic violence today is the misuse of the term peace by people who do not really believe in it", he said. An unjust world cannot be peaceful, and sincere yearning for peace, he asserted, at both the local and the global level, means a true desire and struggle for justice. "Peace and justice have acquired another synonym: development", because poverty remains the worst type of violence. "When people, near or far from us, are deprived of the basic needs for their survival, it is not strange that they turn to other directions and adopt extreme religious beliefs in order to achieve a just society and to discover a meaning of life and death."
Anastasios spoke to the complex links between religion and terrorism. Any use of religion to promote violence is a violation of the very essence of religion, he asserted (as did many leaders in Tirana). But he also called on western societies, who have economic, scientific and military power, "to proceed to a creative self-critique. They should see their responsibility more clearly and their debt to the new global dimensions. Peace and safety, about which we are all talking, will be ensured with the care for social justice and the development of poorer societies of the planet. It would be tragic, spiritually and politically, because of indifference or arrogance, to allow a new, multiform proletariat to develop a violent revolt through the abuse of the spiritual 'atomic energy' of a concrete religious tradition." Interreligious work can build on the principles established by the religions to facilitate peaceful cohabitation.
The essence of the hopes and dreams of the annual pilgrimage for peace are epitomized in his call that "the voices for peace, which come from the lungs of the global religions, must be intensified and persistently manifested by sermons, catechism, lectures and every form of communication." "In the majority of religious traditions we find: first, a search for inner peace; second, we assert the curbing of aggression; the third common characteristic is the pursuit of peaceful relations with the highest Reality, understood either as impersonal or as a personal God; fourth, principles are established by the religions to facilitate peaceful cohabitation within each particular social group; and finally, efforts extend towards the maintenance of peace beyond the particular religious community to all humanity."
Calling all HuffPost superfans!
Sign up for membership to become a founding member and help shape HuffPost's next chapter