Praying and buying charms at Buddhist temples and Shinto shrines famous for lucky attributes are Japanese rites of passage at every stage of life. Given our passion for pretty, why should beauty be any exception? For centuries, women (and men) have sought a spiritual cosmetic boost from two famous Kyoto shrines: Kawai Jinja and Utsukushi Gozensha.
Even the most superstitious Japanese - past and present - understand there's little the gods can do to rearrange the symmetry of your features. The prayers, charms, and magical objects at these shrines are more about praying to enhance what you have. But please understand, the shrines would much prefer visitors reflect on the inner beauty they have to give others, rather than themselves. They make no promises of transformation and neither do I!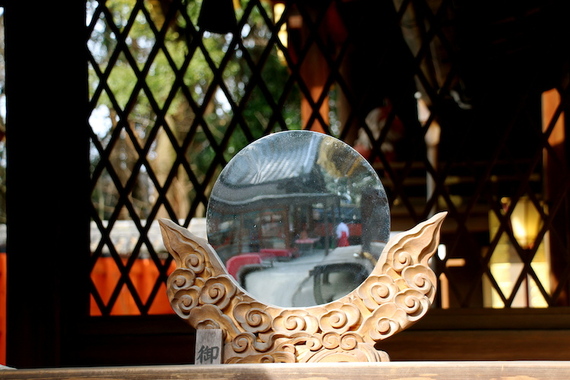 Mirror, mirror, who's the fairest? Kawai's sacred mirror is integral to the ritual. Photo by Gail Nakada.
Kawai Jinja is tucked into the sacred forest by the South Gate of World Heritage Site, Shimogamo Jinja. Shimogamo is the oldest Shinto shrine in the city. According to legend, heaven sent a three-legged crow to lead the first emperor of Japan here and ordered him to build, build, build!
Several shrines dedicated to Shinto gods followed, including famous love shrine Aioi-Sha (read about it on Huff Post) and Kawai Jinja. FYI, this 'Kawai' has nothing to do with the word kawaii, which means 'cute'.
Kawai Jinja is dedicated to the mother of that legendary first emperor and the Shinto god enshrined here is a guardian spirit for women. As such, Kawai Jinja has always been a place for women to gather and pray. The site is so old no one knows exactly when it was established. The first written record shows up in 792. By 927, it was being hailed as Japan's number one shrine for beauty. That reputation continues right up to the present.
An exact series of rituals are integral to a pilgrimage here. After entering through the red torii gate, visitors purchase a Kagami Ema, a wooden votive tablet shaped like an ancient bronze mirror. They are 800 yen. Once side has a simple drawing of eyes, nose, and mouth.
Everyone is expected to embellish this face to reflect theirs. That means adding cosmetics - lipstick, eye color, blush, and any other features that say you, including your hairstyle. According to folklore, women should bring their own cosmetics to create this personalized face of beauty.
If you don't have your cosmetic bag with you, the shrine provides crayons. They also have a small cottage with tables to work on your creation. After all, beauty is a serious business. Write your name and wishes on the back of the tablet.
When that's done, take the Kagami Ema and stand in front of the small, ornate mirror by the main altar. Hold the tablet to your chest. Bow twice. Looking at your reflection, thank the gods and make your wish. Bow again. Then, place the tablet on the racks provided. Visitors toss a few coins in the main altar box and pray once more.
Many women stop for a health tonic called Karin Sui before leaving. It's 350 yen and sold near the shrine office. Served hot in winter and cold in summer, Karin Sui contains tannins and vitamin C. An ancient recipe that probably helped contribute to the shrine's reputation back in the day!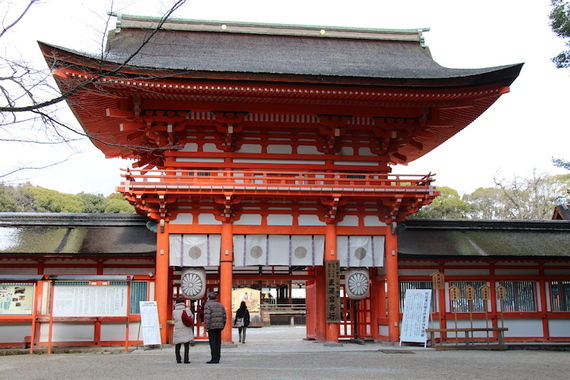 One of Shimogamo shrine's vermillion gates. Be sure to explore all of this historic site. Photo by Gail Nakada.
Access: From Kyoto Station take the No. 4 bus line. Get off at Shimogamo Jinja Mae. There will be an announcement in English. It's about a 20-30 minute ride. Cross the street and walk back the way the bus came. This will bring you to the main entry to Shimogamo. Walk along the path. Kawai Jinja will be on your left.
Utsukushi Gozensha: The shrine's name, Utsukushi, actually means beautiful. Kyoto's Geisha and Maiko apprentices still worship at this small shrine on the grounds of Yasaka Jinja Shinto shrine. After praying for grace and beauty, they rinse their hands and pat their faces with water from the Juzui sacred spring. In the old days, they used to drink it, but the shrine advises against that now.
Long before there were Geisha, a trio of fabled sister goddesses were enshrined here. They were revered for their purity and, shallow as it seems, their beauty. Since the Heian era in the eighth century, tiny Juzui spring has held a fabled reputation for its ability to make worshippers more beautiful inside and out. And indeed, the Chinese characters in the name translate to 'beauty water.' You can understand why the Geisha and other performers in Kyoto and beyond have made this shrine a favorite.
Visitors (inducing men) stop at the spring to perform the same rituals as the Geisha. Let the water running from the spout cup in your hand rather than scooping it out of the bowl and pat it on your face. I can't say it will make you beautiful, but it is fascinating to watch the variety of people who come by.
Serious visitors must then buy an ema tablet. The prayer on the front is already addressed to the Goddess of Beauty - saving you the trouble - and costs only 500 yen. Name and wishes go on the back. It can be hung up with the others, but doesn't have to be.These ema make inexpensive and delightful souvenirs.
Yasaka Jinja shrine stands at the entrance to the Gion entertainment and shopping district. It is one of the city's most-visited temples. In addition to the main shrine and Utsukushi Gozensha, the complex boasts another famous love shrine, Okuninushi. Read more about it on Huff Post.
Access: From Kyoto Station take the 206 or 100 bus and get off at Yasaka Jinja. Go up the stairs through them ain gate. With the gate at your back, Utsukushi Gozensha is ahead, on the left of the main hall. Don't mistake it for the love shrine which is also on the left, though with no forest of fluttering pink banners. Walk a little further.