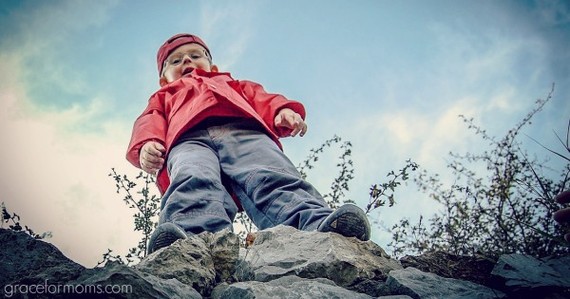 I knew from the minute that he was born I'd have to begin the process of letting go and sharing him with the world.
But the world doesn't love him like I do. They don't know him like I do. They won't treat him like I do.
What will we do then? How will we protect him from the kind of pain that the world can sling at him?
Then came Kindergarten. We began that slow dance of learning independence. I prayed my mistakes and missteps would be covered in grace and that somehow he'd soar in spite of his mother and he sure did!
But, kids are kids and on that day they called him a name. A silly name. But it wasn't his name and thankfully, deep down, he knew it wasn't who he was. That's what hurt him - they called him something he knew he wasn't.
I was thankful that in spite of his little 6 year-old hurt feelings, he found a way to talk to me when his heart hurt. Sometimes the process of letting go leads you to pulling in closer and thankfully; this time, that's what happened.
So we talked about what truth looks like. We talked about who he is and what we know about him. Then we grabbed a marker and started writing those things on the mirror he looks in every morning. One by one - he wrote them out ... and I prayed over how these gifts he's been given would be manifested throughout his life.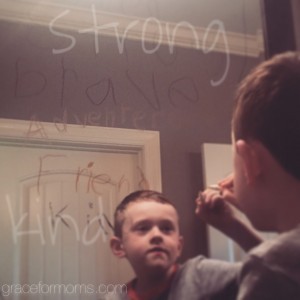 Loved. He's so loved.
Lord, help him know he's cherished from the top of his head to the bottom of his feet. Help him know that as much as his parents love him, You love him that much, and yet beyond, to infinity.
Brave. He's so brave.
Lord, help him know that being brave just means not giving up even when you're scared. Give him the courage to be honest about his feelings - sometimes that's what bravery looks like.
Friend. He's such a sweet friend.
Lord, may he always know what it means to have a friend and be a friend. If there's ever a moment when he feels loneliness help him rest in You.
Caring. He's so caring.
Lord, help him notice the ones who need a hug or a hand and be the first to love fiercely and without hesitation, even when it means that love may not be returned.
Strong. He's strong.
Lord, may he know strength is an emotion and is not measured by any physical litmus test. Rather, how deep your heart can be filled with compassion. I pray he uses that strength in his heart to be Your hands and feet in this world.
Handsome. He's handsome.
Father, thank You for the blessing of passing along his daddy's DNA to him! May he know that beauty as the world defines it is neither lovely or significant. Help the beauty of his heart be what is recognized by those around him. And Lord, I seriously can't thank You enough for those sweet baby blues he has!
Fun. He's so fun.
Please fill his heart with the laughter that comes from seriously enjoying life. Help him not take himself, or others, too seriously.
Adventurous. He's so adventurous.
May he swing high, jump far, run fast, and dive in! I pray he is able to shed the fears that can sometimes hold him back from enjoying the feeling of going as fast and as hard as he can.
Smart. He's so smart.
May he not measure his brain by books or against others' gifts and instead seek wisdom that comes from understanding that only comes from You.
Forgiving. He's so forgiving.
When those he loves or cares deeply for cause his heart to hurt, Father, I pray You'll give him the strength and courage to love them harder, deeper, and stronger than before. May he truly understand grace because he's been given it and so he'll freely pass it along to others.
Patient. He's patient.
Help him not measure the seconds or minutes it takes to show love or care for others. May be go slowly and stop to notice the beauty around him.
Tender. He's so very tender.
Father, his heart. Keep it soft. May he be full of empathy.
With each word he smiled a proud smile; happy to be the boy that God created. And as his momma, I smiled knowing this child never belonged to me, but grateful for the chance to point him to the One who created him. There is so much power in words. Words spoken over us and words that we, ourselves, speak to others. My hope is that we remember this moment when given the choice to speak words that tear down or words that build up.
And I pray this will be the day he holds tight to, when the dark clouds start to set in, and the world tries to tell him he's someone he's not.
So, that was Kindergarten. Heavens, who knows what lessons 1st grade has for us?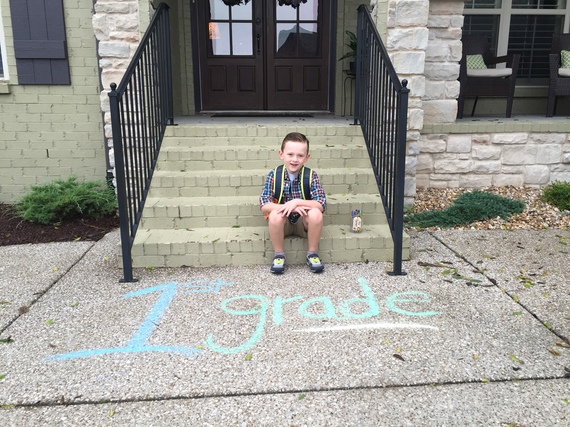 Follow Jess Chambers on Twitter @ twitter.com/jesschambers. This post originally appeared on graceformoms.com.