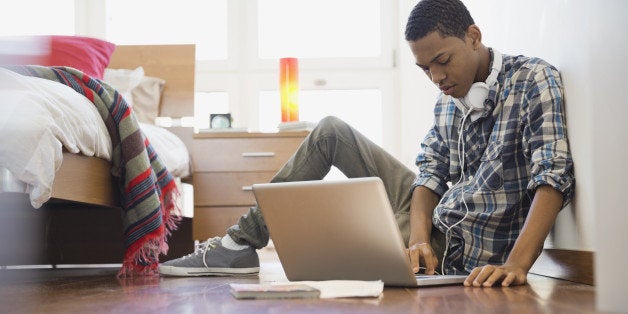 Preparing for college doesn't just include buying cute dorm decorations, figuring out your financial aid situation and saying goodbye to loved ones. You also need to prepare academically! For many collegiettes, it can be nerve-wracking walking into that first college class in the fall, unsure of what to expect. That's why some collegiettes opt to take a summer class at their future colleges before freshman year.
Have you been considering taking a summer class? Ever wondered what the pros and cons are? Her Campus is here to help!
Are you eligible to take a summer class?
Most colleges offer some sort of summer session to students, allowing them to take an extra class or two while living on campus for a month or two. Some schools make it mandatory for students to enroll in at least one summer session during their time at that college, and other schools make it an optional addition for students who want to pick up extra credits.
As soon as you know where you're attending college, be sure check out your school's "Summer Session" page (typically found under "Academics" or "Academic Resources" on the school website, but a Google Search will do the trick!) to find out which classes are offered and if the session is mandatory.
Typically, summer sessions are four to eight weeks long, depending on the number of courses you're taking and the rigor of the program. Different schools have different requirements for how many classes you should take during your time on campus in the summer, but typically it's one or two. Additionally, different schools have different purposes for their summer sessions and therefore different policies about which courses you should take, so it would be wise to talk to an administrator or current students about why you're taking summer session classes in the first place.
Also, if there's a summer session open to incoming freshmen, your future school will probably send you some more information via email or snail mail, so be on the lookout!
Pros of taking a summer class
They help you explore your interests
Trying to pick a major is one of the most anxiety-filled decisions for collegiettes. The pressure is multiplied if your college makes you choose your major upon entering freshman year. After all, you don't want to make the wrong choice and spend the rest of your college career trying to make up the credits you missed!
Taking a summer class can be a great way to explore your interests before you arrive at school. Not sure if you want to spend four years pursuing pre-med requirements? Try taking one or two of them over the summer.
Megan Lucas, a junior at Wesleyan University, found herself in this predicament before starting college. "I was really interested in going the pre-med route, but didn't want to waste my first semester taking all of these science and math classes only to find that I didn't even like the subject matter," she says.
Taking summer classes in chemistry and calculus paid off for Megan; it turns out going pre-med wasn't the right choice for her. "I think a lot of freshmen go into school and don't truly know where their academic interests lie," she says. "The great thing about the summer classes I took were that I was able to say without a doubt that I wasn't interested in pre-med, so while other friends of mine were slowly (and painfully) making that same realization during their first semester of college, I got to move on and take classes I might actually enjoy." Instead of focusing on her math and science classes when she got to Wesleyan, Megan took several humanities and social science classes and is now majoring in government.
You can understand the rigor of college-level academics
Megan said a second bonus of taking a summer class before her freshman year of college was getting used to the more demanding nature of college classes. "My summer calculus course covered everything I learned during my entire senior year of calculus in one class!" she says. "The pace was so much faster than it had been in high school, and it took some time getting used to utilizing office hours and TA sessions." Megan thinks that summer classes gave her valuable time to adjust.
Megan also felt more confident when the fall semester came around for school. "Starting college is already overwhelming between learning the layout of a new campus, dealing with a roommate and making friends; adding academics into the mix can make the whole situation seem impossible to handle," she says. "I'm so glad I had the opportunity to understand how to properly study for tests and write papers before I headed into my first class at Wesleyan. It made me entire transition a whole lot easier."
If you're worried that the rigor of your college classes might be much harder than that of your high school classes, a summer course might be a great way to ease yourself into a college course load.
You get a feel for the campus
If your college offers a summer session to incoming freshmen, taking a class is a great opportunity to settle into campus before your entire class shows up in the fall.
Julie Lynn, a freshman at Florida State University, took a course this past summer before starting off her college career, and she found it helpful. "I had a great time getting to meet classmates, understand the academics and find my way around school!" she says. "I felt way more comfortable when the fall semester rolled around, and I wasn't frantically running across campus trying to figure out where I was going."
Another added bonus of being on campus early? You'll be the cool freshman in the fall who already knows her way around!
REAL LIFE. REAL NEWS. REAL VOICES.
Help us tell more of the stories that matter from voices that too often remain unheard.
BEFORE YOU GO
PHOTO GALLERY
10 De-stressing Apps