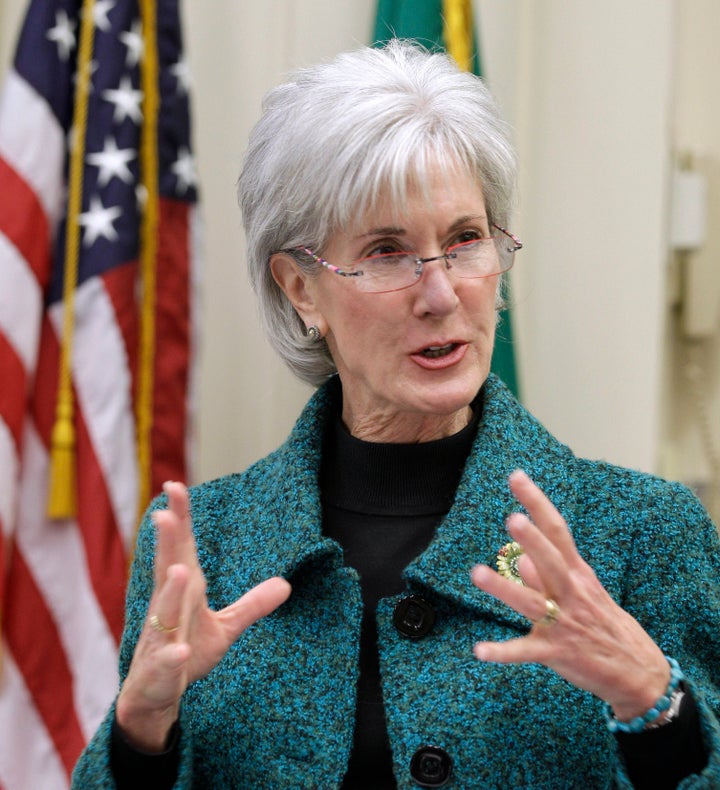 WASHINGTON -- The government announced Tuesday that it will lower premiums and ease eligibility requirements for its fledgling health insurance program for people shut out from the private health insurance market because of pre-existing conditions. Premiums will fall by as much as 40 percent in some states.
The Pre-Existing Condition Insurance Plan, run by the Department of Health and Human Services in 23 states and by state governments in the rest, offers relatively affordable coverage for people who've been uninsured for at least six months because of conditions like diabetes or heart disease. The plan launched last summer as one of the first components of the health care reform signed into law by President Obama in March 2010.
"This program changes lives, and in many cases saves lives," HHS director Kathleen Sebelius said on a Tuesday conference call with reporters.
Yet only 18,000 Americans have signed up for the PCIP. Officials initially said it would reach hundreds of thousands by the time the program is phased out in 2014, when it will become illegal for insurance companies to discriminate against the sick.
To boost enrollment, Sebelius said monthly premiums, which vary by age and region, will drop in 17 of the states where HHS runs the program starting in July. In Alabama, Arizona, Delaware, Florida, Kentucky, and Virginia, premiums will plummet by 40 percent. Come July, people older than 55 who enroll in the Virginia PCIP's standard plan will have to pay $297 a month, a steep drop from the current $498 monthly premium.
Sebelius also said PCIP applicants will no longer have to brandish rejection letters from insurance companies to prove they have pre-existing conditions. Instead, a doctor's note will suffice.
It's not clear if any changes will occur in states where the federal government doesn't administer the program. Richard Popper, director of the HHS Office of Insurance Programs, noted that the HHS would be "issuing a guidance letter to all the 27 state-run PCIPs encouraging them to take a look at the premiums that they charge and the benefit packages, as well as the eligibility rules, allowing them to consider making adjustments similar to what we're doing in the federally-run pool."
A spokeswoman for the California Managed Risk Medical Insurance Board, which administers the state's PCIP, told HuffPost that the state had not yet received the letter. With 1,543 enrollees, California boasts the nation's second-highest PCIP participation.
PCIP enrollee Suzanne Hannon of Fallston, Maryland, joined Sebelius on the conference call. Hannon said she lost her insurance when her husband turned 65 and became eligible for Medicare. She was 58.
"I applied many times to various insurance companies only to be denied. The last application I submitted was in September and I was turned down due to a high cholesterol level," Hannon said. Rejection letter in hand, Hannon applied for the PCIP in Maryland, and just in the nick of time.
"I was approved in November and I was diagnosed with cancer in December," she said. "Because I had insurance, at the first symptom I sought immediate medical care. Quickly I was treated with surgery, chemo, and radiation, ending with a good prognosis. Without the insurance I would not have sought treatment right away."
As many as 25 million Americans have pre-existing conditions and lack insurance. Costly premiums have been one explanation for the PCIP's sluggish enrollment numbers -- another has been the program's harsh requirement that applicants be uninsured for six months.
Popper said Tuesday that HHS can't change the six month waiting period because it's written into the health care reform law. "It's in the statute, so we don't have the authority to waive that," Popper said.
In another upcoming change, HHS will also start paying health insurance brokers this fall for connecting eligible applicants with the program.
HuffPost readers: Thinking of signing up for the PCIP? Too expensive? Can't wait six months with no insurance? Tell us about it -- email arthur@huffingtonpost.com. Please include your phone number if you're willing to do an interview.
Calling all HuffPost superfans!
Sign up for membership to become a founding member and help shape HuffPost's next chapter