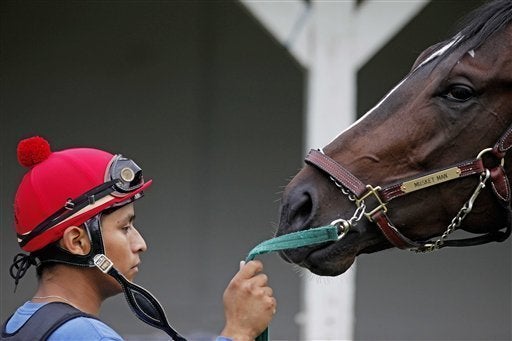 2012 Preakness Stakes at Pimlico Race Course, Baltimore, Maryland
Video courtesy of America's Best Racing
I'll Have Another, the first Triple Crown contender in four years is coming to New York to run in the Belmont Stakes, the third leg of the series, on June 9. Having taken both the Kentucky Derby and the Preakness Stakes from the favored Bodemeister, I'll Have Another will have three weeks to further hone his lethal homestretch kick.
With both the Derby and the Preakness hard fought races with the same 1-2 outcomes, it's hard not to liken this year's Triple Crown series to that of 1978, when the brilliant Affirmed edged out the valiant Alydar in the Derby, the Preakness and the Belmont, to take the Triple Crown. No Triple Crown has been won since then.
J. Paul Reddam, I'll Have Another's owner, might as well take a patent out on his horse's turbo-kick. Since a five-month break after last year's unfruitful effort in the Three Chimneys Hopeful Stakes -- Gr. 3, the colt has kicked his way to the winner's circle in the Robert B. Lewis Stakes -- Gr. 2, and the Santa Anita Derby -- Gr. 1, as well as the two Triple Crown contests, all under the guiding hand of phenom jockey Mario Gutierrez.
Well, my first thought before the race was races never go like people think they'll go on paper. So I wasn't really surprised to see the horses stand across the track when they went by the grand stand the first time, because it just sounded too simple to say that Bodemeister would be on the lead and we'd be tracking him.

So going into the clubhouse turn, we were caught wide, and I said oh, oh, I don't like the way this is shaping up. And at the half mile pole we were in the clear, cruising, and in a pretty good spot.

But the horse in the lead was running strong. I could see coming out of the turn that it was going to be a dog fight between I'll Have Another and Bodemeister. We had some ground to make up, and the other horse was not stopping. He ran a very brave, gigantic race. I wasn't sure that we would get there, but I knew that our horse had a lot of heart and a lot of fight. He had been in a dog fight in the Santa Anita Derby, which probably did him well."
Trainer Doug O'Neill's brother Dennis O'Neill bought I'll Have Another for Reddam Racing LLC at the Ocala 2011 Spring Sale of Two-Year-Olds in Training from Eisaman Equine, agents for the seller Victor Davila. O'Neill paid $35,000 for the colt. Previously, I'll Have Another was purchased by Davila at the 2009 Keeneland September Yearling Sale for $11,000. The colt has now earned $2,693,600.
I'll Have Another's sire is Flower Alley, a gritty, dig-in type of race horse that won over $2.5 million, including the 2005 Travers Stakes -- Gr.1. If you want to send a mare to Flower Alley this year, he stands at Three Chimneys Farm for an advertised $7,500. Good luck getting your mare booked to him!
I'll Have Another's dam, Arch's Gal Edith, won her only race, a maiden special weight at Belmont Park. Her Equibase chart-notes for the race describe her as "dug in gamely on the rail in the stretch and reported home under a drive." It would appear that I'll Have Another got his game from both sides of his pedigree.
I'll Have Another will ship directly from Pimlico Racetrack to Belmont Park, to settle and prepare for June 9.
A look at Big Brown's, Smarty Jones' and Funny Cide's Belmont Stakes where they were foiled in their Triple Crown bids.
Looking back, in 2008 Big Brown's Triple Crown campaign brought to the fore how much a horse's connections can overshadow its achievements. A huge stallion syndication deal, run on steroids-no steroids, partnership hype, Hooter's girls, all took the limelight from Big Brown's brilliance. He faltered in the Belmont, eased in the stretch as, Nick Zito trained Da' Tara wired the race. A positive postscript is Big Brown's offspring have been well-received and are anticipated to debut this year.
In 2004 Smarty Jones was in the same spot as I'll Have Another is now. When he won the first two legs, the prospect of him winning the Belmont and the Triple Crown was heady. When Smarty took the lead down the Belmont backstretch, he was hard pressed by Rock Hard Ten and Eddington. Finally Smarty was clear by a length and a half, and looking like a Triple Crown winner to the crowd of 120,000 waiting to see history. It was not to be. Lightly regarded at 36-1, Birdstone ran a tactical race, surged past Smarty Jones in the final yards of the mile-and-a-half race and won by a scant length.
The previous year, 2003, Funny Cide came to the Belmont two-for-two in the Triple Crown races. Anticipation was huge. Funny Cide was owned by a partnership, Sackatoga Stables, made up of a group of high school friends who raced for fun. Their shock and awe at the exploits of Funny Cide's successes brought an ebullience long absent from the Belmont. For the first time, a horse bred in New York, owned by New York guys had the Triple Crown in its sights. Out of the gate, Funny Cide was in the lead, but eventually gave way to Empire Maker and Ten Most Wanted, coming in third.
Calling all HuffPost superfans!
Sign up for membership to become a founding member and help shape HuffPost's next chapter