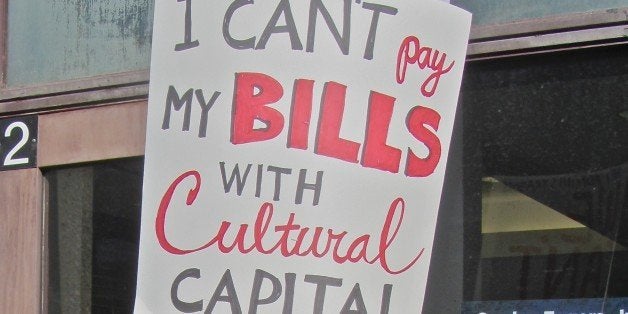 Brianne Bolin received an unexpected phone call after she was featured in an Elle magazine story.
"The weight that it lifted off my shoulders was incredible," said Bolin, who teaches in the English department at Columbia College in Chicago. "I haven't had that nice of a winter break in years."
Now, Bolin wants to grant the same kindness to other adjunct professors. Together with Joe Fruscione, a former adjunct professor, and Kat Skills, a current adjunct, Bolin created the foundation PrecariCorps to help adjuncts financially and to raise the profile of the challenges they face.
The idea behind it is simple: Get donations, and give them to contingent faculty members in need.
A survey released on Thursday from Inside Higher Ed found that 74 percent of public college provosts said their institution relies "significantly" on non-tenure-track professors, and many don't see that changing any time soon. So professors sometimes join together to help each other out -- as Bolin is doing here, and sometimes in more directly collaborative ways. Last year, the faculty union of tenured and non-tenured professors at the University of Illinois at Chicago went on strike and was granted pay raises.
PrecariCorps aims to provide short-term relief for adjunct professors by giving out funds and grants based on applicants' situations and visions for the funding.
"It's not a longterm thing, but that's our initial push and project," Bolin said. The specific amount of the grants will depend on the donations the group receives, Bolin said.
Bolin participated in the strike at UIC and believes the actions were particularly effective since tenured and non-tenured professors were working together. In addition to the decision they prompted, Bolin said, working together made tenured professors see the adjuncts as their intellectual equals, better understand the challenges adjuncts face and realize that the increasing reliance on non-tenured professors could eventually hurt tenured professors.
"We just hope that full-time faculty will see that they could just as easily be in our situation," Bolin said.
One goal of PrecariCorps is to increase awareness of adjunct professors' situations among both tenure-track professors and the general public. "I'm also hoping that when full-time tenure-track faculty at universities say, 'I wish there's something I can do,' we can say, 'Go to PrecariCorps and donate,'" Bolin joked.
They also want to build up a comprehensive "library" of the best resources and media on the issue. Ultimately, Bolin hopes the library can "really give a full picture of how the university functions." It could be used as a resource for parents and students to better understand the university structure and where their tuition money is going. This way, "parents [will] have a better idea of what to confront the tour guides and officers of admissions with," she said.
"What they often leave out is, it's a majority of adjuncts teaching first- and second-year students," Bolin said.
In addition to helping adjuncts to pay bills, Bolin said, they would like to expand the assistance, such as by providing funding for travel to conferences, which adjuncts' departments would not typically give them.
"We're just not getting what we need to stay afloat from our employer," Bolin said. But with this organization, she hopes, they'll at least be able to have some relaxing breaks.
PrecariCorps is filing for 501(c)(3) status to be tax exempt. Once the organization is approved, it will begin giving funds and grants to adjuncts.
Education
Before You Go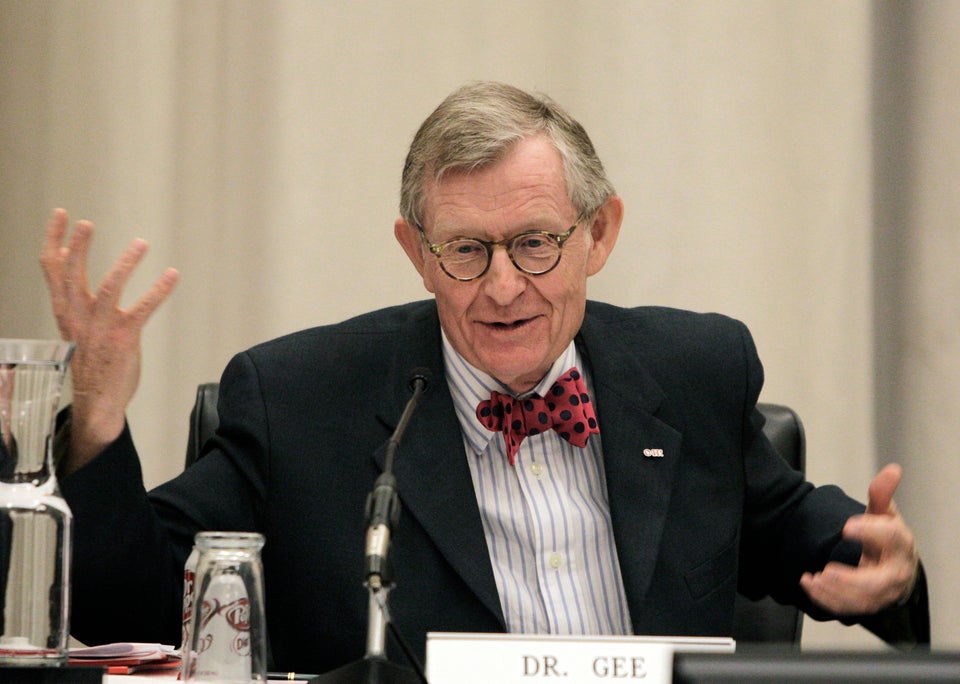 Presidents Of Public Colleges That Are Paid More Than The President Of The United States (Data From 2013, Most Recent Year Available)
Popular in the Community