This week, as more and more painters sent me examples of their recent works I couldn't help noticing the tremendous range of approaches being taken by representational painters. The contrasts brought to mind the cartoon above -- which I show to my art history students -- depicting the aesthetic "duel" between the French Romantics and Neo-Classicists.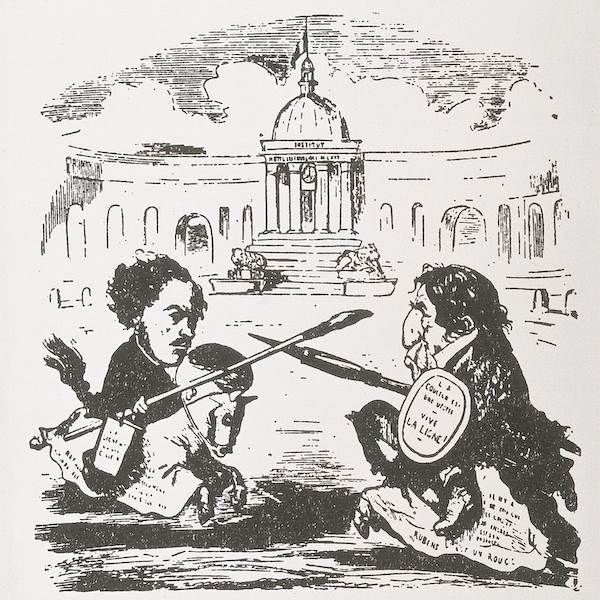 Left: A 19 century cartoon depicting a duel between the painters Delacroix and Ingres
The Romantics -- represented by the painter Delacroix, who does battle with a broad brush -- made paintings that emphasized color, emotion and visible brushstrokes. The academician Ingres -- who is shown on the other side of the duel, representing the Neo-Classical approach -- holds a pen to remind his opponent of the importance of line and drawing. Ingres thought that visible brushwork was "vulgar." The Romantics thought Ingres was a prig.
I see them as the Yin and Yang of representational painting.
We know now that both were great artists, but the clash of their sensibilities still resonates for contemporary representational painters. Some of the painters I admire -- including some that base their work on photographic sources -- value precision and finely tuned technique. Others load their brushes with paint and lean towards spontaneous effects and expressive gestures.
This week I found myself admiring both the bravura brushwork of Raegan Russell's "Not in Time," and the measured clarity of Leonard Koscianski's "Angry Bird." Seeing them side by side is exhilarating: the contrasts, both of technique and meaning, are jarring and stimulating.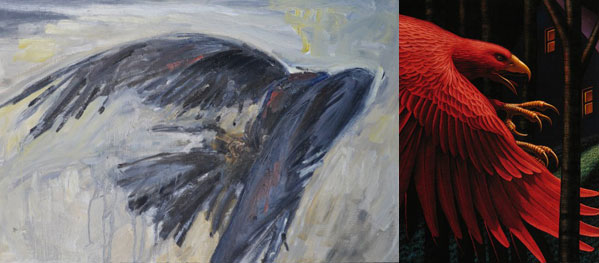 Raegan Russell's "Not in Time" (left); Leonard Koscianski's "Angry Bird" (right)
For this week's slideshow, I am going to let the paintings duel it out. I have tried to create some interesting juxtapositions where I could, and hope you will find the contrasts enlightening. Please, post some comments and rate the slides so that I can learn more about the taste of my readers. Do you take a side in this ongoing artistic conflict? Or are you like me: you like it all? Liking it all may be the reason I let this slideshow go a bit overboard and included 20 artists.
I should also mention that most of the artists this week have provided studio shots, and some insights into their studio practices. Artist Kyle Staver, whose work appears near the end of the slide-show wanted to present only her painting as she values the privacy of her studio. I also inserted one of my own paintings, since when I have a paintbrush in my hand I tend to take sides.
Leading off for the painterly painters: Karen Azarnia...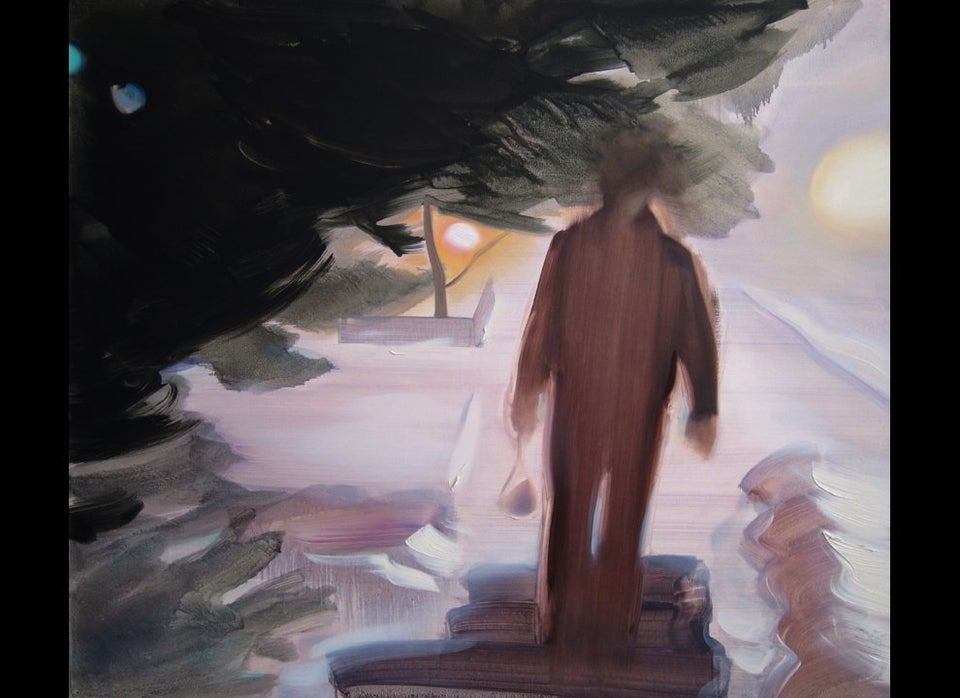 Painterly vs. Precise: 20 Painters 20 Studio Visits
Related
Popular in the Community