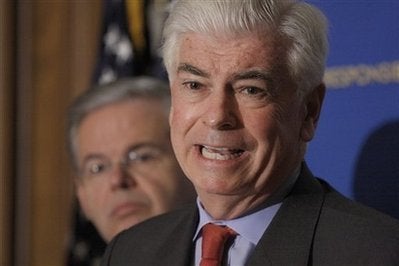 Predatory lending legislation passed in the House last week will have to get in line in the Senate, Sen. Chris Dodd (D-Conn.) said Tuesday.
"We'll get to that at some point," said Dodd, chairman of the Senate banking committee. "We've got a lot on our plate. We've got other things to do."
The issue is less than pressing for Dodd, he said, because the credit crunch has dried up predatory and subprime lending. Problems that are currently ongoing need to be addressed first, he said -- such as broad financial regulatory reform, a rescue of the auto industry, and oversight of the Wall Street bailout.
"There's a greater sense of urgency I have about those issues than a non-existing problem today," he said. "There isn't a lot of predatory lending going on right now. There's very little subprime lending, so while it would certainly plug a hole for what happened before, there's other, I'm sorry, there are other issues I'm grappling with that are current issues. And I'm not minimizing what happened before, and I don't want to see a repetition of it, but there's not subprime lending going on today."
The House can move legislation quickly with a majority vote, but the Senate requires 60 votes to end obstruction from the minority. "I get envious of that process," said Dodd of the House. Predatory lending "will be a controversial bill. So you need time to work that and listen to your colleagues. I'll eventually get to it."
Dodd suggested the best way to move the predatory lending bill may be to combine it with a broader overhaul of the financial regulatory regime. "I may have to deal with it in a larger bill," he said.

Popular in the Community