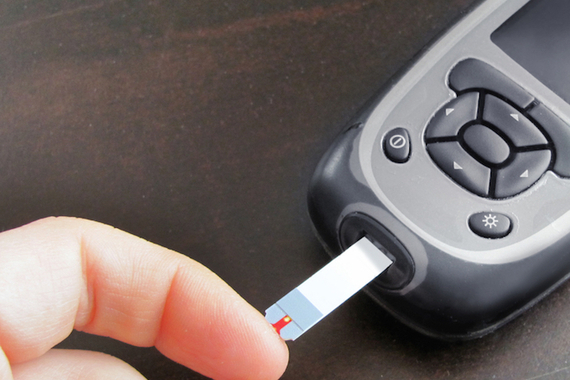 People with prediabetes -- a condition used to describe someone who is on his or her way to developing diabetes -- often have unrecognized chronic kidney disease. But prediabetes may be asymptomatic for many years. Similar to chronic kidney disease (CKD), there often are very few warning signs of diabetes or prediabetes. Some of these signs include frequent urination and excessive hunger or thirst. These symptoms can also indicate other health issues and sometimes are hard to recognize, and often don't occur at all.
Prediabetes is most often diagnosed during routine, annual checkups. It's important to make sure your primary care physician, nurse practitioner or physician assistant is checking your blood sugar, weight, waist circumference and blood pressure on an ongoing basis. High blood pressure, also known as hypertension, and diabetes are the two leading causes of chronic kidney disease, so having these numbers checked routinely also helps to protect your kidneys.
There are a number of factors which make a person more likely to develop prediabetes. If you identify with one of these, you should discuss your risk of developing diabetes and kidney disease with your doctor.
1. Obesity. Being overweight is the leading warning sign of developing Type 2 diabetes. If your BMI is 25 or higher, it is crucial that you get tested for diabetes and kidney disease.
2. Insufficient exercise. Even if you are not overweight, not getting enough physical activity places you in the risk category. According to experts, the average adult should be performing cardio and muscle strengthening exercises for 150 minutes a week. Consistent exercise is key but it can be broken down into shorter workouts multiple times a week.
3. Family history. If one of your first degree relatives has diabetes, you could be at risk.
4. Diabetes during pregnancy. Women with gestational diabetes should be screened regularly for diabetes even after pregnancy because they are at a higher risk for developing diabetes.
5. Certain members of ethnic and racial minority groups. Certain racial and ethnic groups, including non-Hispanic Blacks, Hispanic/Latino Americans, Asian Americans, Pacific Islanders, American Indians and Alaska Natives, are at an increased risk for developing diabetes. If you are a member of one of these groups, talk to your doctor about your risk factors for both diabetes and kidney disease.
6. History of cardiovascular disease. If you have a history of cardiovascular disease you're at an increased risk for developing diabetes and kidney disease.
7. High triglycerides. Triglycerides are a form of stored fat found in the blood. This test is typically part of a cholesterol or lipid panel test. If after a routine blood test, your doctor told you that you have high triglycerides, you are at an increased risk for developing diabetes and prediabetes as well as forms of heart disease. High triglycerides are the most common lipid finding in chronic kidney disease.
8. An elevated A1c test. An A1c test between 5.7 and 6.4 percent indicates that you may have prediabetes.
9. If you have a kidney transplant. There are drugs used in kidney transplantation, such as tacrolimus and prednisone, which can cause and unmask diabetes mellitus. If you have a kidney transplant and take these medications, you should be monitored for glucose intolerance and prediabetes.
For more information about the connection between diabetes and chronic kidney disease, visit www.kidney.org.
Popular in the Community