When my twins were born six years ago, it wasn't the joyful experience I had envisioned. I was in shock after waking up to the news that I had two little boys -- shock because I had missed the experience to emergency C-section anesthesia and because it was late August. They had been "scheduled" to arrive late October. They were not before me in my arms afterwards. Rather, I was informed that they had been whisked away following delivery. The doctor cheerfully asked if I had known I was having boys. Disoriented, I nodded. I was in a fugue: terrified, sad, fearing the unknown for these infants born too early. Babies weren't new to me -- I had two older sons -- preemies were a whole new ballgame.
A normal pregnancy is 40 weeks. Ten weeks early seemed massive and I was terrified. At the time I thought I did not know anyone born that premature. Later on I would discover that an acquaintance of mine from grade school was just as preemie in 1974, the year of my own birth. Forty years ago, 30 weeks Gestational Age (GA) was not seen as a "dream case" for neonatologists (as neonatologist Richard Auerbach, refers to most 30 week NICU arrivals) caring for preemies of lower gestational age. However, not having heard the success stories, which would trickle in during my twins' 5 week NICU stay, I sobbed when I saw my little "chickens" (in my mind then). Today, I know more about preemies. After speaking with several neonatologists, I know that most of them feel comfortable when they hear an infant is at least 28 weeks GA.
In May, The New York Times reported on a New England Journal of Medicine study of extremely early preemies (as young as 22 weeks, though many neonatologists say 23 weeks is their minimum) and survival. Since then, numerous studies followed about early gestational age and neonatal care, including one published this month in Pediatrics. In countries with access to advanced medical care, active care is provided to these extremely early preemies (Active care, in this case, refers to resuscitating and stabilizing rather than providing comfort care with an infant deemed too premature for aggressive treatment.) Aside from methods that include (but are not limited to) incubation, intubation, controlled oxygen, Surfactant for the lungs (which became greatly accessible to NICUs in the 1980s), doctors like Edward Shepard, MD, of Nationwide Children's Hospital use drugs like caffeine and Viagra to treat infants.
It is scary, opined many in The New York Times comments sections, that it is a numbers game when some early preemies (including a 22 week infant mentioned in the article) survive with flying colors. MDs also weighed in stating that many of these early preemies will have serious long term issues that the article did not detail, including blindness, deafness, cerebral palsy, chronic lung disease, intestinal problems, learning issues and cognitive delays. Many of these early preemies also require surgeries beyond what the NICU stay provides.
Then there was Dr. Neil Marlow who wrote:
"To give crude data on the survival rate among all such infants, regardless of whether treatment efforts were made, is misleading and helps to make poor survival a self-fulfilling prophecy...Information on survival, morbidity, and policies regarding active intervention should be available to assist parents in making an informed choice about transfer to a specialist hospital, if feasible, and the level of intervention provided after birth."
Thoughts on the study's publication opened a brand new discussion ranging from the arbitrariness of numbers (i.e. if an infant is born just one day later, a doctor may decide to treat her as opposed to offering only comfort care if born the day before) to the omission of negative outcomes.
Christine Gleason MD, a neonatologist at Seattle Children's Hospital and an adviser to the March of Dimes explains that the studies point to the Gray Area (typically indicated as between 23 and 25 weeks):
"Each case depends on the baby and what you evaluate with him or her in the delivery room," explains Gleason, "With these really early infants, we look at whether the mother had antenatal steroids (for the baby's lungs) and there are so many different factors that go into delivery room resuscitation that it's hard to say 'this is what a typical case of an extreme preemie (born before 25 weeks) would be.'"
Neonatologist Richard Auerbach, MD, SVP of Sheridan Healthcare in Hollywood, FL, emphasizes the parental role in decision making. He explains that physicians discuss the hospital's statistics, the potential problems, risks and treatments. Of how far NICU care has come historically, Dr. Auerbach says that during his first rotations in one of the first NICUS across the country, a baby under 1000 grams (2 pounds, 3 ounces) was not resuscitated in 1974:
"Limit of life has decreased over time. About 5-7 years ago, the weight requirement was 401 grams. We started off with certain guidelines years ago (i.e. the baby's eyes un-fuse at 25 weeks) and then began to see variations when cross- referencing research. This is why emphasis is placed on the infant's weight as a marker. Gestational age as a number has variability to it." Auerbach also cites how the Golden Hourcorrelatesto improvement in long term outcomes.

"We don't want to over-ventilate or under-ventilate, we need to assess brain bleeds in these very early infants in terms of long term outcomes. In the gray area of 23 to 25 weeks (even as early as 22) the discussion between options for active care versus comfort care needs to take place with parents, with the long term addressed."
For her part, Dr. Gleason says she would like to be out of business because doctors are able to prevent infants from arriving too early. Her interest in research to prevent prematurity is what led her to work with March of Dimes. Other neonatologists speak of these patients as if they were their own offspring. Their dedication is not only to survival but to optimal outcome.
Dr. Edward Shepard of Nationwide Children's Hospital in Columbus, Ohio, stresses the importance of Kangaroo Care, the skin to skin contact between parent and child proven to make a difference in how a baby thrives. Dr. Thomas George at the University of Minnesota discusses commitment to keeping up on the latest research through the Vermont Oxford Network, a collaboration of professionals committed to reviewing studies and decreasing variables with early preemies (i.e. infections and intracranial hemorrhage). Dr. Guatham Suresh of Texas Children's Hospital details doctors' commitment to gentler neonatology today than historically, as in the 1980s when Surfactant administration was more aggressive. He explains that now the lung aid is being used as needed rather than as a prophylactic and says he would like to change the word resuscitation, so commonly used in relation to the Golden Hour, to stabilization. As examples, he cites the CPAP (apnea mask) and gentle prongs that go into a preemie's nose rather than an apparatus reaching down to the windpipe.
"Obviously, each is a case by case basis and a lot depends on the maternal care received prior to birth," says Suresh.
As I initially fretted over my twins' NICU stay, I mistakenly thought I knew no
preemies. It turns out, a bright former schoolmate of mine, Ariane Mandel, was born at 30 weeks in 1974. Her mother Harriet had a placental abnormality and her doctor told her that 30 weeks was approximately the minimum a preemie could survive without lung complications. With aggressive treatment including fighting an infection that forced her to wear an oxygen mask, Ariane eventually graduated from the NICU with flying colors. While her mother credits the nurses and medical staff, they in turn, credited her with the hands on Kangaroo Care she provided her daughter, sitting and holding her daily before rushing home to her two older children.
"The medical staff said they had never experienced such attention, and believe that this helped not only us, but her survival," says Harriet.
An inspiring story from 40 years ago would have helped me when I was sitting in the NICU, but little anecdotes would eventually come my way. One mom of 28 week twins, Elaine Fabian, reports that her kids are doing great today and one, who battled a severe infection in the NICU, is currently reading at a fifth grade level. He's only 5.
Dr. Rebecca Ballard of Baylor, Scott and White in Central Texas and a clinical pediatrics professor, discusses how Patrick Kennedy's death from Respiratory Distress Syndrome at 34 weeks shone the national spotlight on premature births and led to neonatal innovations. While Ballard says that had medications like Surfactant been available, Patrick could have survived, it is interesting to note that the cause for saving preemies was being silently championed even earlier in the unlikeliest of places.
The Associated Press and National Public Radio each highlighted the story of Lucille Horn, now 94 and a former "incubator baby" in a time before incubators were used in hospitals. Dr. Martin Couney provided an odd alternative to a hospital when he took preemies on the road as a "slideshow" exhibit on Coney Island, NY. As controversial as his method was, it provided Couney the opportunity to do what he was passionate about and save babies who had no chance elsewhere.
As NPR reports, Lucille was born helpless in 1920 at only 2 pounds. After her twin died at birth and the hospital said there was nothing they could do, her father wrapped her in a blanket and taxied to Coney Island. Amazingly, Dr. Couney did not charge parents for medical care but accepted a 25 cent admission fee for spectators checking out these infants in their incubators. When Horn visited that exhibit years later to thank the man who saved her life, the doctor gave one father the encouragement we (parents of preemies) so desperately crave.
"Look at this young lady, he said, "She's one of our babies. And that's how your baby's gonna grow up."
With daily advances in neonatology and further studies on the horizon, parents of preemies have greater access to research than ever before. The problem: Neonatologists may not provide immediate reassurance during the Golden Hour when all hands are on deck. While the New York Times highlighted a 22 week old's survival, the NICU is akin to a roller coaster with highs and lows. Along with the turbulence parents feel, physicians work through the night focused on long term outcomes, not on lost sleep. Dr. Hamid R. Movahhedian of San Diego's Tri-City Medical Center cautions that there still needs to be better medicine for infants born before 23 weeks, but says of babies born in the gray zone (23-26): "In the ICU, we see the elderly get very sick and die the same day. In the NICU, we see babies get very sick and get better in no time."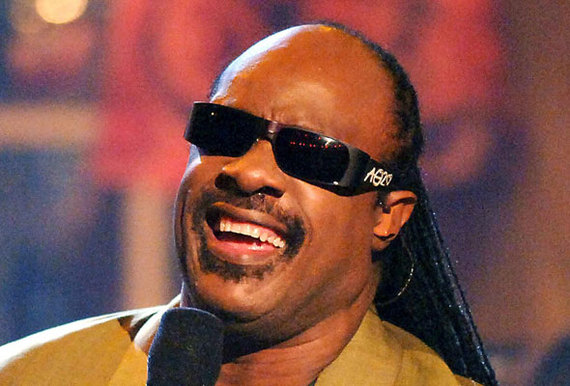 (The talented Stevie Wonder is blind due to Retinopathy of Prematurity, photo sourcewww.wlovradio.com)