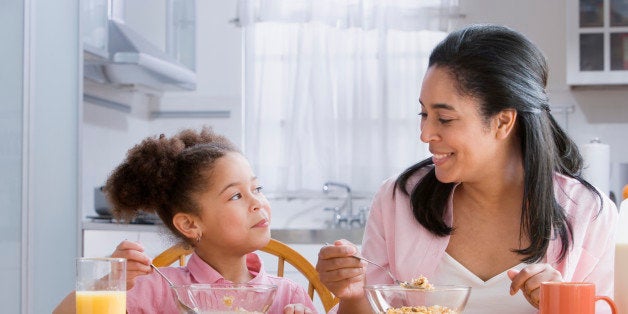 I took a five-year hiatus from working out. Not because I wanted to. But because I got sucked into the vortex of motherhood. Between diapers, meal preparation, organizing kid activities and keeping up with my own career, my needs fell to the bottom of my to-do list. Before I realized it, my triceps softened and belly turned into an unflattering vision that resembled a mélange of Yoplait mixed with lumpy mashed potatoes. And I started to resent the situation.
My ever-practical husband told me that in order to make working out (and grooming appointments and any sort of rendezvous with friends) a reality, I needed to treat these activities like business meetings and schedule them accordingly. A lightbulb went off. I kicked spontaneity to the curb and started to parent preemptively by anticipating and addressing my family's needs before crunch time. Translation? I didn't wait for someone to ask me to get her clothes out at 7:30 a.m.. Play dates stopped being scheduled the night before. A week's worth of dinners were shopped for and crafted on Sunday afternoon. Lunches and outfits were no longer seat-of-my-pants situations.
Here's what I learned: Preparation yields time. And time is an invaluable currency. Once I organized the major Mom things -- meals, school, scheduling after school activities -- I emerged cleansed, much like that glorious feeling of showering after an exceptionally sweaty workout. Oh, and I learned another important lesson: Workouts don't have to happen in the gym. All you need is music, a fitness app and some DIY workout gear (resistance bands and belly-busting balls) to get your schvitz on.
Get a master family calendar for your kitchen. Plot out the major must-do activities: meals, food shopping, laundry, after school activities, meetings, etc. Then, in another color, schedule MOM TIME.
Program "work out" on your calendar and in phone as you would a business meeting
Make school lunches the night before
Create car pools for after school activities
Stock up on arts and crafts-type activities to occupy the kids so you can read or exercise
Leave breakfast cereal on the table with bowls before you go to bed
Leave coats, packed backpacks and outfits out the night before
Program your coffee maker for 6:00 a.m. so it is ready for you
Organize and shop a week's worth of dinners on Sunday so you don't have to deal with it every day.
Have an organizational app like 2Do or Intuition on your phone to keep a highly efficient, ever tabulating to-do list
Related