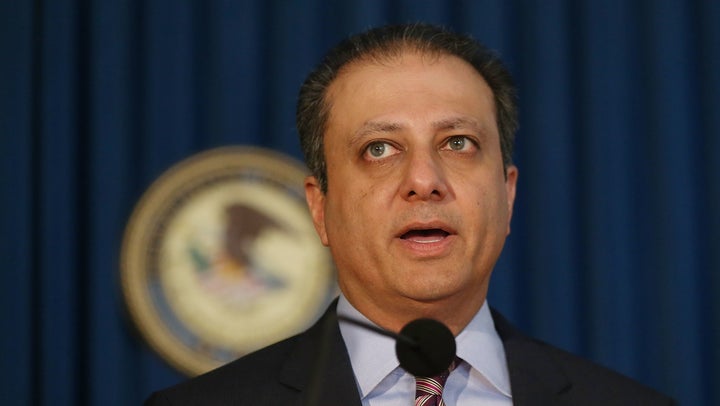 The outpouring of love over the weekend for now ex-United States Attorney Preet Bharara is remarkable given the fact that he's put New York area families through hell with RICO-fueled indictments and prosecutions against young public housing residents.
Bharara was fired by President Donald Trump recently after reportedly refusing to resign along with 45 other holdover U.S. Attorneys last week. Some, perhaps taking a pause from cheering on the CIA, may have clutched their "resistance" protest signs a little tighter at news of the heroic last stand by the prosecutor. The media, for its part, hasn't been able to get enough of Preet. The New York Daily News' Errol Louis, for example, lauded Bharara as a "shining example for public servants" who "pursued wrongdoers with great skill, energy and integrity."
With media and liberals swooning left and right, it's important to look at what Bharara did to Bronx residents under the banner of going after gangs. Last April, Bharara's office, in conjunction with the NYPD and several federal agencies, swept up dozens of people from the northern section of the Bronx in what was billed as the city's biggest gang raid ever. The pre-dawn operation resulted in 120 indictments, an avalanche of complex conspiracy-laden charges and even a man being chased off the roof to his death. Since then, family members of those arrested, all of whom are Black and Latino, have had to go to federal courts and prisons to try to see their loved ones―most of whom will never see a trial.
Jocelyn Cohn, an organizer with Incarcerated Workers Organizing Committee (IWOC) in New York, says that Bronx families that she and others have been supporting have been devastated by Bharara's actions. "Not only is it his job as a prosecutor for the government to uphold white supremacy and the legal structures that support it, but [Bharara] personally pushed these prosecutions―the worst example being the case of the Bronx 120." Cohn notes that Bharara's prosecution of Bronx residents in 2016, many of whom maintain their innocence and some who were working retail jobs when arrested, were based on Racketeering Influenced and Corrupt Organizations (RICO) laws, which were originally designed to take down the mafia.
Bharara crowed at the time about his efforts to "eviscerate two violent street gangs," however, the anti-gang strategy has come under scrutiny. CUNY Law School professor Babe Howell recently pointed out the low bar prosecutors enjoy in going after alleged gang members. The gang designation by police is already questionable, with some of the police department's gang criteria simply being based on where someone lives or what they wear.
"Already a federal prosecutor is not fighting for poor and working class people of color," Cohn says, "but [Bharara] worked to specifically target vulnerable populations." IWOC and other groups have been supporting families from the Bronx since last year with rallies, fundraiser and letter writing campaigns. They recently had to help set up a crowdfunding campaign for a single mother who was put through eviction proceedings by the city after her son's arrest. You can donate to help that mother, who also has a younger child, here. In late December of 2015, the city expanded its efforts to keep "criminals" out of public housing while the federal government has pushed a smoking ban for NYCHA residents.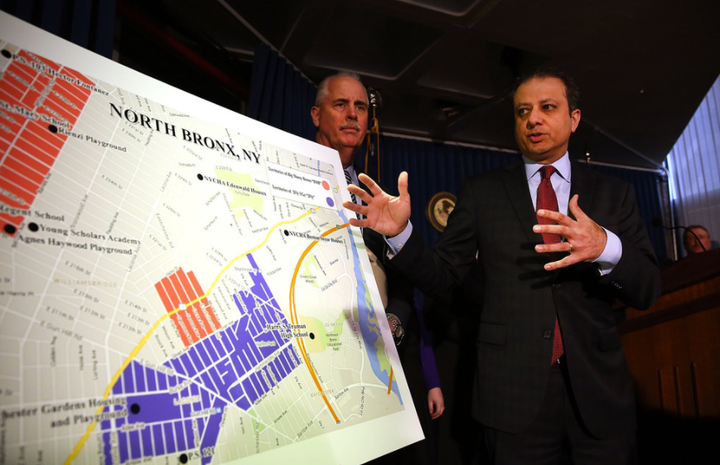 One Bronx mother whose son was also charged by Bharara's office is put off by the political support for the rockstar-ish prosecutor. The mom, who spoke anonymously for fear of retaliation against her son, argues that innocent Black and Latino youth are constantly targeted by police and prosecutors, who are a gang unto themselves. Young men like her son, she says, "are forced to take pleas to avoid prosecutor traps and lengthy sentences." She says she hopes that the civil liberties community and lawyers of conscious will stand with those impacted and meet with affected parents. "Our young men are not getting the best representation, being denied bail... It's not right."
The mom notes that many of these arrests and prosecutions hinge on law enforcement's interpretation or conflation of hip hop culture and clothing for actual gang activity. "He has a hat, they're using that to connect him to a gang," she says. "He's into music, he's into writing lyrics. They're misrepresenting that to be something criminal." Adding to her pain, her son, like others, have been punished with solitary confinement since they've been in custody, something she describes as "disgusting" and "torture."
On Bharara, the mom says that the public "needs to look twice at his record. I think he needs to be investigated on how he prosecuted these cases. He's not a hero. He's hurt a lot of people and a lot of families, that's how I feel." Her son was arrested, she says, even though there's no evidence that directly ties him to any wrongdoing. "They're using conspiracy to try to lump him in with other people." Some might remember that there were similar concerns three years ago when the NYPD and Manhattan District Attorney, Cyrus Vance, launched what was then the biggest gang raid in city history in West Harlem.
"He [Bharara] has been looking to boost his career at the expense of some communities," she continues. "He used 'gang' imagery to put these people all as 'gang' affiliated to make himself look good." She points out that more and more of the so-called gang takedowns are being prosecuted at the federal level--which is a big problem. "A lot of these cases shouldn't even be federal." A petition that calls out the over-prosecutions of poor people of color by federal RICO laws is set to pass 10,000 signatures soon. You can add your name here. Meanwhile, Cohn, whose group is planning to a rally outside of MDC federal prison in Brooklyn later this month (check the Free The Bronx 120 website for details and updates), notes the privilege of Bharara supporters. "They can sit in their houses and cheer him for standing against Trump but they don't have to watch their kids being put in solitary."
"It's easy for people to support Bharara because they haven't been targeted by him."
Popular in the Community