The perfect construction today is a marriage of prefabrication and energy efficiency.
Prefabricated methods, including modular, structural insulated panels, panelized construction, and so on, are gaining momentum in this country. This is due to a shortage of skilled labor, and a work force that doesn't want to work outside in extreme conditions any more. Homeowners see the advantages of prefab in getting their houses built more quickly and with the quality control that comes with closely supervised factory construction.
Energy efficiency is also a growing concern and one that the prefab manufacturers have increasingly taken into consideration in their materials and methods. People don't want to spend more on energy than is necessary, and are becoming more and more interested in utilizing solar energy as much as possible. We see a growing interest in electric cars, a trend that was dormant for many years. Tesla has renewed our interest in using battery-operated cars, and is setting a new course for other companies as well, to profit from the power stations going up around the country. We can now envision a time when photovoltaic panels on our homes will reduce the need for electricity for heating and cooling and will power our cars -- vastly reducing our overall energy costs.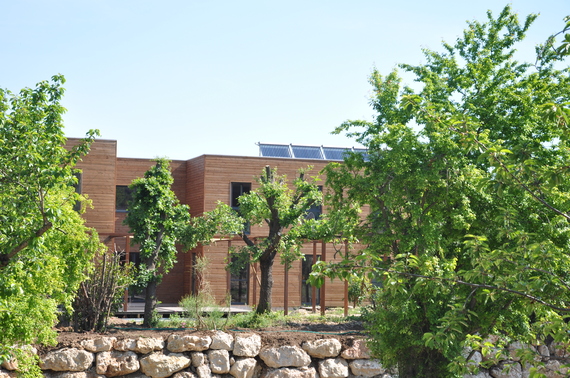 The Evolutive Home in Mouans-Sartoux, France is a Passivhaus (as well as other regional certifications); it utilizes solar hot water panels and a ground heat exchanger.
People who are concerned about the environment and saving energy are usually also concerned with waste. It doesn't make much sense to build a very energy-efficient home while filling landfills with scraps from on-site construction. The dumpsters we see in front of homes under construction are all filled with waste -- waste that the homeowner is paying to dispose of and also pays for all of that material. So the ideal solution is to build a factory-produced house, which requires minimal energy.
Prefab manufacturers have worked vigorously to build houses that are energy and water efficient and utilize environmentally friendly materials. They reuse cutoffs from other projects and recycle items such as drywall and metal -- limiting waste and saving energy costs.
We have created beautiful, efficient prefab houses in this country, using a variety of different prefab techniques. Many of these houses are profiled in my books. But while researching my most recent book Prefabulous World: Energy-Efficient and Sustainable Homes Around the Globe, it was especially exciting to find how many prefab and efficient houses were being built in all corners of the world -- in South Africa, Australia, New Zealand, Costa Rica, Germany, Switzerland and beyond. Many of the European countries in particular have amazingly efficient homes, as they are working to meet their commitment to the Kyoto Protocol, adapted in 1997.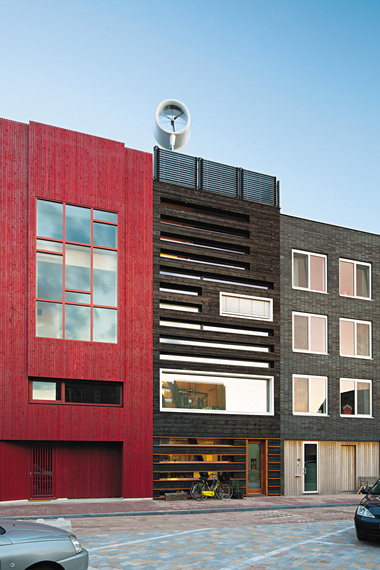 A space age insulation, Aerogel, was used in the construction of this panelized, very energy efficient home in Amsterdam, Netherlands. (Photo credit: Hans Peter Föllmi)
The styles of the houses vary from place to place, many of the materials are local to their areas, and heating and cooling systems are different. For instance, sheep's wool is used as insulation in a New Zealand house, as it is an affordable, energy-efficient indigenous material. Other homes make use of cutting-edge innovations that we rarely see put to use, such as Aerogel, developed by NASA, which was used as insulation in a house in the Netherlands. In several countries, such as Austria and England, all-in-one heating, cooling, and ventilation systems are being used more frequently because the energy requirements are smaller, due to the efficiency of the overall construction.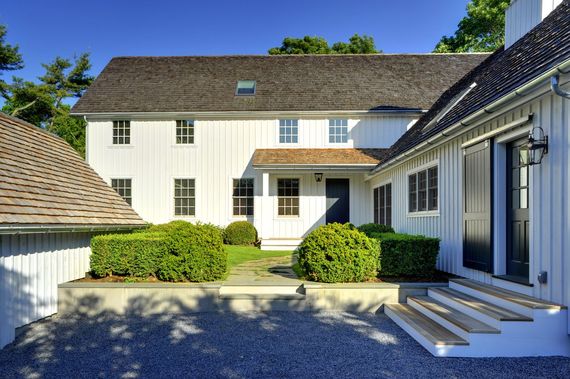 A beautiful house in East Hampton, in the United States which is extremely energy efficient using a high R-value wall system by Yankee Barn Homes.
Exploring so many examples of extraordinary international home design, I discovered there is much the construction world can share and learn from each other across borders. All can benefit from the innovations being developed in style, insulation materials, mechanicals, and so on. I continue to be amazed and inspired by the prefab houses being built both in the United States and abroad, just a few of which are pictured here. I hope you will also be encouraged by these fantastic houses and that as a result you will consider energy-efficient prefabrication when you build or remodel your home.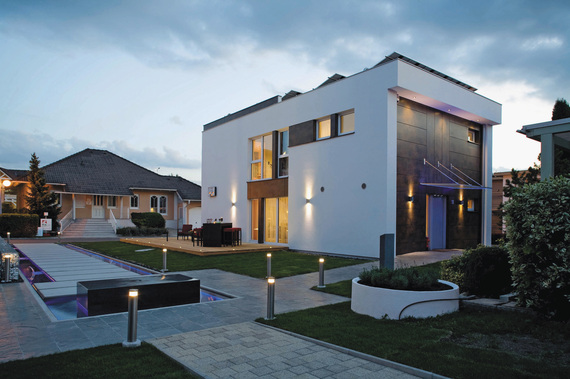 This plus energy Passivhaus has an all-in-one system (heating, cooling, ventilation, and domestic hot water) and photovoltaic panels (PV) in Vienna, Austria.
Popular in the Community