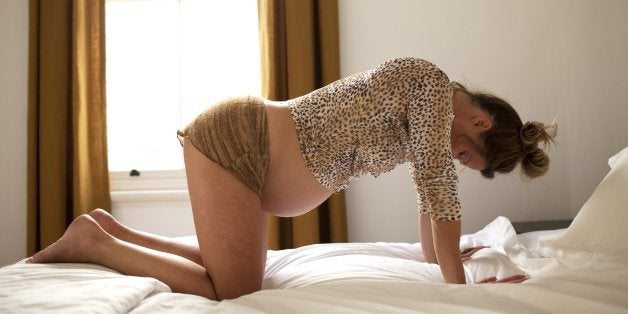 I know the title of this post seems a tad bit inappropriate, perhaps overly aggressive and extremely ungrateful, but please forgive me. I feel as if it's a necessary public service announcement to all the ladies out there lugging around an extra two stone load in their abdomen.
I myself was recently informed by a rather chummy British sonographer that I was in fact having a "chunky baby." These words were blurted out following a recent scan visit initiated by my OBGYN father via FaceTime: "Honey, you're looking very big for your week. Let's get the little one checked out." Scans did confirm I'm having a rather big boy, weighing in at over 3lbs at 28 weeks (he should be around 2lbs) with an over-sized head (over 95th percentile.) I don't have gestational diabetes and not overweight -- seems my over 6'1 husband comes from a long line of over-sized babies. If one more ignorant fool tells me I look huge or "maybe if you stop eating he won't be so big..." I'd love to hit them over the head with my Snoogle pregnancy pillow and throw them down a flight of stairs. Being pregnant is the pits!
I stopped holding my breath for the pregnancy glow, but don't get me wrong -- Thank you dear G-d in heaven for blessing me with the glorious gift of life, but 40 weeks of this is a nightmare. May I add that the icing on the cake in all of this most likely points to a grand finale of a warm and cozy C-section in an icy operating theatre. I've scanned the maternity blogosphere to gloat amongst the wrath of others- so many pregnant women out there feeling terrible about themselves: for putting on weight, for hating getting out of bed in the morning, not bubbling in the joy of decorating the nursery. I say, enjoy being miserable, dwell in the negativity, look in the mirror and embrace how large and unattractive you have become. Take on the third trimester with as much self-loathing and bitterness as possible. And the next time someone tells you how big you have become, tell them how ugly they have always been, and will continue to be -- then push them down a flight of stairs and declare, "pregnancy, f*ck you."