 Given how exhausting our lives are, it's an accomplishment to fit in a regular exercise routine. So imagine keeping up a regime when you're nine months pregnant. Sound impossible? It's not, according to celebrity trainer Tracey Anderson and her "momshell" devotees, including professional beautiful people Christy Turlington, who frequents her New York City studio, business partner Gwyneth Paltrow and new mom and client Molly Sims.
HuffPost Healthy Living caught up with these famous moms at an event to celebrate the launch of Anderson's "The Pregnancy Project" -- a fitness system for pregnant women in each month of pregnancy. The DVDs will support maternal health worldwide, donating $5 of each purchase to Christy Turlington Burns' advocacy project, Every Mother Counts.
So how did some of the world's most famous moms stay fit during and after pregnancy? Read on for tips straight from their lips:
On working out while pregnant:
"It's very important to move when you're pregnant. Well, if you're sick you have to lie in bed -- I did!" said Paltrow, mother to Apple, 8, and Moses, 6, with her husband, Coldplay frontman Chris Martin. "But as long as you're okay to get up and at least walk and really try to keep blood circulating."
"Look, you can't do as much," said Sims, who gave birth to son Brooks just 3 1/2 months ago. "For me, I got pregnant on my honeymoon, so I'd just gotten into fabulous shape [for the wedding] and then you start all over again. So you know, you see the scale go up instead of down and that's a little frustrating. I think it's just, you know, dealing with becoming winded, really being exhausted, trying to do arm work while you're nauseated."
On "getting your body back":
"You know, give yourself a break. Nobody knows what it's going to feel like as a mom until it happens," said Turlington Burns, mother to daughter Grace, 9, and son Finn, 6, with her husband, the director and actor Ed Burns. "I don't think there should be that kind of pressure. I think we should forgive ourselves. It's important to feel rested and to get back to yourself internally before you care about what you look like externally. But I think eventually, there's no reason why you shouldn't have the life you had before kids in terms of physical activity. It's empowering to feel good and to feel like, 'Yeah, I brought you into the world and I still look good.'"
"My number one thing is that I'm a big breastfeeding advocate," said Anderson, who gave birth to daughter Penelope four months ago and who also has a 14-year-old son, Sam. "The body will naturally pull back a lot from breastfeeding. But then, once your doctor releases you to work out, then you can use all those joints that have been relaxed to move around. But make sure that they do not start to work out before the doctor says its okay, even if they feel like it. There were some things [said] about me: that I got my body back in six weeks. Not true. I didn't move a muscle for six weeks."
"I think the biggest motivating factor getting back into shape is that I want to fit into my clothes!" said Sims. "I don't fit into anything. I fit into like 10 things -- that I want to burn."
On the importance of fitness for maternal health:
"Pregnancy, as wonderful as it is, makes us very vulnerable," said Turlington Burns. "It just does. It makes us susceptible to gestational diabetes, preclampsia, things that are harmful. So the better foundation you have going in, the more healthy you'll feel and the better outcome you'll have with the delivery and the baby."
On the global mission for maternal health:
"As I was creating this program, I was thinking, 'This is such a luxurious item for women to have, this thing to help them keep their butts in shape,'" said Anderson. "And my friend Christy has this amazing charity where she helps women who don't even have basic access to care. We are talking women who are 10 miles from the closest natal center. Pregnancy was hard enough with all the support and modern medicine that I had. She's fighting the fight that's significant and serious. Nothing is more important."
On working out with your kids:
"Physical fitness is incredibly important for overall health and mental health, heart health and cholesterol and everything and I think it's a really important part of being a kid to be active. My son likes to do soccer and kickboxing and Apple's very into dance and gymnastics," said Paltrow. "Every day after school, we have a little scrimmage together in the garden."
Before You Go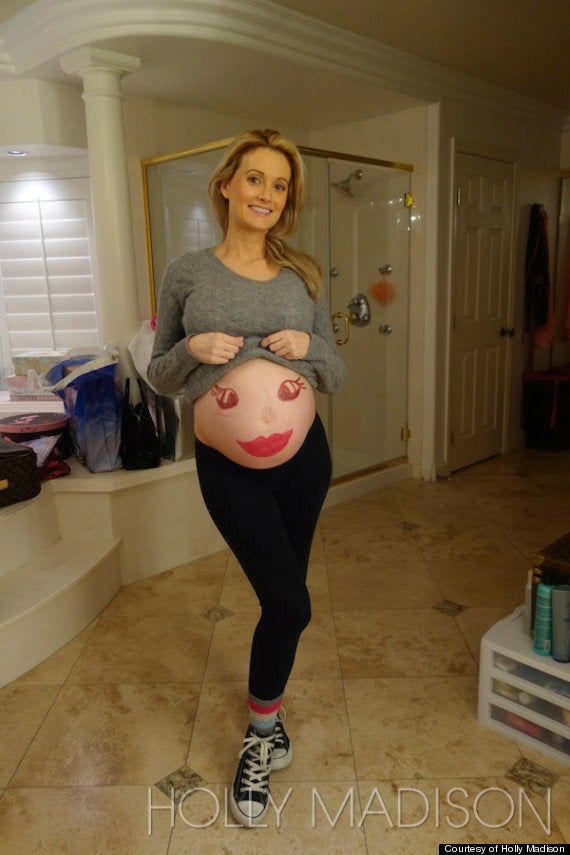 Celebrity Baby Bumps
Popular in the Community