 Nearly 60 percent of moms said they believe giving birth is a natural process that should not be interfered with unless medically necessary, however the same women reported significant intervention when they were in labor, according to a new national survey.
One-quarter of the women surveyed underwent at least three medical procedures while giving birth, such as taking drugs to get labor started, taking drugs to speed-up labor or cesarean delivery, according to the "Listening to Mothers" survey. Twenty five percent of the women who were induced or who had an epidural said they felt pressure at the hospital to have the procedures, as did 13 percent of those who had a C-section.
"Our main message is that we're seeing very severe problems with maternity care in the U.S., and a piece of that is the high rate of intervention," said Carol Sakala, director of programs at Childbirth Connection, a nonprofit that works to improve maternity care in the United States and that led the survey research.
"Another would be underused practices that should be ... delivered, but aren't," she added.
The findings in "Listening to Mothers" came from an online survey of 2,400 mothers, ages 18 to 45, who had given birth in a hospital in 2012. The report is the third in a series that launched in 2002, and did not include women who had delivered in a freestanding birth center or at home.
More than 40 percent of the mothers said their care provider tried to induce labor, a percentage Sakala called "very high." National estimates that use birth-certificate data have put the national rate of induction close to 23 percent of all births annually.
When asked why they were induced, many women cited non-medical reasons, such as being full-term and wanting to get their pregnancy over with. The most common medical reasons cited were concerns that the woman was overdue or required quick delivery. (There are numerous medical reasons for inducing labor, such as high blood pressure brought on by pregnancy, infection or if the placenta has separated from the uterus.)
But while Sakala argued the results laid bare major flaws in U.S. maternity care, the mothers surveyed generally rated the quality of care received very positively: 47 percent said it was "good" and 36 percent called it "excellent." Further, nearly 50 percent of women said they felt their providers were completely trustworthy.
"This is a really complex care experience, and it's a little mystifying for women, particularly first-time moms, in terms of what's going on and why," Sakala said. There are a lot of forces at play that are erroneously suggesting to moms that they needed this care, she argued.
Obstetricians were the primary attendants for 70 percent of the births, followed distantly by midwives, at 10 percent. Nearly all of the women indicated that they received additional supportive care during labor from a husband or partner, nursing staff, or family member. Only 6 percent of women worked with a doula, a trained labor assistant.
Correction: An earlier version of this story incorrectly listed the percent of women who felt pressure to be induced or have an epidural as 15 percent.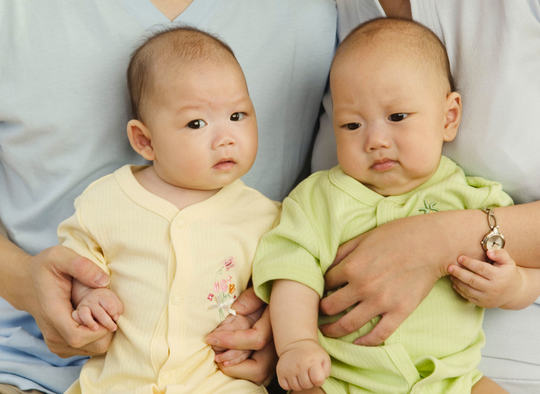 Children's Health Stories Of 2012