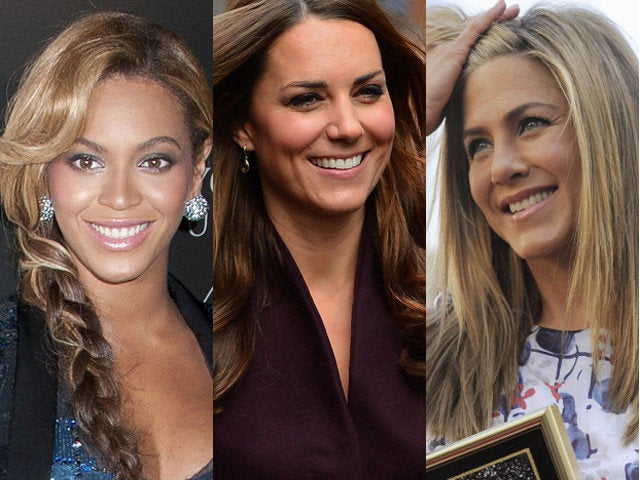 Buckingham Palace confirmed Kate Middleton's pregnancy on December 3rd, but the media frenzy about her supposedly-fertilized eggs has been raging since she married Prince William. What's odd is that the weekly tabloid cover lines about the possible contents of her womb never felt unusual. If anything, they were familiar. Why? Kate Middleton is hardly the only famous woman whose fertility bump-snapping paparazzi, entertainment journalists, and celebrity interviewers have made their business. Never mind what these women have accomplished, it's their uteri that really concern the media -- and, evidently, the public who read about them.
Here are nine women whose possible pregnancies have been scrutinized in recent history nearly as much as Kate Middleton's:
Jennifer Aniston The Jen bump watch started when Jen and Brad were still, well, Jen and Brad, then escalated over the course of her subsequent relationships as she was made into a tragic figure -- the highly successful actress who couldn't possibly be happy because she wasn't married or pregnant. Now that she's gotten engaged to Justin Theroux, the baby rumors are really going. We're pretty sure mega-star Aniston is doing just fine, whether or not anyone's living in her womb.
Crown Princess Masako Masako Owada is Japan's version of Kate Middleton. The crown princess remained childless for her first eight years of marriage and had a miscarriage. Because she was expected to produce an heir to the throne, she was under intense pressure to get pregnant. And when she gave birth to a girl in 2001, it started a debate in Japan about whether to allow women to ascend to the throne. That's a whole lot of responsibility for one uterus...
Beyonce Beyonce is a royal of sorts. She's half of one of the few prominent marriages in hip hop, her other half being the king of hip hop himself. Rumors of her supposedly imminent motherhood filled the tabloids and the web for years until August 2011 when Beyonce revealed the first hint of Blue Ivy in that bump-accentuating red carpet gown. Then came the wait for her delivery, then the first photos of Blue Ivy went viral. And now, obviously, there are rumors of a sibling...
Jessica Simpson Jessica Simpson's takes the cake for "the most consistent obsession with a uterus that has actually had residents." So why the persistent attention to Simpson's "little girl with pigtails"? Because of the WEIGHT ISSUE of course. Simpson continuously refuses to obey Hollywood's edict that one must return to sample size immediately upon gestating and birthing a 6-10 pound human being. The tabloids continuously marvel at her refusal and and express concern for her "terrible" 170-pound fatness. Meanwhile, Jessica's earning $14 million a year, has a healthy daughter and is by all appearances in a far better place in life than during her "Dukes of Hazzard" days.
Angelina Jolie Even though Angie had adopted her son Maddox before she got together with golden boy Brad Pitt, people couldn't stop freaking out about whether she'd ever pass on her superior DNA. And time and time again she and Pitt had to publicly quash rumors that they were getting married or having more babies -- even after she gave birth to Shiloh in 2006 and then twins Knox and Vivienne in 2008.
Lady Gaga Gaga, always known for her more outlandish wardrobe choices started getting asked about a potential pregnancy back in September when she chose to wear clothing that showed less skin than usual. So, if you gain a few pounds and decide to wear something with sleeves, you must be pregnant? Lesson learned.
Khloe Kardashian Being married to Lamar Odom, Khloe has managed to skip out on any annoying media scrutiny about the state of her love life. But the only thing the American public loves to obsess over more than sad single ladies is sad childless ladies. After revealing on an episode of "Keeping Up With The Kardashians" that she and Lamar were having trouble getting pregnant, Khloe even got a barrage of unwanted sex and pregnancy advice from her Twitter followers. ''Because of our show, people think they know me and they can tweet me anything. But, hello, sometimes it's so inappropriate. I mean, they're describing the positions they've, you know, actually used to get pregnant. How am I meant to respond?" she told the Now Magazine.
Mila Kunis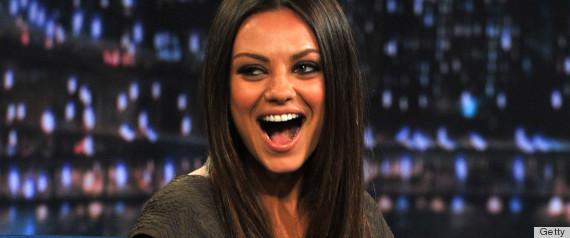 Remember everyone -- a woman cannot and should not ever gain any weight unless she is bringing a human form into the world. Mila Kunis learned this earlier this year when her post-"Black Swan" weight gain led to a whole lot of pregnancy rumors. (The fact that Kunis had lost about 20 pounds to do the role in the first place seemed to escape everyone's notice.)
Jennifer Garner It seems like every time Jennifer Garner deigns to step outside in a (slightly) baggy shirt, people assume she's knocked up. Somehow Garner's uterus has managed to stay front and center despite the fact that she's neither single (Ben Affleck has been her husband since 2005) nor child-free (she has two daughters, born in 2005 and 2009, and one son born in 2012).
As Kate Middleton enters what will likely be the most media-frenzied six months of her life, let's all take a step back, call a moratorium on the phrase "baby bump" and try to remember that these celebrity women are doing a whole lot more with their lives than producing offspring.