These days, it's common for an expectant mother to document her pregnancy with a maternity photo shoot. But this pregnant dog is giving the trend a canine twist.
Kennedy Sorensen's golden retriever, Chanel, is due to give birth to puppies sometime before Oct. 12. To commemorate the occasion, Sorensen organized a maternity shoot with Chanel and her puppy daddy, LeeRoy.
Sorensen, who lives in Taft, California on a mini farm that includes chickens, ducks, dogs, cats, rats and a micro pig, told The Huffington Post that the photo shoot was initially her idea.
"It all started when I ended up texting the stud's owner, Amy Rients, asking if she wanted to do a maternity photo shoot, and she told me she would love to!" Sorensen said.
"She ended up coming out to my house and brought the puppies' dad, LeeRoy, with her. It took three of us ― me, Amy, and my cousin Raegan ― to get the dogs to hold still long enough to take the pictures," she added.
The finished result is an adorable collection of photos showing Chanel and LeeRoy posting with a sign that says "9 Days Until Puppies." Sorensen tweeted some of the photos, which garnered nearly 34,000 likes and 20,000 retweets.
"We are all amazed with how popular this has become," Sorensen told HuffPost. "Amy and I are so happy that our dogs were able to make people smile and that everyone is enjoying the pictures just as much as we are."
Before You Go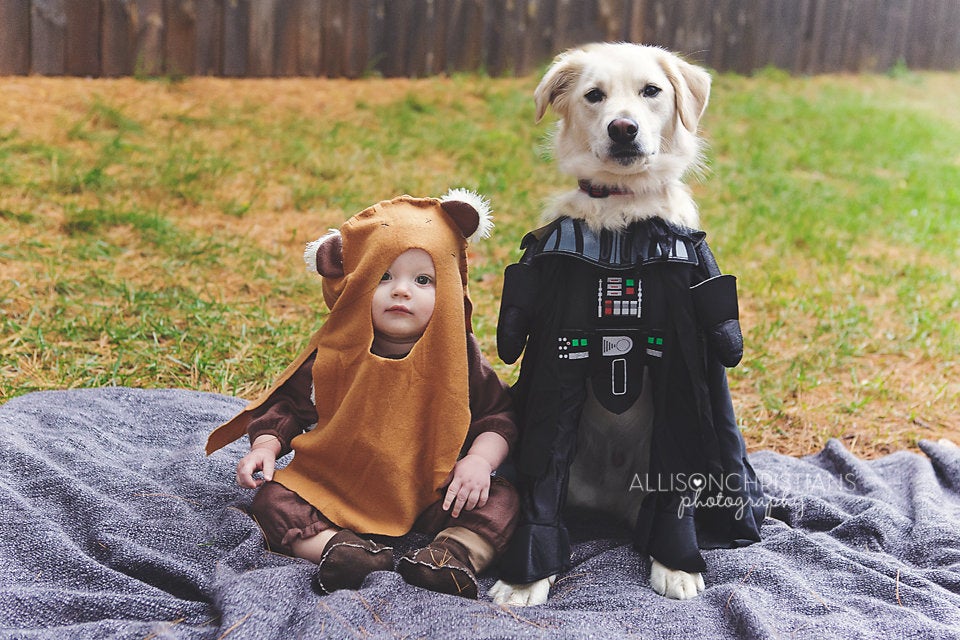 Costumes For Babies And Dogs