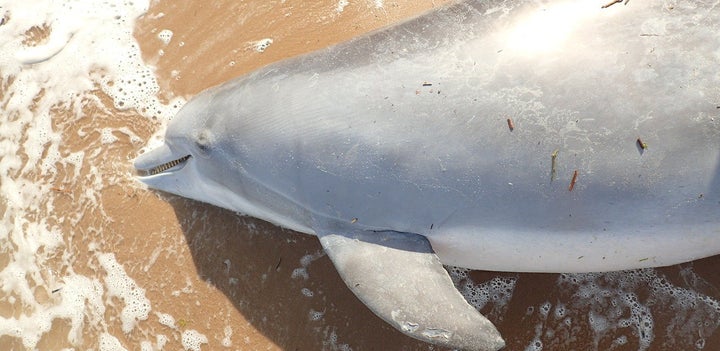 The National Oceanic and Atmospheric Administration said the dolphin was found dead on a beach in Waveland, Mississippi, in April. A necropsy revealed the cause of death as a gunshot wound, with a bullet found in its lung. The unborn calf also died. 
The agency said wildlife organizations Lightkeepers, The Humane Society of the United States, CetLaw, Ocean Experience, the Animal Welfare Institute and Dolphins Plus Marine Mammal Responder are offering a combined reward of $11,500 for information leading to identification of the culprit and prosecution. 

Anyone with information is asked to call either the NOAA Enforcement Hotline at 1-800-853-1964 or the Slidell, LA, Enforcement Field Office at 985-643-6232.
Tips can be left anonymously, but anyone hoping to claim the reward needs to provide contact information. 
NOAA said dolphins are protected under the Marine Mammal Protection Act of 1972, and that whoever killed it could face up to $100,000 in fines and one year in prison. 
The agency said there has been an increase in violence against dolphins in the Northern Gulf region in recent years. Since 2002, at least 24 have been found dead of injuries from guns, arrows or being impaled. 
NOAA is urging people not to feed dolphins, which then learn to approach people and boats in search of food.
"They can learn to approach fishing gear and to teach this behavior to their young. Such behavior has, in some cases, resulted in violence toward dolphins by fishermen frustrated by the loss of their catch," NOAA said. "You should never feed or attempt to feed dolphins from vessels or from shore."
REAL LIFE. REAL NEWS. REAL VOICES.
Help us tell more of the stories that matter from voices that too often remain unheard.
BEFORE YOU GO