Forget eating for two. If you're pregnant in October, you can double your Halloween costume fun. You can turn your belly into a pumpkin or become a "Mother of Pearl" -- the possibilities are endless.
One mom-to-be went the macabre route, and was rewarded by becoming Internet famous. Her husband, Jarrod Oldham, entered a photo of her from 2011 in a contest on Instructables.com. As Oldham explained with his submission, "Our son was born November 6, so by the time Halloween rolled around, it absolutely felt like he was trying to burst out of her belly like the original "Alien" critters. I thought, 'he probably just wants some candy!' and so this costume was born." (See photo below.)
Oldham provided directions to recreate the costume, involving one tank top, a pair of scissors and a baby doll. (He cut holes in the top where he wanted little arms to come out of his wife's belly and sprayed blood around the "exit points.") He also pointed out that this costume only works with a pregnant belly. "Once my wife put the shirt on, the tension of it stretched over her belly kept the arms pointed outward," he explained.
Alien baby may not be your jam, of course. In the gallery below, we've collected more of the best maternity costumes, from the cute to the hilarious. Did we miss something great? Send your maternity costume pics to parents@huffingtonpost.com and we'll add them to the slideshow.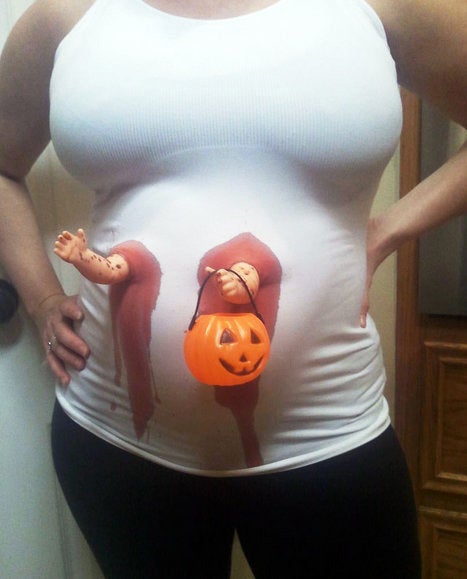 Halloween Costumes For Pregnant Women
Related