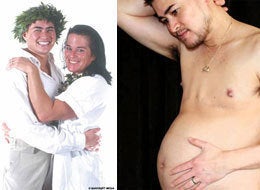 May 22, 2008 (Los Angeles, CA)-- ENTERTAINMENT TONIGHT can confirm that Thomas Beatie will write a book about his experience as a "pregnant man."
St. Martin's Press has purchased North American rights to LOVE MAKES A FAMILY: A Memoir of Hardship, Healing and an Extraordinary Pregnancy by Thomas Beatie, the world's first pregnant man. Publication is set for September 30, 2008.
LOVE MAKES A FAMILY follows Thomas Beatie through his transformation from a girl scout and beauty queen to a fully legal and recognized man with a black belt in marital arts and a loving wife named Nancy, herself a former champion bodybuilder. It will follow Thomas and Nancy through their controversial decision to have a baby and yet not hire a surrogate to carry the child; to, instead, have Thomas--who underwent gender reassignment surgery but kept his female reproductive organs--get pregnant and carry the child himself.
What has been told so far is a small part of Thomas' story. In LOVE MAKES A FAMILY, the poignant true story of how Thomas Beatie survived a lifetime of pain, prejudice and family disillusionment to arrive at this one astonishing moment in time--the moment when he will create a brave new family for himself and, in a way, for the world.