The transgender man whose 2007 pregnancy caused international controversy is back in the headlines, this time for a divorce dispute.
TMZ reports that an Arizona judge is questioning the validity of Thomas Beatie's marriage to his wife Nancy, deeming the couple's union to be a same-sex one, which isn't legal in the state. The couple, who tied the knot in 2003, represented themselves as a heterosexual pair at the time because Thomas reportedly had a state-authorized sex change with legal documentation prior to the wedding.
Though both his birth certificate and U.S. passport identify Beatie as a man, he has since given birth to three children and hence, the judge isn't convinced by the legal documentation and is still deliberating as to how to proceed, the New York Daily News reports.
It's an interesting -- and unfortunate -- turn of events in the ongoing legal drama between Beatie and his wife. As the Daily Mail reports, Beatie was granted temporary full custody over the couple's three children in May after he presented footage that appeared to show his wife attacking him.
"Mr. Beatie is thrilled that this Court has recognized that a transgender marriage is a valid marriage under Arizona law," Beatie's attorney David Michael Cantor said at the time, according to Pink News. "Hopefully, this case will help pave the way for other State's valid marriages to be recognized in the divorce courts of Arizona."
At the time of the separation, Beatie told People magazine, "Like all marriages, we have our ups and downs, and we're going through a rough patch right now. At the moment, we're separated." He also revealed that he had completed final female-to-male gender reassignment surgery at the time, adding, "Nancy hasn't seen the new me yet."
Beatie was deemed "the world's first pregnant man" when he appeared in a series of 2007 photos with a scruffy beard and a baby bump.
View photos of the couple in happier times below: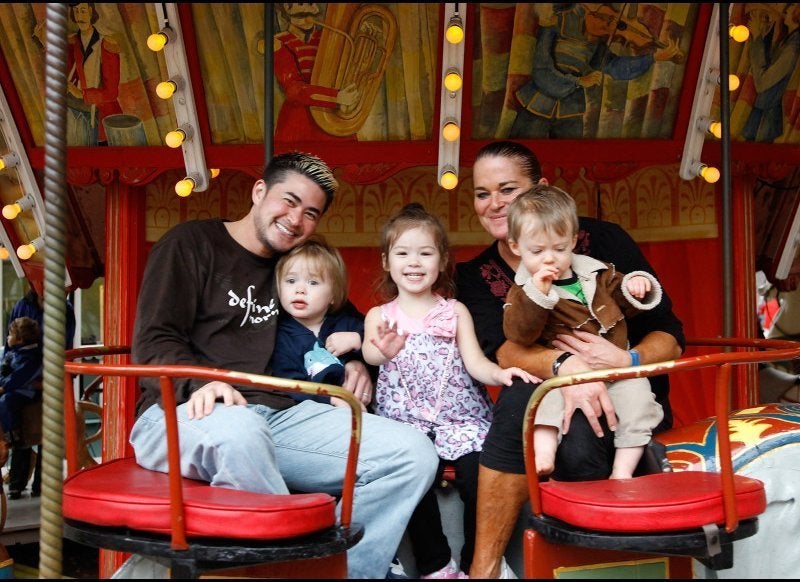 Thomas Beatie's Marriage
Popular in the Community