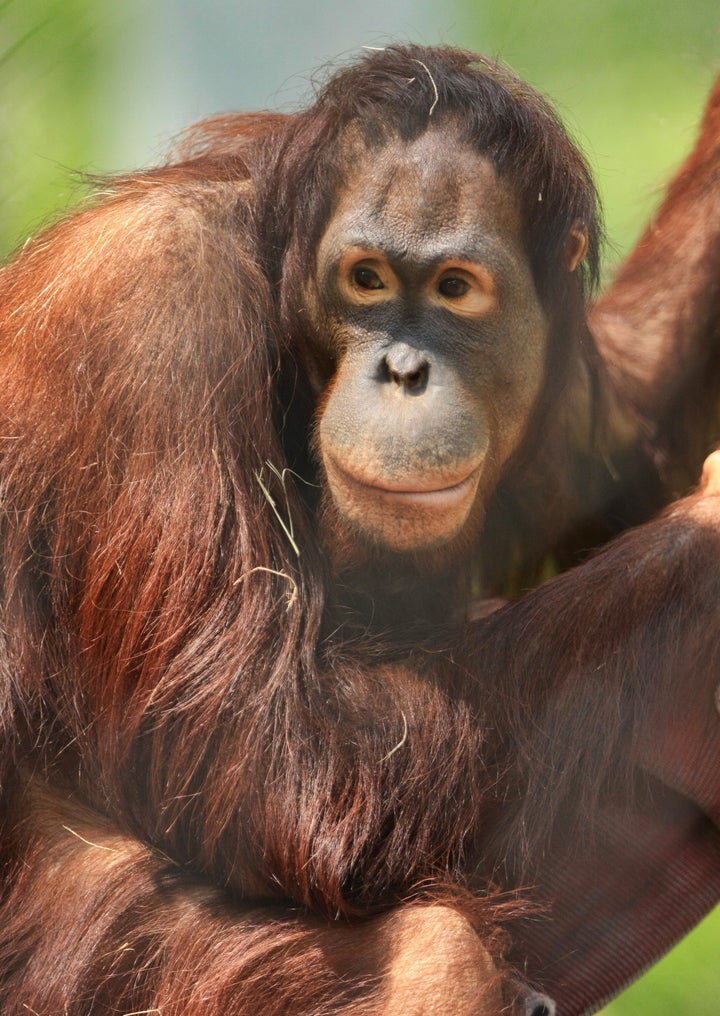 Here at HuffPost Parents, we celebrate parenthood in all its forms, including the beauty of motherhood in the animal kingdom.
Which is why we were so excited to hear about Mei the pregnant orangutan, who resides at Cameron Park Zoo in Waco, Texas. The mammal is currently busy riding out her pregnancy in style, complete with (multiple) baby showers and a gift registry at Target.
Mei and the baby's father, KJ, were brought to Cameron Park Zoo in 2009 to be a breeding pair, according to orangutan trainer Laura Klutts.
"Orangutans are the first great ape in danger to go extinct, so the expectation of a baby is super exciting," Klutts told The Huffington Post. "They also have the longest interbirth period of any land mammal ― so you only get a baby about every 7-9 years and that's if the stars align and you are lucky enough to have no other conditions or issues."
Mei's pregnancy was planned and she was taken off birth control in 2015. The breeding and pregnancy was then observed and monitored by keepers.
18-year-old Mei and 28-year-old KJ are expecting their baby at the end of January.
In the meantime, Laura and the other primate keepers asked to do the registry and shower for the public to attend.
"Everyone is very invested in the excitement of a new little one on its way. We wanted a way to give everyone a chance to come out and celebrate with the zoo and the parents to be," Klutt said.
Two of Mei's keepers actually went to the local Target to register items for Mei and KJ, all of which had been pre-approved as safe for the animals to interact with.
The registry includes bedding and feeding items, bath items like towels and baby shampoo, toys, picture books and even a GoPro action cam, presumably to document Mei and KJ's parenthood journey.
There are also some seemingly funny items on the list, including music from Simon and Garfunkel and Dolly Parton, DVDS of "The Princess Bride" and "Casper" and Britney Spears' Fantasy fragrance.
Klutts admits that Mei can't tell her keepers what her favorite music is, so the animals will listen to a wide variety. (Dolly Parton was Klutts' pick.)
Mei doesn't have a special affinity for Britney Spears either ― the keepers spray different kinds of scents around the animals' enclosures and habitats to add sensory variation.
Kutts adds, however: "Who knows, maybe Mei will love the Britney fragrance. It was purchased off the registry, so we will absolutely be letting her test it out!"
The zoo has received a huge outpouring of response from across the country, and they are getting multiple packages delivered from Target daily, including 17 on Wednesday alone.
While many of the items on Mei's registry have already been purchased, there are still some items available, and the zoo itself also has its own wishlist on Amazon.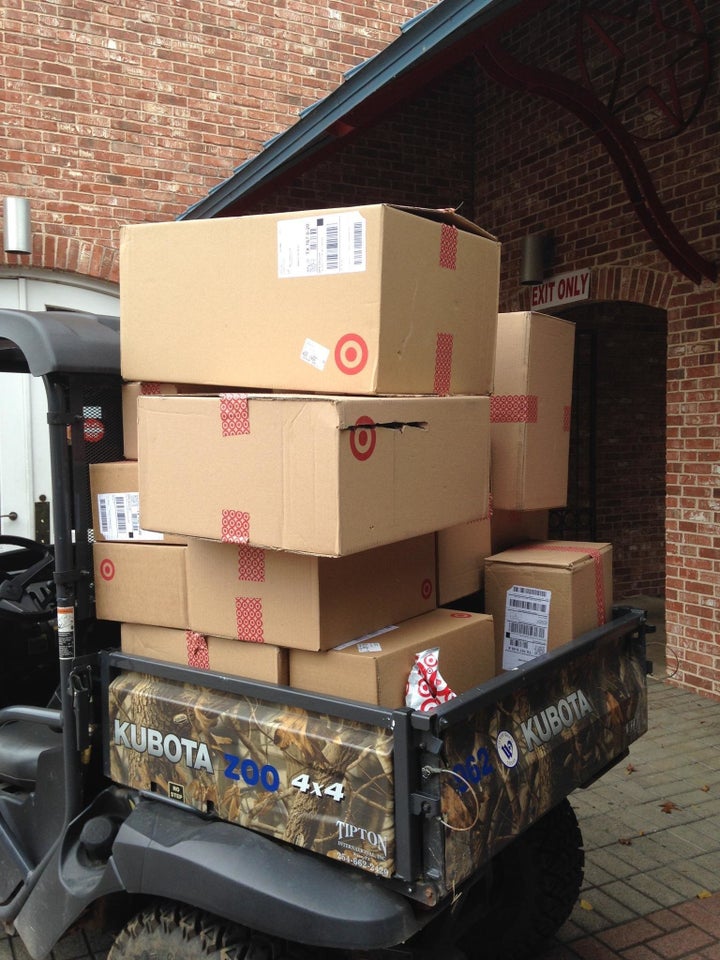 Mei and KJ will open some of their presents at their baby shower this weekend, where keepers will have decorations in the enclosure and cake for guests, and will answer questions from the public.
The zoo has actually added a second shower due to inclement weather which will mean celebrants can only view Mei and KJ through a window at the first celebration.
The photo above is from Mei's first baby shower in 2014. She and KJ's first son Batari passed away at 6 months old, but they were "both great parents," according to Klutts.
Once Mei gets closer to her birth window, she will be under 24/7 watch and monitored for labor complications, with the zoo's veterinarian and OB-GYN standing by and local hospitals and a neonatal team in place as back-up if assistance is needed.
According to the zoo's Facebook, their pair of pelicans, who were rescued from an oil spill, also have an egg together which will also hatch in January, so spring is in the air at one zoo in Texas at least.