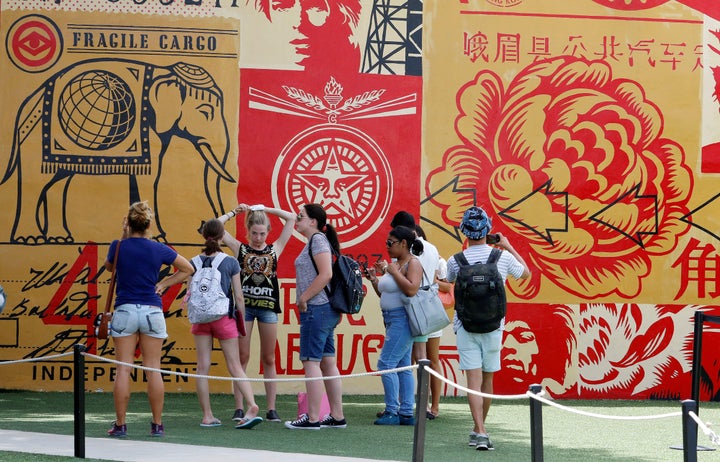 WASHINGTON ― Doctors are telling pregnant women in Miami to wear long sleeves and pants in 100-degree heat, to avoid going outside, and to use condoms for the duration of their pregnancies as Zika cases multiply in South Florida.
"I used to go for these long walks at night with my first [pregnancy], and now I'm stuck inside," said Dr. Karla Maguire, an OBGYN in Miami who is pregnant with her second child. "I think in an ideal world, if I were independently wealthy, I'd get out of Florida right now. But just following recommendations and trying to avoid mosquitos is all we can do."
Because the Zika virus presents the biggest problem for pregnant women and their fetuses, women's health clinics have a vital role to play in the outbreak. And clinics are scrambling to deal with the flood of women worried about Zika in light of reports this week that the number of locally transmitted cases in the Miami area had risen to 15, obstetricians told The Huffington Post.
"We are getting an influx of phone calls from pregnant patients and people thinking about getting pregnant," said Dr. Lona Sasser, an OBGYN in Coral Gables. "We've been talking to the patients about it for months and months, but the phone calls certainly have increased over the last week."
Zika can be spread through sex, by mosquitos or from a pregnant woman to her fetus. (A lot is still unknown about the virus.) Many people who get Zika will have mild symptoms or none at all. But the virus can cause severe birth defects. Zika has spread throughout Latin America and the Caribbean, and the World Health Organization declared it a public health emergency in February.
The U.S. Centers for Disease Control and Prevention advised pregnant women this week to avoid Wynwood, a neighborhood in downtown Miami where the virus appears to be rapidly spreading ― the first time in history the CDC has issued a travel warning for an American neighborhood due to an infectious disease. But the agency lacks the resources it needs to quickly and adequately address Zika.
Women's health clinics are on "the leading edge of addressing this epidemic, educating women and protecting women and their babies," said Dr. Georges Benjamin, executive director of the American Public Health Association. They may teach women about prevention, refer women to get tested, distribute contraceptives ― even help pregnant women avoid mosquitos.
"We are handing out insect repellent in our office and informing our patients to use it every day before you leave the house," said Sasser. "We tell them long sleeves, long pants. We're so hot down here, it can be unrealistic. There's a couple websites that provide SPF 50 sunwear that makes it more doable … Some people have waited so long, and this is their opportunity to have a baby, so they're going to do everything they can."
Planned Parenthood, which has two locations less than a 15-minute drive from Wynwood, started providing targeted information to women about Zika "months ago" because the state is a major travel destination, said Dr. Christopher Estes, chief medical officer of Planned Parenthood of South, East and North Florida.
Estes hasn't seen a major uptick in patients asking about Zika, he said, and noted that especially in the South Florida region, many people have close connections to Latin America, where the Zika outbreak is already a known problem.
Some clinics "will be much more prepared than others, but they're all going to have to be playing catch-up to some degree," said Benjamin. He noted that clinics are now burdened with Zika, along with the other things they have to do to assist pregnant women.
Dr. Rosana Rodriguez, an OBGYN at Women's Healthcare of Kendall in Miami, said there is confusion about whether they can start doing testing in their clinic, and who is responsible for notifying the CDC if there is a positive result. The clinic is screening women with questions like whether they or their partners live in Wynwood, then referring at-risk women to a hospital for testing.
The CDC only recommends testing for certain people: those who have lived or traveled to an area with Zika or have a sexual partner who has, and pregnant women who live in or have traveled to such an area or had sex with someone who has, even if the pregnant women don't show symptoms. Other people who may wish to get tested in Florida — like women who are planning to get pregnant, but don't have symptoms — cannot currently do so at county health departments.
One reason that county health departments can't offer "curiosity testing" for individuals who don't meet the CDC's testing criteria is that there may not be sufficient funding to process Zika tests. CDC director Tom Frieden said the agency needs more money from Congress to mount a more comprehensive and permanent response to Zika. The GOP-led House approved a Zika funding bill in June that would limit contraception access and exclude Planned Parenthood from the effort to fight the virus, but the Senate demanded a bigger and more inclusive response. And nearly five months after President Barack Obama requested $1.9 billion for the effort, Congress left for the summer on July 14 without passing the much-needed funding.
In the meantime, women's health clinics are using the resources they have to slow the spread of the virus and deal with the highest-risk patients first.
"I ask how old they are, what their circumstances are, what neighborhood they live in," Sasser said. "Zika is going to be here eventually where we are ― it's going to be in all of South Florida. The only thing you can do is use the best precautions."
CORRECTION: An earlier version wrongly reported the amount that Obama has requested for a Zika response. It's $1.9 billion, not $1.9 million.
Support HuffPost
The Stakes Have Never Been Higher
Popular in the Community