When did summer became synonyms with blisters? The warm weather is great, but it also means that sandals and heels leave our feet covered in painful, unsightly sores. Bandages help once the damage is done, but what if there were ways to prevent blisters before they appear? Enter PreHeels spray, quite possibly the solution to everything.
Created by a couple, Dana Ward (a media personality) and Adam Kolom (a healthcare investor), the spray "creates a strong, lasting, invisible barrier on the skin to protect your feet from irritation and blisters." It comes in a small aerosol bottle, goes on clear and dries in about 60 seconds, creating an anti-friction barrier between your feet and your shoes. After three years of research and development, Ward and Kolom have perfected their product and launched on Kickstarter.
After reading through their site, we thought the product sounded too good to be true. So we had six women wearing six different shoe styles try it out.
Here are the results (spoiler alert: most of us LOVED it):
Kristen in boat shoes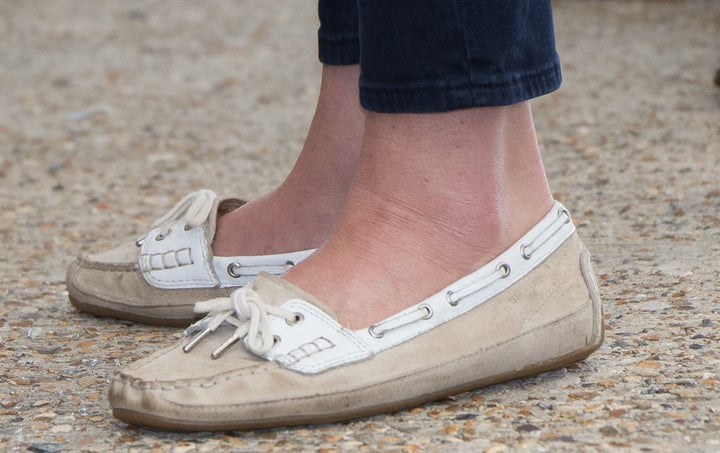 Do you normally get blisters wearing these shoes? Worse -- the leather rubs my ankles raw.
How effective was spray? I honestly didn't think the spray would work, because I was expecting my skin to feel like it had a thick coating, but instead it wasn't very noticeable. I ended up walking almost two miles in these shoes, with NO bleeding. My feet still felt a little irritated by the shoes, and I probably couldn't have walked in them much longer without developing a blister, but it's kind of a miracle that I lasted as long as I did.
Rating: 4/5. It prevented me from getting blisters, which is a miracle. The only downside was the smell -- it's pretty toxic smelling.
Lucky for us, the PreHeels team is currently researching a new blend of solvents that would have an even more neutral smell when first sprayed.
Lindsay in heels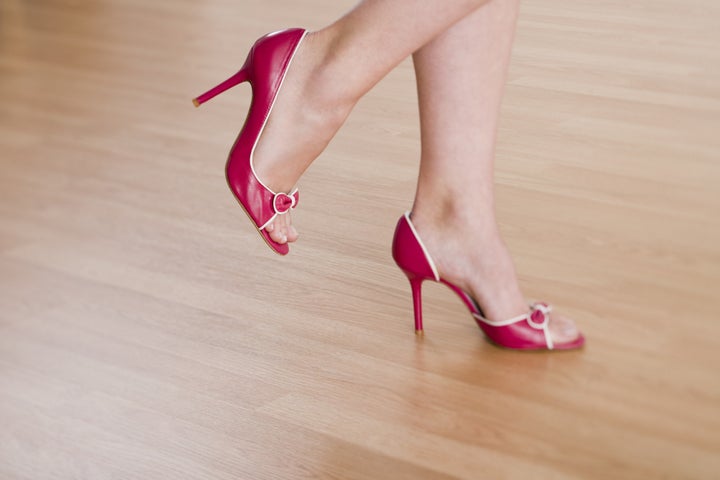 Do you normally get blisters wearing these shoes? Always. In fact I stopped wearing these heels because they gave me such bad blisters.
How effective was spray? It was amazing. I applied the spray at the beginning of the night and didn't get a single blister. I felt it wearing off after a couple of hours, so I re-applied mid-way through the night. The next morning, there wasn't a blister in sight.
Rating: 5/5. Where has this been my entire life?
Michelle in rain boots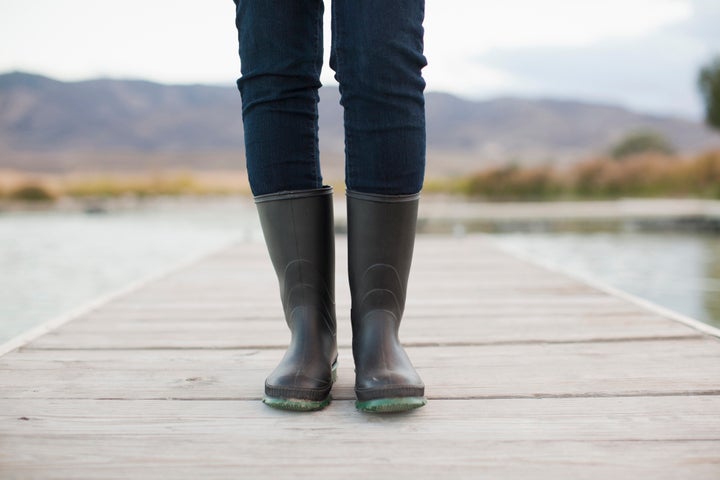 Do you normally get blisters wearing these shoes? Yes, always. There is a huge zipper up the back, so it rubs on my ankles and gives me massive blisters.
How effective was spray? I wore the rain boots all day and didn't get a single blister. This spray is a miracle.
Rating: 5/5. I want to buy this in bulk and spray it all over my feet the entire summer. Bye, bye Band-Aids.
Jamie in new, flat sandals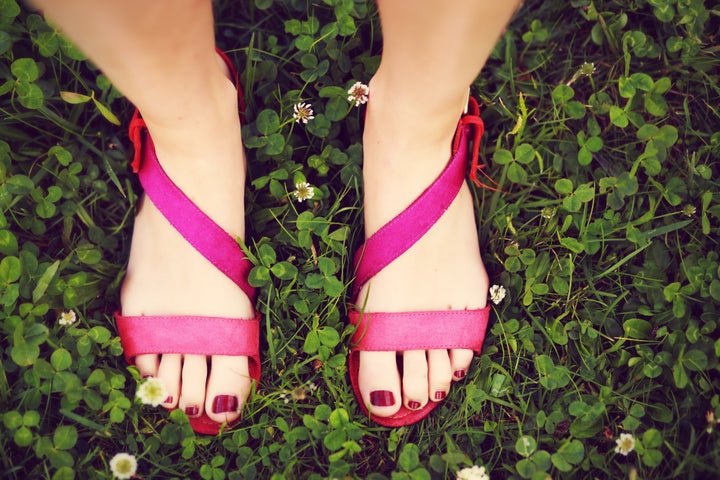 Do you normally get blisters wearing these shoes? I normally get blisters with any new shoes that I put on, especially sandals as my feet are pretty wide.
How effective was spray? I thought the spray did a really good job at the beginning of the day, I definitely felt a bit of rubbing but not like usual. By the end of the day, though, it felt a bit worse.
Rating: 4/5. I don't have any blisters after a full day of wearing the new sandals which included about a mile of walking.
Dana in boots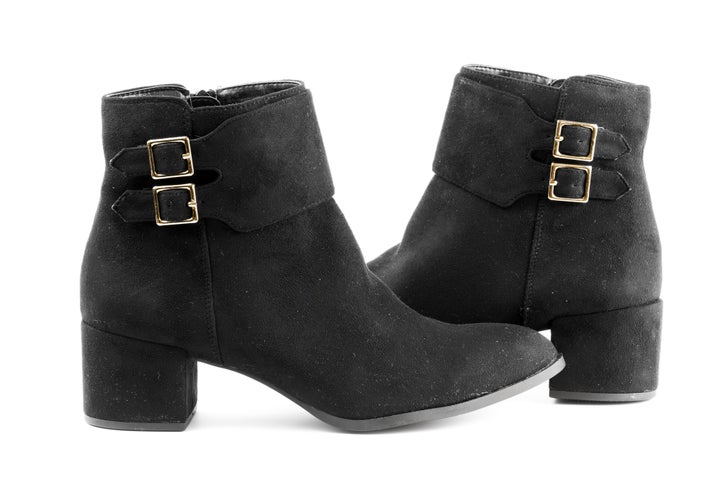 Do you normally get blisters wearing these shoes? Yes, because I haven't worn them enough to break them in. I usually develop blisters along the back of my heel and my poor pinky toes get calluses whenever I go sockless.
How effective was spray? I found it to be VERY effective. I spritzed on enough spray to lightly coat my feet before slipping on my booties. As a commuter, I do a lot of walking to and from the office. However, I had no painful blisters to pop up while wearing the spray. And at the end of the workday, my feet were still in pretty good shape.
Rating: 4/5 because I'm not a fan of products that are alcohol-based, but it definitely did the job. I would suggest this product to my high heel-loving friends.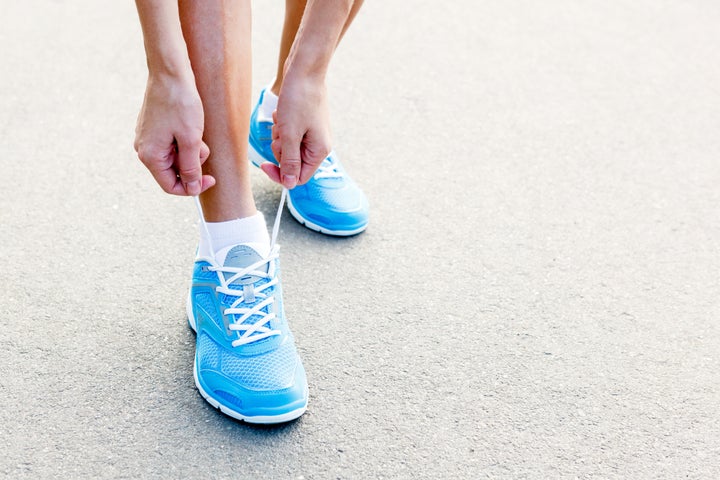 Do you normally get blisters wearing these shoes? I try to go for a long run on Sundays and I always get blisters when I run more than a mile or two.
How effective was spray? The spray had a strong chemical smell that reminded me of nail polish remover. About halfway through my four-mile run I start feeling rubbing on the arches of my feet. I was sure I had matching blisters, but when I took off my shoes the damage wasn't as bad as I thought. I had two pre-blister sore spots, but my feet felt better than if I hadn't used the spray at all.
Rating: 2.5/5. The spray prevented me from getting full-blown blisters, but there were rubbed sore spots in a few places on my feet. All in all, I think Band-Aids are more effective and less smelly.
The product isn't available for purchase yet, but you can pre-order it now, with an estimated ship date of August 2016. PreHeels provided samples for review purposes.
Support HuffPost
A No-B.S. Guide To Life
Related
Popular in the Community