Researchers believe the dog is about 12,400 years old and may have been a prehistoric man's pet before dying in a landslide near the Siberian village of Tumat. The animal was discovered mummified in permafrost last year.
This is the first well-preserved predator brain from the Pleistocene era that scientists have discovered, Dr. Pavel Nikolsky, a research fellow at the Geological Institute in Moscow, told The Siberian Times.
"The carcass is preserved really very well," Nikolsky said. "And one of the most important things is that the brain is preserved."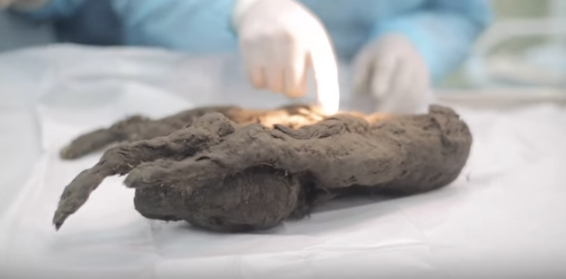 Having access to such a vivid sample of an early domestic dog could go a long way in determining how canines evolved.
"There are still important and incompletely resolved questions about how developmental patterns in early dogs differed from those of closely related (and ultimately ancestral) canid lineages," Daniel Fisher of the University of Michigan's Museum of Paleontology told The Huffington Post.
"We would like to know more about how and when the lineages that gave rise to dogs came to differ from their wolf relatives, and judging the age and stage of development of various features on a specimen like this could help to understand some of this history," he said.
Studying the ancient dog's intestinal contents, he added, could teach scientists about its diet, which in turn could indicate how much time it spent with humans.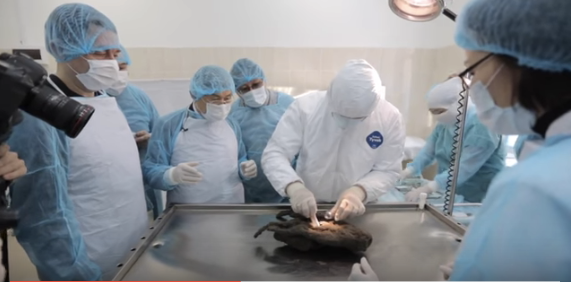 Hwang Woo-suk of South Korea was one of the researchers involved in the autopsy of the dog, which took place in Yakutsk, Russia. Although he once fraudulently declared that he had cloned a human embryo, he reportedly has had some real success cloning dogs and is interested in cloning the one discovered last year.
However, Fisher, who is familiar with the research but was not involved with it, said the chances of cloning even a well-preserved sample of the prehistoric pup are "very slim."
"The problem is that even for tissues preserved in permafrost, the DNA is highly fragmented," Fisher said. "Most permafrost is not as cold as would be ideal for preservation of fresh tissues, and the tissue was probably not frozen as quickly following death as would be necessary if cloning were to be practical."
Besides, he added, "We have not seen much on the cloning front that really advances our understanding of these animals."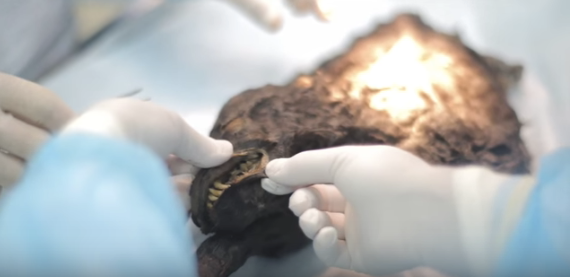 Another puppy, believed to be a sibling of the one scientists performed the autopsy on, was found in the area in 2011 but was not as well-preserved, according to reports.
Calling all HuffPost superfans!
Sign up for membership to become a founding member and help shape HuffPost's next chapter
BEFORE YOU GO